A rainy Valentine's Day has given way to a clear, chilly Georgia night. The stars shine brilliantly above the tall pines along Lake Oconee. Embracing couples, roasting marshmallows and sipping hot drinks, are gathered around a large stone fire pit.
The Ritz-Carlton and roasted marshmallows might seem like an odd pairing, but the dichotomy of luxury and rustic ambiance sums up the Ritz-Carlton Lodge, Reynolds Plantation, located about an hour east of Atlanta. With exteriors of fieldstone, cedar shake shingles and cupolas melding with interiors of slate floors, antler chandeliers and stacked-stone fireplaces, the 251-room Lodge fits perfectly within the luxury golf community of the same name.
The Lodge is all about the outdoors, and the primary activity is golf. Guests have access to 99 holes, including the showcase Great Waters, designed by Jack Nicklaus and a host of the mid-'90s event that was the forerunner of the WGC-Accenture Match Play Championship.
The front nine winds through evergreen corridors, while most of the back-nine holes front Lake Oconee, with six greens set hard by water. Great Waters will be even better when it reopens next year after a renovation.
Oconee means "great waters" in Creek, and the 19,000-acre lake is perfect for golf, boating, fishing or just relaxing in front of the Lodge. It may be hard to believe, but the second largest lake in the state is manmade, as are most of the lakes in the Southeast. Georgia Power created the lake in 1979 when it dammed the Oconee River, fostering the development of golf communities like Reynolds Plantation. (A stay at the Ritz, in fact, is a great way to test-drive Reynolds Plantation if you're interested in living there.)
Lake Oconee has 374 miles of shoreline filled with secluded coves that are perfect for dropping a line. The lake has 355 pounds of fish per acre, more than twice as much as any other lake in the Southeast. If you're interested in more active pursuits, you can enjoy just about every kind of water activity: canoeing, kayaking, wakeboarding and waterskiing, to name just a few. Or just take a leisurely pontoon-boat tour of the lake exploring all the different serene inlets.
If you're averse to water hazards, there are plenty of amenities on terra firma, including a spa and beauty salon, tennis, nature hikes, Segway tours, horseback riding and skeet and trap shooting.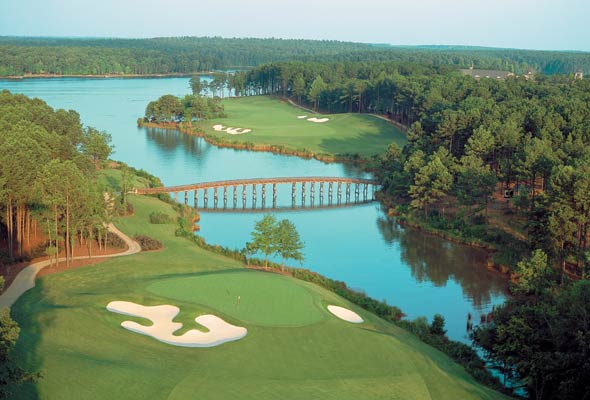 There are also four other courses besides Great Waters. The oldest are two Bob Cupp designs: the 6,698-yard Plantation, which features wide fairways and dogleg holes, and the 7,051-yard Reynolds Landing, which has challenging greens and rolling terrain.
Then there are the National and Oconee, which are must plays along with Great Waters. The former, designed by Tom Fazio, has three nines with several holes that play along the shoreline. To play well, you need to avoid not just the lake, but also more than 100 bunkers. Rees Jones' Oconee is known for its undulating bentgrass greens and elevation changes. Its strongest holes are its collection of par 3s, two of which play severely downhill. (See "It's All Downhill" on the opposite page for tips on how to play them.)
Adjacent to the Lodge, Oconee is home to the 16-acre Reynolds Golf Academy, which includes a first-rate short-game facility, 18,000-square-foot putting green and a spacious range where you can practice shots from uphill, downhill and sidehill lies.
Charlie King, one of the country's top teachers, oversees the academy, which is also home to the Kingdom, a fitting facility borne out of a partnership between Reynolds Plantation and TaylorMade. It has one of the most advanced club-fitting programs available, thanks to TaylorMade's proprietary motion analysis system, which requires donning clothing with 32 reflective balls that allow nine high-speed cameras to capture a computer-generated image of your swing.
TaylorMade continues to improve on the facility. The latest addition is a tour van that is now on site, which means you can have your custom clubs constructed at Reynolds instead of having to wait for your equipment to be shipped from California.
The Kingdom is also home to the two-day "Tour Experience," which combines a fitting, new set of clubs and instruction with a round and dinner with a TaylorMade tour pro like Kenny Perry.
If you arrive with a friend or seven, your castle during your stay can be the Lodge's 5,400-square-foot Presidential House, which has four bedroom suites, formal dining room, full kitchen with stocked pantry and game room that opens to a heated pool. Or you can choose from six two- and three-bedroom golf cottages with stone verandas and wrap-around porches overlooking Oconee's 18th hole. A "barbecue butler" will take care of all your grilling needs.
Another great accommodation option is the top-floor Club Level, which is accessible only by special elevator key and has 33 casually elegant rooms with terraces and four executive suites. Four inclusive meals and drink periods (continental breakfast, light lunch buffet, hors d'oeuvres and evening cocktails) are offered each day inside the cozy lounge, where the cookie jar is always full. The staff can be a little overattentive for some, but if you like personal service, they offer true Southern hospitality.
Other dining choices include the hotel's signature restaurant, Georgia's Bistro, which offers a gourmet twist on authentic Southern cuisine like shrimp and grits with Creole-spiced peppers and parmesan cheese, as well as an extensive wine list. The Linger Longer Steakhouse at the Oconee clubhouse features classic steakhouse fare and signature soufflés like Grand Marnier with dark chocolate ice cream.
Finally, the casual Gaby's by the Lake, located next to the infinity pool, just underwent a $3.2 million renovation and offers some of the best calamari I've ever had. The filet mignon with lobster mashed potatoes is pretty good, too.
Then there's the ultimate lakefront picnic: the Chiminea Dining Experience, which combines Adirondack lounging with a personal chef. This is Camp Ritz, after all.