By Tony Dear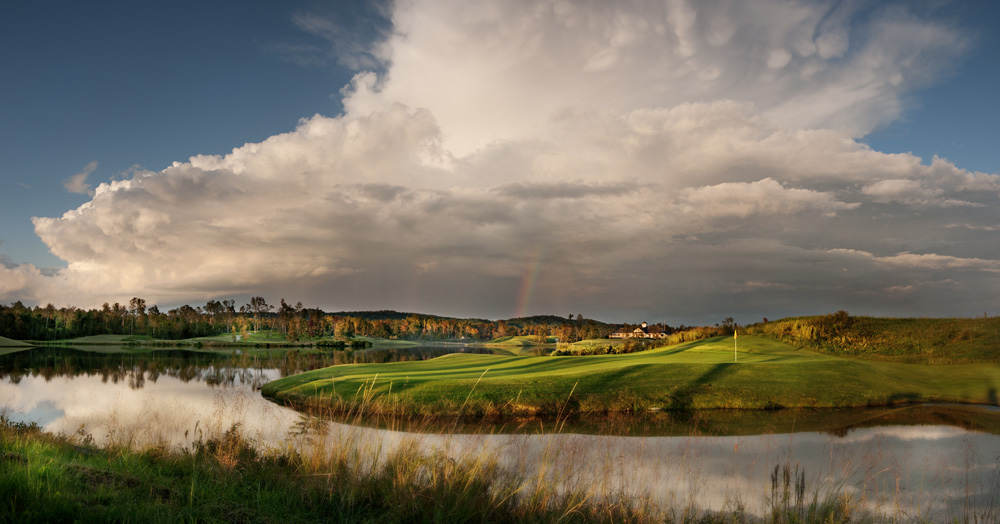 Back in the mid-to-late 1980s, the CEO of Alabama's state employee pension fund—Retirement Systems of Alabama (RSA)—hatched an outlandish plan to build multiple golf courses simultaneously throughout the state, a state never before regarded as a golf destination. Nothing like it had ever been conceived, let alone attempted, but this man hoped to attract golf tourists and stimulate economic activity. Absurd, right?
A graduate of Minnesota State University, Mankato where he earned Bachelor's and Master's degrees, and later taught business and finance courses, Dr. David Bronner also attended the University of Alabama where he received a law degree in 1971, and a Ph.D. the following year. He then taught more business, finance, and education courses at various graduate schools before becoming Assistant Dean of the Law School at UA. In 1973, at the age of 28, he was given the top job at RSA.
With that level of education, and those qualifications and academic/real life experience, perhaps Bronner could be trusted, and his somewhat wild and unconventional proposal for a golf trail might not be so crazy after all.
Now, a quarter of a century later, with a total of eleven sites and 468 holes and eight major resorts, half a million rounds a year are played on the Robert Trent Jones Golf Trail, and RSA's assets have grown from about $8 billion to over $35 billion—credit for which doesn't go to the Trail entirely, but it remains by far the most conspicuous and ambitious of Bronner's investments.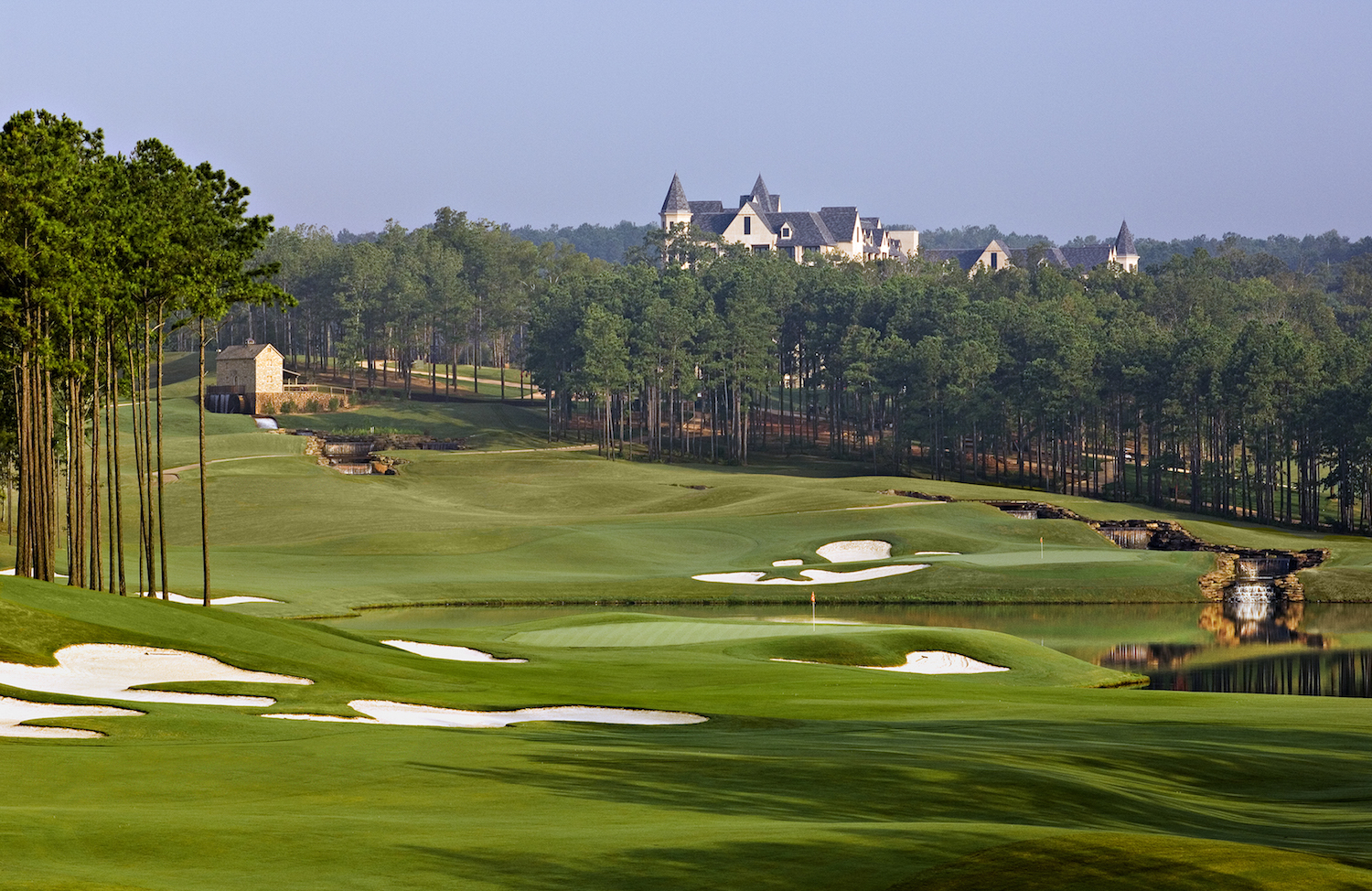 How to Tackle the Trail
There probably are people—mad golf addicts—that have played all 26 courses in one trip. Such a voyage would mean roughly 85 miles of golf, and over 700 miles of driving, however, so it's probably best to do it in chunks.
I've visited six Trail sites on three separate trips—Ross Bridge in Hoover in 2010 when I played the back tees from 8,191 yards and had no fun at all (Director of Golf Chip Purser told me no one had been "stupid enough" to play all 18 from the tips); Magnolia Grove and Lakewood outside Mobile in 2014; and Hampton Cove, The Shoals, and Silver Lakes in the northern third of the state just a few weeks ago.
Jones has never been my architectural cup of tea, but I have to say I've enjoyed every Trail course I've visited, even Ross Bridge which is no doubt a beautiful place and probably good fun when played from a more suitable set of tees. With the mighty Tennessee River to the right and the plantation-style clubhouse high above the green, the par-three 18th on the Fighting Joe Course at The Shoals is probably the prettiest hole I've ever seen. And, despite the ominous names, the Heartbreaker and Mindbreaker nines at Silver Lakes probably possess my favorite Trail holes. At first light on a sunny day, the place is really rather delightful.
The most you'll pay for a round on the Trail is the $142 (including cart) it costs to play Ross Bridge—considered the Trail's flagship facility—before 10:30 am during Fall and Winter. But the typical price for 18 holes with cart on the majority of Trail courses is less than $90. Annual memberships are available and start at $1,500, and Trail Card ($40) members get discounts of up to 50% on green fees—the only problem being you have to be an Alabama resident, or live within 100 miles of a Trail course, to qualify.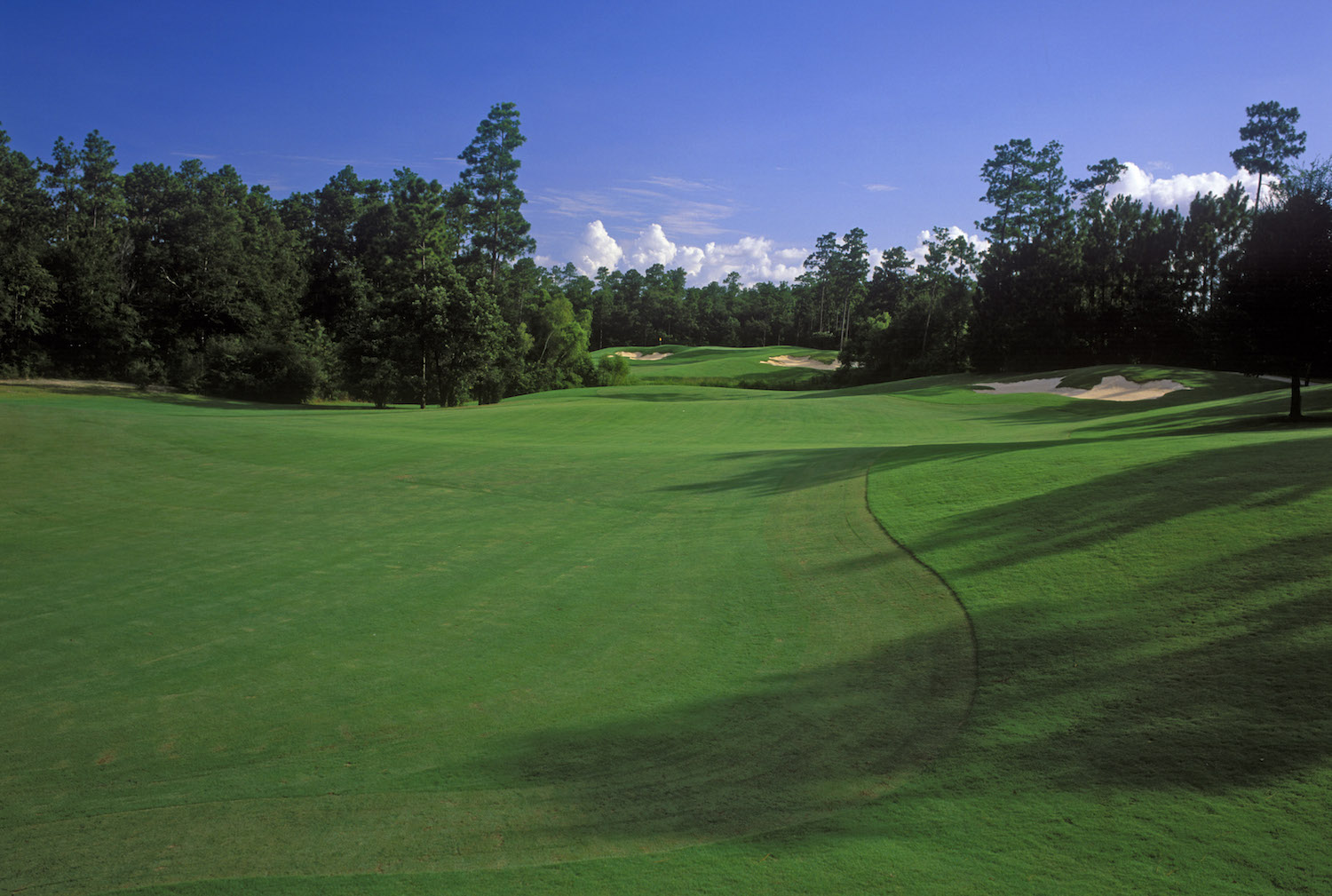 History of the RTJ Trail
Bronner hired Robert Vaughn, a former Director of Golf at Tanglewood Golf Club in Clemmons, N.C. to expand the idea and put together a design team. Vaughn also set up Sunbelt Golf Corporation to manage the courses, and worked hard on selling the idea to municipalities, corporations, and private developers in order to secure donations of prime land within easy driving distance of the state's major highway system.
To design the holes, Bronner and Vaughn chose Robert Trent Jones who had worked on 500+ courses during a 50-year career. Then well into his 80s, Jones had more or less retired, and what little work he was doing was mostly overseas.
But Bronner knew the value of Jones's name. This was five years before Bill Coore and Ben Crenshaw built Sand Hills; a decade before David Kidd's Bandon Dunes opened and American golfers got to experience the beauty of links golf at home; long before Tom Doak's minimalist movement started trending; and 20 years before firm/fast/natural/strategic/Golden Age-inspired openings almost became routine. During the 1960s and 70s, Jones had been the most prominent figure in the industry, and though Jack Nicklaus, Pete Dye, Tom Fazio, and his own two sons' Robert and Rees, had supplanted him by the end of the 1980s, Bronner still considered him the ideal man for his trail, and somehow managed to coax him back to work.
During design and construction of the courses, Jones relied heavily on his young associate Roger Rulewich, who graduated from Yale in 1958 with a degree in civil engineering. Rulewich learned everything he knew about golf from Jones, and the holes he built were clearly inspired by his mentor. Classic Jones course characteristics such as big, contoured greens, a large front bunker, plenty of water, and at least one "signature hole" were evident throughout the Trail whose first four sites—Hampton Cove in the north of the state, Magnolia Grove in the southwest, Oxmoor Valley in the middle, and Grand National in the east—opened in 1992.
Alabama's RTJ Golf Trail has been acclaimed since it opened 25 years ago, and deservedly so. There are better courses in the Yellowhammer State, but few would deny the Trail was an inspired (if slightly wacky) idea, has made a considerable contribution to the wealth and identity of the state, and really is a magnificent achievement.
_________________
Have you played golf on the Robert Trent Jones Trail? If so, tell us what you thought about it in the comments below!