What makes a golf course great? We've assembled quotes and excerpts from dozens of pundits past and present, pored over the current Top 100 lists, polled several of today's top architects, and commissioned a quartet of essays from designers Tom Doak and David McLay Kidd and architecture mavens Thomas Dunne and Adam Lawrence, all in the hope of reaching a consensus on the definition of greatness.
And we've failed. At least I hope so.
You see, golf course greatness defies definitive description for two reasons. First, it's largely in the eye of the beholder; there are no objective criteria, no universally held standards. The unique combination of challenge and charm that appeals to you likely won't work for me. Second, even if you and I could agree—and a critical mass of our golf-playing brethren could join us in the embrace of a definition—we couldn't trust ourselves to be right. Why? Because history has shown that the definition of a great golf course is ephemeral, constantly evolving.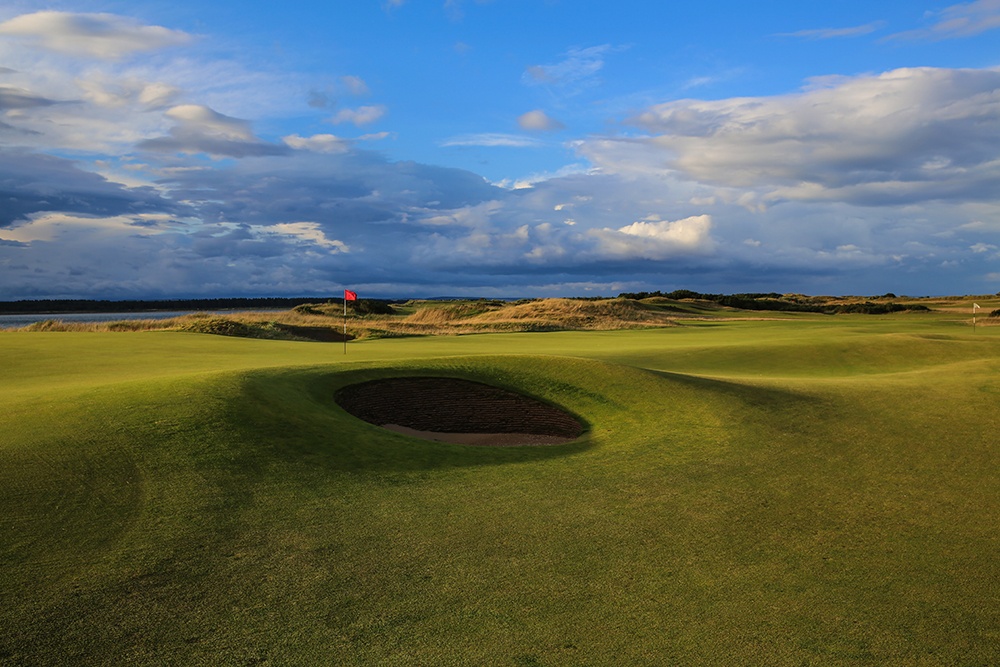 A century and a half ago, the task was much simpler. Back then the ideal course was a simple links, set across humpy, wind-thrashed, seaside terrain. The top 50 courses in the world—and that's about as many as existed—were all links and the best one was agreed to be the Old Course at St. Andrews, although I doubt anyone had a firm grasp of why except that it was the administrative center of the game. The true genius of the Old didn't emerge until years after its slender fairways had been widened, allowing room to tack and maneuver with the whims of the wind, thus giving birth—unintentionally—to strategic architecture.
As the game expanded and moved inland, things got messy as architects (such as they were) tried to replicate the seaside playgrounds on spongy, clay-based turf. Pits were dug and sand was hauled in to create faux bunkers, many of them oblong or rectangular, with steeply pitched ramparts for front walls. The bunkers were placed seemingly at random—often in the middle of fairways—as were all sorts of other obstructions such as trees, hedges, dykes, walls, and streams. Greens also were built in the shape of rectangles and squares.
One particularly audacious experiment came from five-time Open Champion J.H. Taylor, who imposed pronounced mounds and humps on the fairways of Royal Mid-Surrey (1892), a dead-flat parkland course. The concept—which became known disparagingly as "Alpinization"—spread to just a handful of courses before petering out.
Adam Lawrence's "Learning from the Best"
The definition of a golf course—great or otherwise—had begun to morph, and not for the better. In the acerbic view of golf writer Bernard Darwin, this earliest architecture "was a rather rule-of-thumb business done by simple-minded, unimaginative people who did not go far beyond hills to drive over, hollows for putting greens, and generally speaking, holes formed on the model of a steeplechase course."
In the U.S., the first course to take hold was the St. Andrew's Golf Club (1888), laid out on an apple orchard near Yonkers, N.Y. Back then, other than the game's handful of adherents, few Americans had heard the word "golf" let alone knew what made for a proper course. So it's not surprising that one of the pioneering St. Andreans, a certain Judge O'Brien, having ventured to Long Island to play Shinnecock Hills for the first time, issued this sanctimonious verdict: "It is not a golf course at all, as there are no trees over which to loft and play." 
American golf would see a boom in the first third of the 20th century, expanding from fewer than 1,000 courses in 1900 to nearly 6,000 by 1930. Many of them were undistinguished, laid out in a day or two by local landscapers or caddies who'd emigrated from Scotland. The most prolific chap was surely Aberdeen-born Tom Bendelow, credited with more than 600 courses, whose modus operandi became known sarcastically as "18 stakes on a Sunday afternoon." 
David McLay Kidd's "My Journey to Understanding"

However, one man raised the bar, not just for his profession but for golf in America. C.B. Macdonald, born in Canada and raised in Chicago, was sent at age 16 to study at the University of St. Andrews where he came under the spell of golf and the tutelage of Old Tom Morris. He returned home to become a driving force in the formation of the USGA and win the first U.S. Amateur. More important, he became America's first golf course architect (a term he coined), designed our first 18-hole course (Chicago Golf Club, 1895), and, by general agreement, gave us our first great course (National Golf Links of America, 1911), a design whose essential character has changed little in the century since its debut yet still ranks high on any list of top courses.
Macdonald had figured out how to bring high-standard golf course design to American soil—literally—and his success spawned a wave of gifted architects from both sides of the Atlantic—Harry Colt, Alister MacKenzie, Donald Ross, A.W. Tillinghast, and Seth Raynor, among others—whose best work, combining art and science with a respect for the natural site, was so good that this era became regarded as "the golden age of golf architecture." 
Tom Dunne's "The Value of 'Shot Values'"

Also during this time, the notion of difficulty took on a more prominent role as golf came to be viewed not just as a recreation but an athletic competition, with a testing course the way to winnow the best from the rest. Brutally punishing Oakmont (1903) and visually intimidating Pine Valley (1913) led the penal school. When Golf Digest published the first comprehensive course ranking in 1966, it was based not on quality but difficulty ("The 200 Toughest Courses in America"), and the designs from the golden age accounted for most of the list.
Today, those courses still dominate every ranking, but not to the extent they did as times and tastes have continued to evolve. Although little happened during the late 1930s and '40s as the Depression and war years put a hold on just about everything, by 1950 post-war prosperity had combined with better earthmoving machinery to create both a clamor for golf courses and the capability to build them.
Robert Trent Jones took the lead in this era when everything from cars to courses seemed to get bigger. Jones's landing-strip tees, broad, bulldozed fairways, expansive, billowing greens, grasping bunkers, and in-your-face water hazards set the standard as the familiar equation—Ike + Arnie + television—equaled a second American boom. Brawny tests such as Spyglass Hill (1966), Bellerive (1960), and Hazeltine National (1962) were among the best from the Jones oeuvre of more than 500 designs and redesigns, but, truth be told, this was a time of quantity more than quality, of largesse rather than finesse. 
That held through the rest of the century as a surging stock market spurred the construction of resorts, vacation homes, and retirement communities, most of them with sprawling "championship" courses attached. For a stretch during the late 1980s and early '90s, golf courses in America opened at the astonishing rate of one per day. The two big magazines—Golf Digest and GOLF—continued to fan the flames with their rankings and course design became a competitive and lucrative business as every major developer sought a Top 100 course. Architects Tom Fazio, Bobby and Rees Jones, and Jack Nicklaus were among the best and most prolific during this era.
Tom Doak's "How to Rate Your Home Course"
At the same time, one designer—Pete Dye—did his best to buck the trend, most notably with Harbour Town Golf Links (1967), where instead of huge tees he built small ones, instead of expansive fairways he made slender ones lined by ribbons of unraked sand, instead of mammoth greens he pasted postage stamps, occasionally buttressing their banks with railroad ties. Length was not important to Dye, shotmaking was, as his designs would prove time and again.  
Dye and his work had several major impacts. First, he caught the eye of PGA Tour Commissioner Deane Beman, who was hatching a big idea, a network of Tournament Players Courses. It began with the stunning TPC at Sawgrass (1980), a design that in its original iteration embodied Dye's belief that "golf isn't fair so why should a golf course be."
Pete Dye would become the scourge of the Tour pros but would open a new opportunity for several top players—as design consultants and architects—beginning with Nicklaus, who worked with him on Harbour Town. Messrs. Palmer, Player, Weiskopf, Crenshaw, and Norman all would forge prominent careers as course designers with at least a dozen other players making their marks.
However, Dye's most important apprentices were not pros but serious budding architects. Bill Coore was one, along with Brian Curley, John Harbottle, Tim Liddy, Bobby Weed, and a brash young Cornell undergraduate named Tom Doak, who along with Coore and Ben Crenshaw would take golf architecture into the 21st century with a new mantra: "minimalism," a commitment to crafting courses that require little earthmoving and take their character out of the natural quirks and contours of the land in the way of the original links. The two most highly regarded courses of the past 20 years, Coore/Crenshaw's Sand Hills (1995) and Doak's Pacific Dunes (2001), are models of minimalism, and dozens more have followed. In the process, a renewed reverence for naturalness has accrued to our notion of what makes a golf course great.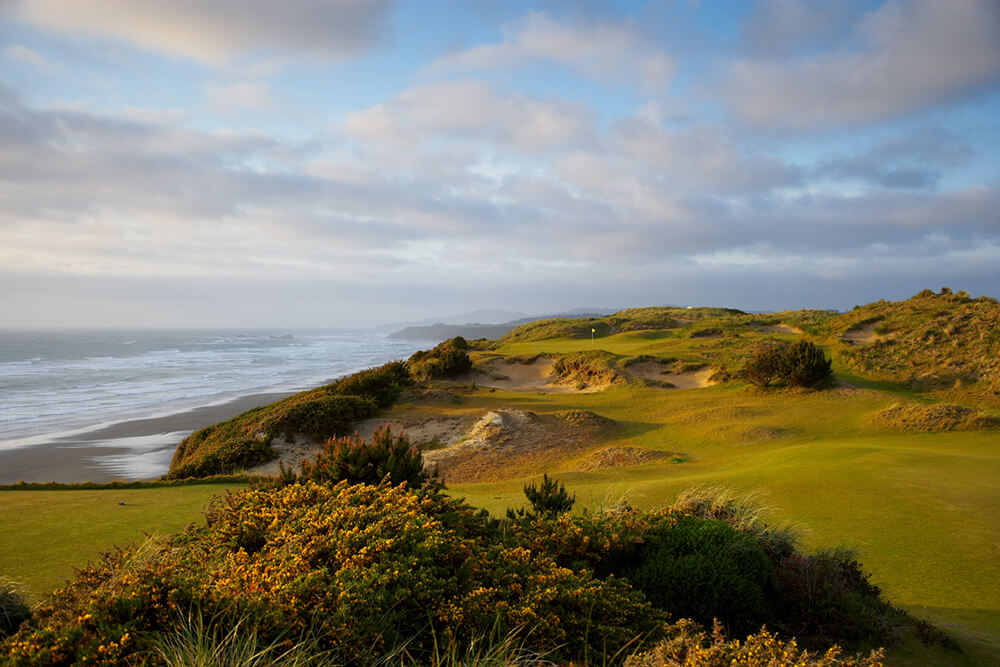 The minimalist phase would seem well positioned for an extended run. As the world's major economies continue to struggle, the courses with the best chance of being built will
be those with low construction budgets. Moreover, minimalist courses, since they do comparatively little to disturb the land, are less threatening to environmentalists and require less maintenance.
And yet, the times continue to change. The development of hardier, less thirsty strains of grass has reduced both cost and environmental pressure, and recent advances in agronomy  show that we'll soon be able to have firm, fast surfaces that don't need to have a burned-out look. "Green is the new brown" is beginning to take hold. 
At the same time, as David Kidd asserts in his essay on page 41, golfers have become fed up with the ever-lengthening, ever-more-demanding courses that have been built in response to the advancements in equipment technology of the last few decades. At a time when the game in America is stagnant at best, the moment seems right for courses that are more welcoming and more playable—courses that are fun.    
Imagine a course as natural and sustainable as the Old Course, as challenging as Pine Valley, as lushly green as Augusta National, and more fun than any of them. If there's a definition of greatness, that sounds pretty close.
At least for the moment.