At Trinity Forest Golf Club, just nine miles southeast of downtown Dallas and venue for the AT&T Byron Nelson Classic, PGA Tour players got a dose of Golden Age-style course architecture. Used to more predictable, formulaic designs where stock shots and a fixed method get the job done, competitors were asked to think about lines, trajectories, and landing spots far more than is usually the case.
Part of that, certainly, was because the Bill Coore and Ben Crenshaw-designed course was making its PGA Tour debut. More than that though, this was the type of design with which today's touring pro is largely unfamiliar (perfect conditions and the lack of wind resulted in some very low scoring).
Unlike the stereotypical Tour venue with its soft, lush, flattish surfaces, Trinity Forest demanded players consider what might happen to their ball after it had landed. In short, sound strategy and tactics were required as well as good execution.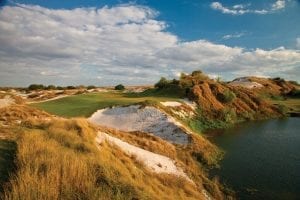 This, of course, is what distinguishes a Coore & Crenshaw design. Design partners since 1986, the duo has created more than two dozen stylish classics that conform largely to the terrain on which they sit and which require golf intellect to conquer.
Much of what Coore, Crenshaw, and their crack team of associates have built is private, including the incredible Sand Hills (1995) which many regard as the most significant design of the last quarter century, inspiring a move toward more natural, playable, cerebral golf. There are, however, a number of courses where the public can experience the delights of a Coore & Crenshaw original. Here are five of our favorites:
Cabot Cliffs (2016)
960 miles northeast of New York City, in the top-right corner of Nova Scotia, is the course plenty of hardcore golfers consider Coore & Crenshaw's best—public or private. All 18 holes at the Mike Keiser-financed Cabot Cliffs opened in June 2016, five years after Cabot Links, the resort's superb original layout designed by Rod Whitman. Cabot Cliffs never lets up with glorious views and interesting shots, and is a course you could play again and again without ever fully appreciating its vast range of routes, options, features, and challenges.
Green fee: $90–$245 (for resort guests)
cabotlinks.com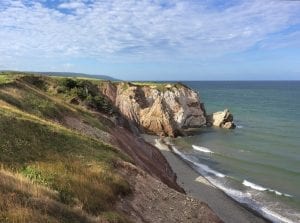 Streamsong Red (2013)
Most courses, whether designed by Coore & Crenshaw or not, require a felicitous sequence of events for them to happen. The outstanding trio of layouts at the Streamsong Resort (Blue designed by Tom Doak, Black by Gil Hanse, and Coore & Crenshaw's superb Red) in central Florida required millennia of geological and oceanic activity, mining of the land by Mosaic (a Plymouth, Minn.-based fertilizer producer), an abundance of sand and features ideal for golf left behind after the mining operation closed down, and a company executive—CFO Rich Mack—with the vision to transform this alien landscape into golf. Plus, Mack had the wisdom to hire Coore & Crenshaw (as well as Doak and Hanse). It was an unlikely progression but thank goodness it panned out.
Green fee: $85–$210 (for resort guests)
streamsongresort.com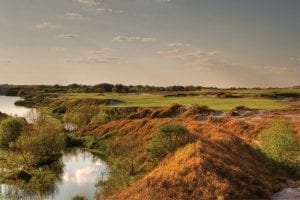 Sand Valley (2017)
Great golf land turns up in the most unexpected places. Who would have thought commercial pine forests in the middle of Wisconsin would be the site for America's next great golf resort?
Craig Haltom, a partner in golf management and construction firm Oliphant-Haltom Golf, knew the forests sat on thousands of acres of glacial sand and approached Mike Keiser to help him build his dream course. Keiser was reluctant until he saw the site, and he quickly signed Coore & Crenshaw to build Sand Valley resort's eponymous first course. They designed a bold and unceasingly engaging course that has been compared with Pine Valley—quite the compliment.
Green fee: $105–$205 (for resort guests)
sandvalleygolfresort.com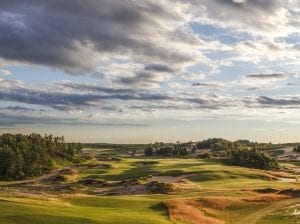 Bandon Trails (2005)
Mike Keiser first hired Coore & Crenshaw to build the third course at Bandon Dunes Golf Resort in Oregon. The eclectic Bandon Trails features a little links, a little heathland, and plenty of forest golf in amongst Douglas Fir, Spruce, and Cedar. Coore & Crenshaw transitioned into each terrain with tremendous skill. You begin in the dunes, move into heathland, then bend round a huge sand ridge and climb into the woodland holes before returning to the heath and finally the dunes.
It's a mesmerizing journey that plenty of visitors list as their favorite at the resort, which is saying a lot considering the competition.
Green fee: $100–$275 (for resort guests)
bandondunesgolf.com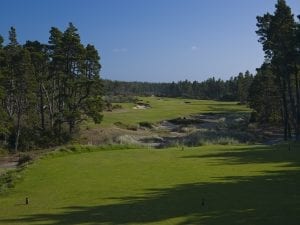 Talking Stick (1997)
Coore & Crenshaw's highly acclaimed Sand Hills in Nebraska had opened two years before, but when the Salt River Pima-Maricopa Indian Community hired them to build two public courses on the reservation seven miles northeast of downtown Scottsdale their star had not yet risen to great heights. The land, though free of housing, was pretty flat and didn't enjoy a great deal of movement, so Coore & Crenshaw had to get creative. In the North and South Courses (now O'Odham and Piipaash), they came up with two distinct, strategic, playable, and immensely enjoyable courses of which the North is probably the pick.
Green fee: From $35
talkingstickgolfclub.com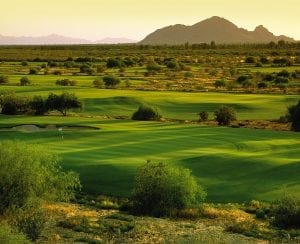 Honorable Mentions
Saguaro at We-Ko-Pa (2005) – Coore & Crenshaw's third desert course (after two at Talking Stick)
Kapalua Plantation (1991) – Home of the PGA Tour's Sentry Tournament of Champions
Lost Farm (2011) – Thrilling Tasmania links

Three Best Private
Sand Hills (1995) – Lay-of-the-land masterpiece that put the Nebraska Sandhills, and Coore & Crenshaw, on the golf map
Friar's Head (2002) – A sandy fantasyland on Long Island, N.Y.
Colorado Golf Club (2006) – A dozen or more great holes on the venue for the 2013 Solheim Cup
Best Remodel
Pinehurst No. 2 (2014) – This brilliantly conceived project returned Donald Ross's sandy, strategic original to its former glory
________________
What's your favorite Coore & Crenshaw course? Let us know in the comments!