Twenty-one years ago, Bob "Shoe" Gaspar delivered a load of mulch to a construction site just south of North Bend on Oregon's southern coast. Unsure of what was being built, he walked over a dune and saw a half-finished golf course. There was no clubhouse, the back nine was dirt, the front nine was being cleared of trees. But that was enough. Gaspar could tell that whatever he was looking at was going to be something special, so he quit his job as a truck driver and went to work at what he soon learned was to be called Bandon Dunes. He became employee number two.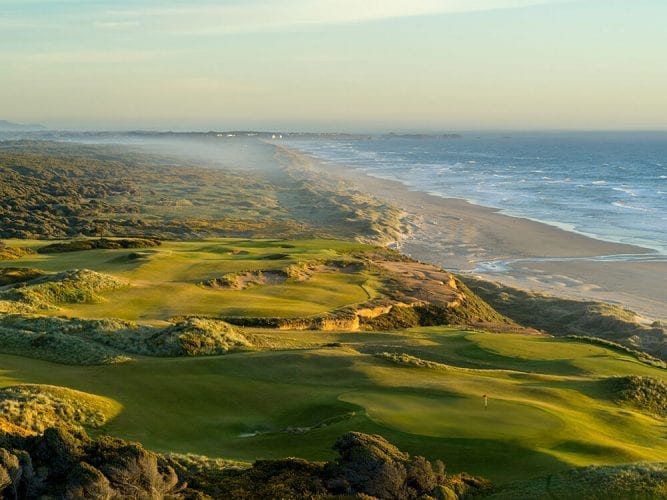 If you've been to Bandon Dunes Golf Resort, it's a near certainty that you've met Shoe Gaspar, who has been the resort's official greeter for more than a decade. And when you meet him, if it feels as if he already knows you, rest assured, he does. Arriving at work every morning between 2 and 3 a.m., he scours the tee sheets, memorizing names and looking up facts about wherever the guests call home. By the time you reach his podium, he knows who you are, where you're from, and whether you've been to Bandon before. If this is a return trip, he'll remember you. He remembers everyone. He's your friend for life.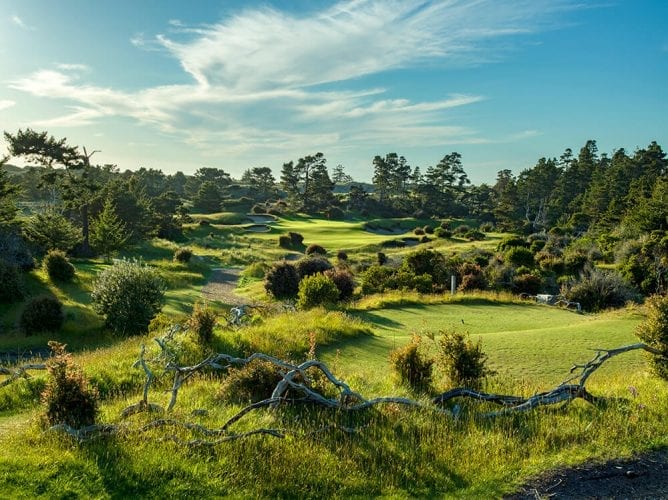 Shoe is Bandon Dunes, and Bandon Dunes is Shoe. One important reason for the success of the resort—which celebrates its 20th anniversary this year—is people like Shoe and what they represent, an authenticity that can be neither purchased nor designed. 
Take its location, three hours south of Eugene and stretched across broad cliffs high above the Pacific. Two decades ago, at a time when developers were more interested in building near dense, money-filled urban areas than in finding sites that promised good golf, Bandon Dunes founder Mike Keiser did the opposite, and went far away from almost everything to do so. Most of the industry thought he was crazy.
Today, Keiser is roundly lauded as a visionary and a genius. Originally projecting maybe 12,500 rounds on David McLay Kidd's original Bandon Dunes course, Keiser and his team were shocked when it did 35,000 in that first year. Today, each of the four 18-hole courses—Kidd's original, Tom Doak's Old Macdonald and Pacific Dunes courses, and Coore & Crenshaw's Bandon Trails—registers some 35,000 rounds per year. And while Bandon is still a long way from anywhere, golfers come from around the world to visit. Happily.
"My initial vision was to find a sand-based site somewhere in the world that reminded me of the great links golf courses in the British Isles," says Keiser, who has stuck to that philosophy wherever he has developed public courses, which now includes Nova Scotia and Wisconsin, and may soon add the Caribbean, New Zealand, and even Scotland itself. It's another piece of his, and Bandon's, winning formula.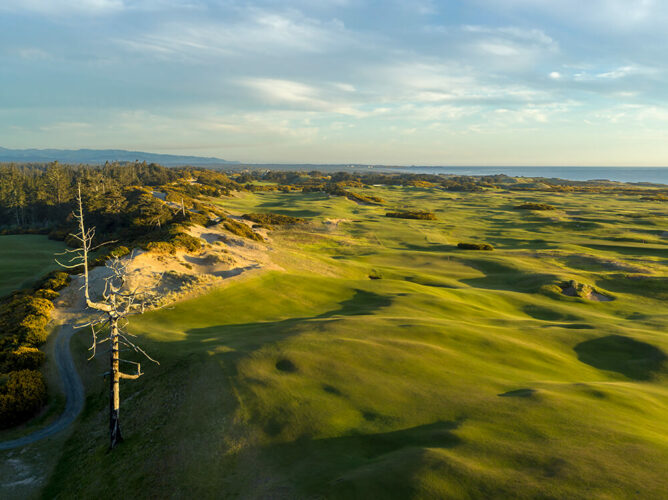 Bandon's sandy soil and dunes-filled landscape are perfect for links golf, as are the resort's other characteristics: no carts (except for medical reasons), few amenities, and no real estate. You play golf, eat, sleep, then do it again the next day and the next, for as long as you can. Good as the golf is—every one of the four courses is highly rated by everyone who rates such things, and the 13-hole par-3 (Bandon Preserve) and putting course (The Punchbowl) are similarly well loved—you might think Keiser is happy to leave well enough alone. But that's not his style. He keeps his properties current by never being quite finished. At Bandon, there seems to be something new almost every year, a reason to return. Yet again. 
On a recent trip to Bandon Dunes, a buzz was in the air. We were cleverly teased when, standing on the first tee of Old Macdonald, waiting to play our first round, a staff member came up to us and said, "You're going to see something while you're out there. We ask that you refrain from posting what you see on social media." And then he left. We didn't know what he was talking about until we walked to the rear of the 7th green, looked down the coastline to our right, and saw bulldozers shaping another golf course off in the distance.
After the round, we were met again and told that the Bandon team was building a new course on land that Tom Doak had turned into an all-natural (but unadvertised) golf park—rough greens and fairways, hit where you want, call your shots, make it up as you go along—called the Sheep Ranch back in 2001. Keeping the same name, the new Coore & Crenshaw design will soon be the resort's sixth course. The extra buzz we felt was because Messrs. Coore, Crenshaw, and Keiser were on property to assess the progress and make final decisions about the shaping. The new Sheep Ranch will have nine green sites on the cliffs and not a single bunker. Instead, the designers are using tall fescue as the primary hazard and Scottish-like dunes to define the holes.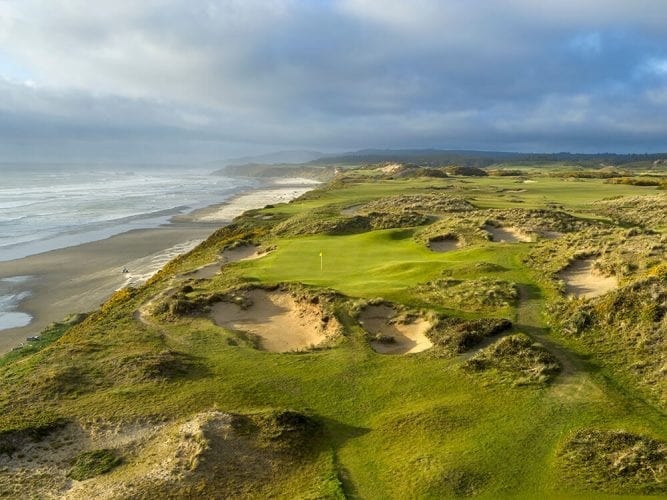 The Sheep Ranch has been designed for one purpose: fun—maybe the most important reason for the success of Bandon and all Keiser properties, and an objective that has spread to the rest of the golf industry. After Keiser built the Bandon Preserve short course, lots of other golf resorts followed with their own versions. The same happened with the Punchbowl putting course at Bandon. Don't be surprised if the comparatively short, bunkerless Sheep Ranch inspires its own imitators.
Which isn't to say short courses and putting parks are new concepts: The Himalayas putting course in St. Andrews, Scotland, has been popular for more than a century and short courses with scenic views abound in the British Isles. Keiser happily admits that much of his inspiration comes from the home of golf. "My formula is a great sand-based site, great architects, being open to the public, and encouraging the golf experience to be enjoyed walking," he says. "All of these guidelines I believe have helped bring awareness to the way the game was first enjoyed."
Note one more key principle in that: being open to the public. He strongly believes the best of golf should be available to all golfers. Possibly the most admirable intention of all.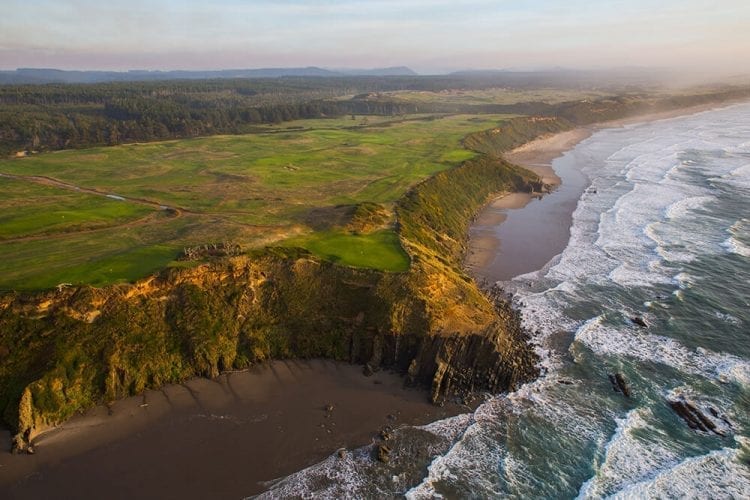 Bandon Dunes has made an impact much greater than might be expected from a property only 20 years old. The irony is that it did all of that by returning to golf's roots, core tenets that were hidden in plain sight. If you're looking for the future of golf resorts—and maybe golf overall—look no further than Bandon Dunes and Mike Keiser. Wherever they go, the golf world is sure to follow.