This perennial major venue has returned to its Donald Ross roots in time for its next closeup
When it comes to pedigree, the tournament résumé for Oak Hill—the more-than-a-century-old club with two Donald Ross designs outside Rochester, N.Y.—is undeniable. Its East Course is a six-time major championship host and the 1995 Ryder Cup battleground and is slated for a fourth PGA in 2023.
Amidst those high-profile events it has been the stage for several improbable iconic moments: Jack Nicklaus's seven-stroke triumph in 1980, the largest margin at a PGA before Rory McIlroy's eight-shot win at Kiawah 32 years later; four aces recorded on the same hole in the same round at the 1989 U.S. Open; Europe's come-from-behind victory on American soil in 1995; and PGA wins by Shaun Micheel (2003) and Jason Dufner (2013).
Yet by design standards, Oak Hill had an image problem as the East's identity wandered about over the years. To ramp up the diffculty and attract national championships, the club hired Robert Trent Jones to tweak the course prior to the 1956 and 1968 U.S. Opens. At the 1989 U.S. Open, infamous changes by George and Tom Fazio were met with widespread scrutiny: New holes at 5, 6, and 15 were decidedly un-Ross, prompting outcry from competitors and critics that an American classic had been spoiled. Said Lee Trevino, a fan before the memories of his '68 Open win were muddied, "I just feel sorry for the members. They have to play Oak Hill all year long."
Ahead of its 2023 showcase, Oak Hill tapped restoration expert Andrew Green to put back as much Ross character and design inspiration as possible.
With the help of original Ross sketches, aerial photography, and pre-facelift tournament imagery, fairway bunkering was adjusted to modern relevancy and greens revised to best represent Ross's intentions, along the way uncovering potential that had been lost to time. A few hundred trees were tactfully removed to reveal previously unseen vistas and add recovery options.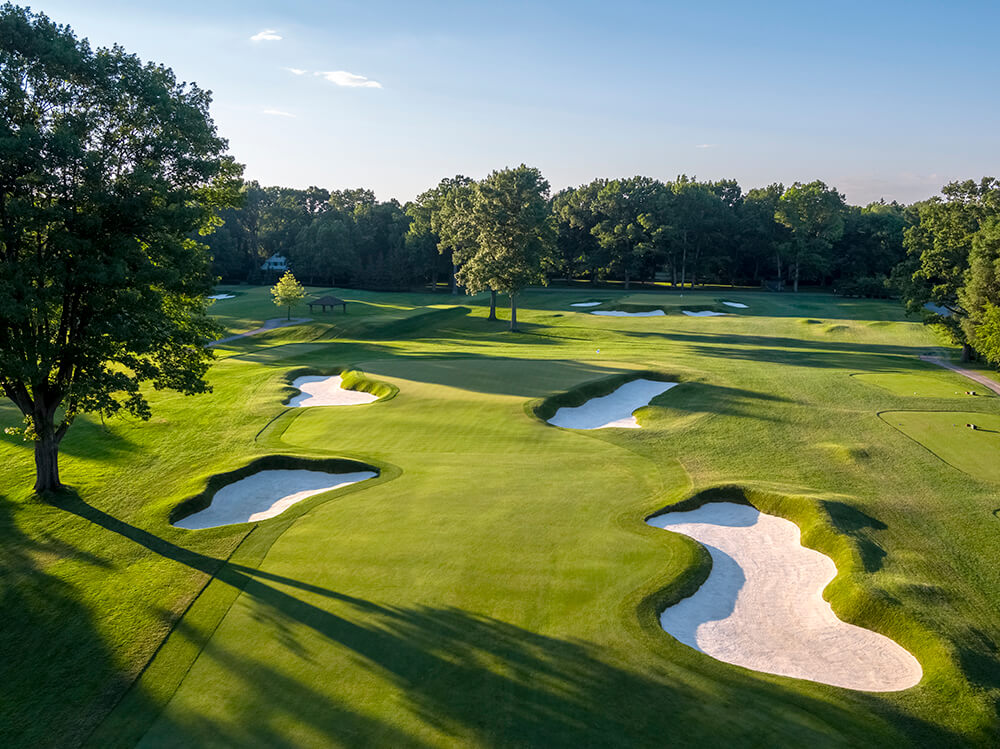 Green's team also sought to replicate the course's tangled trio. The new short par-three 5th features an elevated green guarded by bunkers on three sides. The new 6th is the course's most difficult hole, a 500-yard par four curving around Allen Creek, the tributary that touches half of the East's holes. At the par-three 15th, a rock wall and pond added by the Fazios were removed as Green borrowed aesthetics from Ross's 3rd hole at Wannamoisett to revive its postage-stamp flavor.
Beyond the adjustments, Oak Hill was already brimming with character. In 1956, Ben Hogan called its opening hole the toughest he'd ever faced. The signature stretch— the downhill-then-uphill par-five 13th to a pinched-in green; the go-for-broke 320-yard par-four 14th; and the revitalized 15th—will tantalize on television. It all builds to a 490-yard par-four conclusion played toward the elegant brick clubhouse, enough to make a grown man weep.
After the USGA saw the updates, Oak Hill's East and West were also tapped to host a third U.S. Amateur, in 2027. No one need feel sorry for its membership ever again.