Okay—you've hit a green in regulation, and you're feeling pretty proud of yourself. Two putts and you're out of there with a solid par; maybe you can even steal a birdie. You've done the hard work, now it's up to your flat stick to finish the job. Except that on some greens, your work will be far from finished. As difficult as it is to find greens with approach shots on some holes, on many others the challenge presented by the putting surface is an inherent part of the hole's difficulty.
People who consider themselves bad putters may tremble at the sight of any green, or indeed any three-footer. But even good putters will eventually find themselves on a green that gets their knees to knocking. Here are 10 greens that have been known to do just that. It's not a definitive list by any means—and you probably have your own. But these greens all have the ability to spook you.
2nd hole—Oakmont Country Club, Oakmont, Pa. (340 yards, par four)
Every green at Oakmont can give players fits. They're maintained at U.S. Open speeds all season, and unless you're a Tour player, that means three-putts will be easy to come by. The green at the par-four 2nd is among the most undulating at Oakmont, and an early opportunity to lose whatever confidence you may have had in your putting when you started your round. Plan to three-putt—then you won't be disappointed.
1st hole­—Winged Foot Golf Club (West Course), Mamaroneck, N.Y. (451 yards, par four)
The first time I saw a putt struck on the 1st green at Winged Foot West was in the 1974 U.S. Open. A player had hit his approach shot to the back of the green, some 40 feet past the hole. When he played his first putt, I thought he'd dubbed it. It trickled, and trickled, and trickled—all the way off the front of the green some 60 feet away. Downhill putts here are death. Sidehill putts aren't much easier.
13th hole—Prestwick Golf Club, Prestwick, Scotland (458 yards, par four)
Some players will complain that a hole this long shouldn't have a green this vexing. That's nonsense, of course. Prestwick's 13th is just a hole that requires four superb shots to earn a par—two of them putts on the slightly elevated and undulating green, which has steep drop-offs on several sides and enough ridges and tilts to give a golf ball vertigo.
6th hole—Riviera Country Club, Pacific Palisades, Calif. (199 yards, par three)
The chief challenge on this green at Riviera has nothing to do with the putting surface. It stems from the bunker that sits smack-dab in the middle of the donut-shaped green. Do you try to chip over it? Putt around it and just take your three-putt? Members know: Whatever you do, don't put that bunker between your ball and the hole.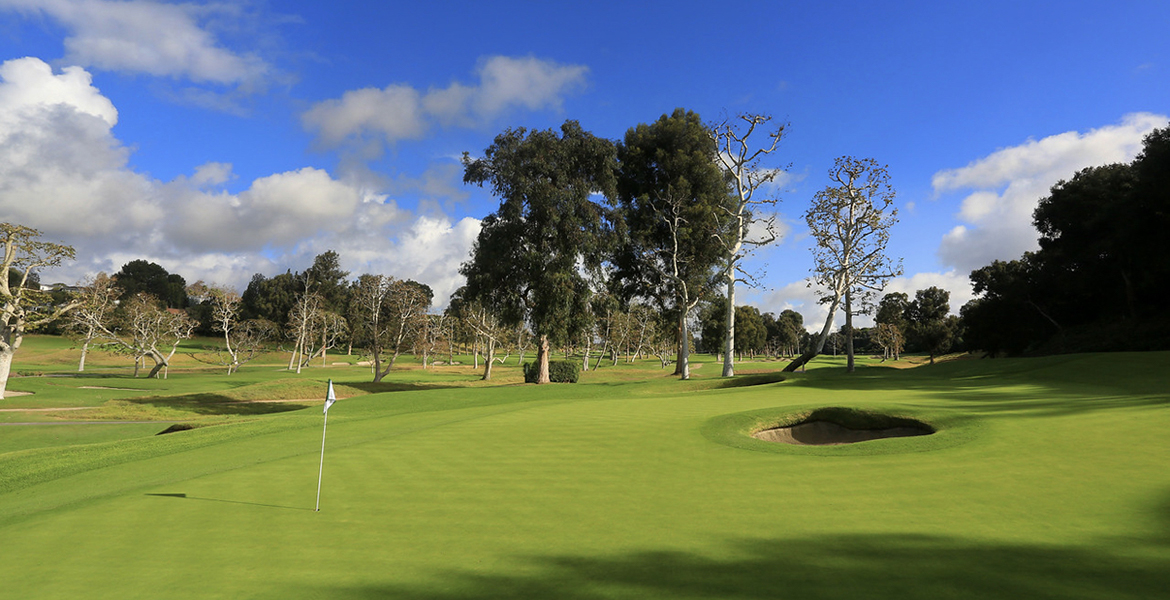 4th hole—Paako Ridge Golf Club, Sandia Park, N.M. (182 yards, par three)
The green at this three-tiered par three is so deep from front-to-back (almost 100 yards) that you may need your playing partner to send up a flare if your tee shot finds the wrong tier. It's virtually impossible to practice putts of the length you may encounter here, and that's often evident in scores players make on this hole.
https://twitter.com/paakogolf/status/1450930079299608577?s=20
5th hole—Augusta National Golf Club, Augusta, Ga. (510 yards, par four)
People who walk Augusta National for the first time often note that it's hillier than it looks on television. This green is, too. From its false front, the green rises sharply before dropping off again and tumbling off in all directions. Depending on the hole location, you may be better off missing this green than reaching it in two.
During #MastersWeek, I try to give priority to the many requests for Augusta National photos that I receive.

So first up, @atkins1188 asks for photos that "display the severity of the 5th green at Augusta." Seriously tough hole, seriously diabolical green. Great request. pic.twitter.com/11r2ewkhwX

— LinksGems Golf Photos (@LinksGems) April 7, 2021
2nd hole—Tara Iti Golf Club, Mangawhai, New Zealand (182 yards, par three)
Tom Doak's design at this standout New Zealand course has sand just about everywhere you look. There are tees, fairways, greens—and sand. The 2nd hole here, like the 6th at Riviera, offers up even more sand in the form of a small pot bunker set in the middle of the green. Depending on where your tee shot ends up, the contouring of this delightful green may help you find a path around the bunker to the hole—or it may do the opposite and force you to settle for a three-putt bogey.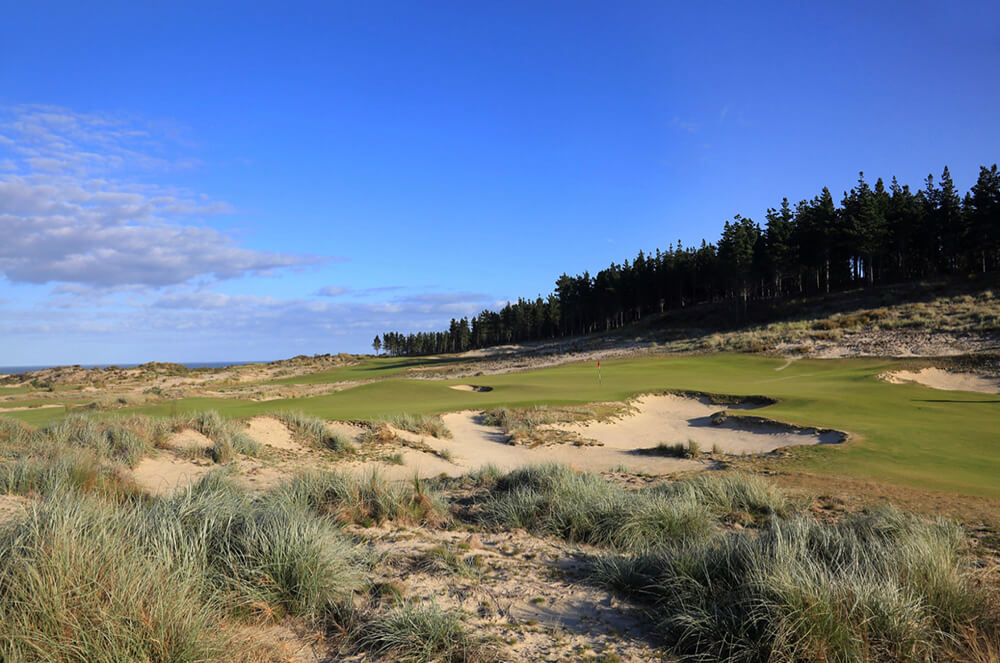 14th hole—Machrihanish Dunes, Machrihanish, Scotland (332 yards, par four)
It's common for short par fours to present you with devilish greens as their chief line of defense. The shallow, slightly elevated green at this David McLay Kidd-designed hole will give you all you can handle. A "buried elephant" in the front-right of the green can send mishit putts in wild directions. But that only adds to the challenge—and fun.
View this post on Instagram
8th hole—Pebble Beach Golf Links, Pebble Beach, Calif. (428 yards, par four)
It's one of the most majestic holes in golf, with a storybook setting that seems too beautiful to be real. It's also one of the course's most difficult—in part because of the design of the heart-shaped green, which slopes treacherously from back-right to front-left. Most players will miss this green in two; if you do, plot your third shot carefully or you may leave yourself in three-putt territory and be staring quickly at a six.
6th hole—Royal Portrush Golf Club, Portrush, Northern Ireland (189 yards, par three)
Even before this already-large green was expanded to create an additional hole location in the very back, it gave players fits. Despite its size, there are very few places on this putting surface that will yield anything close to a straight or flat putt. Add in some wind, and Portrush's 6th is a bogey, or worse, waiting to happen.
What are the scariest greens you've faced?