The 18 regulation holes at Payne's Valley—the newest course at Missouri's Big Cedar Lodge—may showcase Tiger Woods's design chops, but the course's 19th hole, nicknamed "The Big Rock," is largely the vision of Big Cedar's owner, Johnny Morris. The island green, which plays no more than 136 yards, is fronted by a large bunker and framed by exposed limestone outcroppings that encircle much of the pond. A cascading waterfall almost 100 feet tall flows down the rock wall directly behind the green, adding even more drama to an already enrapturing scene.
"It's a remarkable feature in nature, isn't it?" Morris asked rhetorically at a press conference for the groundbreaking of Payne's Valley five years ago. At that time, the pond didn't exist and the green complex was temporary, made from artificial turf. Even so, the site of this dramatic round closer was jaw-dropping in its less-than-finished state. "We've put no small amount of effort into cleaning it off and polishing it up," Morris added.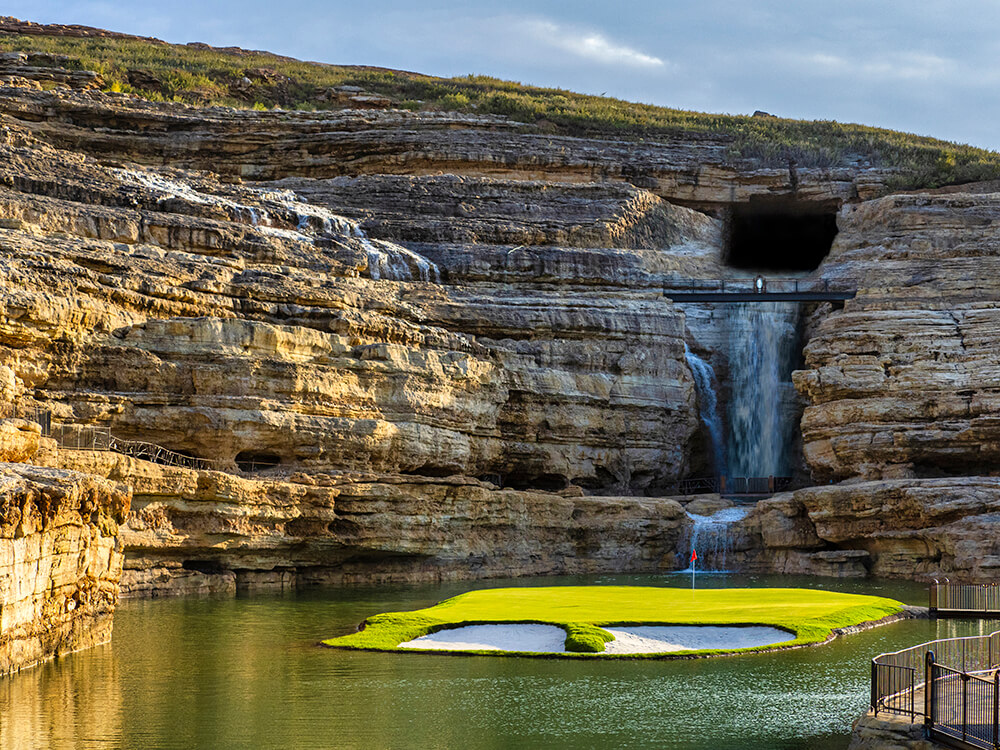 At the time, Morris alluded to a bonus hole at nearby Hickory Hills Country Club in Springfield, Mo.—Payne Stewart's home course—where he said wagers were often placed and bets settled. "Maybe there will be some of that put to good use here," he surmised.
When it comes to bonus holes at public golf courses, the Big Rock at Payne's Valley may be one of the most dramatic that you'll find. However, a number of other golf destinations also feature 19th holes where bets can be placed, matches settled, and at least one more thrilling tee shot can be hit. Here are seven more standouts.
Forest Dunes—Roscommon, Mich.
When Tom Weiskopf put the finishing touches on the eponymous course at Forest Dunes in 2002, he added a bonus hole with a green complex inspired by the 6th hole at Riviera Country Club. With a small pot bunker placed in the center of the putting surface, this 19th hole offers plenty of interesting outcomes to end a match. But unlike the famous par three at Riviera, which can play as long as 169 yards, Forest Dunes's homage doesn't extend past 117 yards in length. Hitting the middle of the green may normally be a prudent strategy but doing so at this bonus hole might mean that you'll be hitting your second shot with the same club that you used to hit your first. forestdunesgolf.com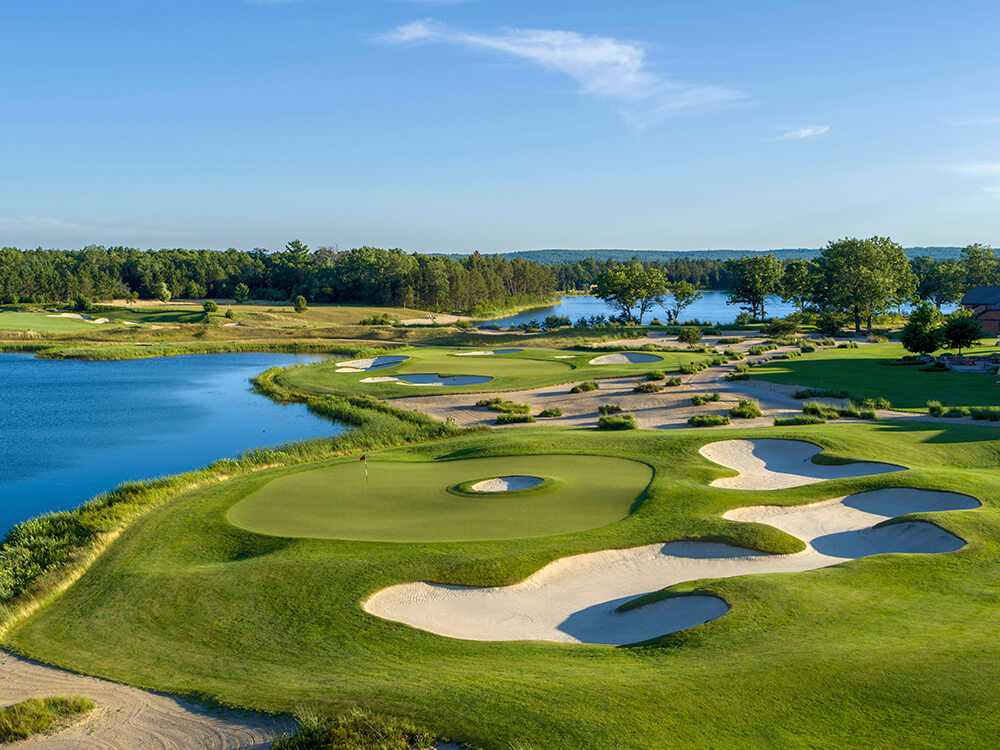 Twin Dolphin—Cabo San Lucas, Mexico
If you're not a member of this immaculately conditioned golf club, you can only get on if you're a guest of Maravilla or Montage Los Cabos. Those fortunate enough to earn temporary access will enjoy a Fred Couples-designed course where every hole offers stunning views of the Sea of Cortez. Back in 2019, Couples explained that he tried to keep the higher-handicap player in mind when designing the course. There are some tough shots out there—and some tough greens—he said, but they're balanced by less-intimidating holes.
There's also a bonus hole, a short par three that plays 95 yards over a cavernous arroyo. Like many of the 19th holes that made this list, the club refers to this final par three as the "Gambler's Hole." Whether or not you choose to put a little wager on the action on this final hole, you're guaranteed to feel like a winner while you play it. twindolphinloscabos.com
19th hole and clubhouse after our first round of golf at Twin Dolphin pic.twitter.com/uE7aoWiVnm

— fredcouplesgolf (@fredcouplesgolf) December 28, 2018
Streamsong Resort—Bowling Green, Fla.
Most often, a bonus hole appears at the end of a layout to better connect a course to the clubhouse. In the case of this 19th hole at Streamsong Resort, the extra par three is located in between the Clubhouse at Streamsong Red and Blue and the first tee of Tom Doak's Blue course. That positioning is strategic, since the resort's original developers wanted a hole that could be lit at night for additional play either by groups enjoying dinner at the clubhouse or for guests who were staying in the guest rooms there.
While the 150-yard hole could help settle bets at the conclusion of the round, playing it first might also help guests prepare for the two par threes on the Blue's front nine. It's similar in length to the 5th hole (at least from the back tees), while the forced carry over the pond will condition players to the daunting task that awaits them at the course's signature 7th hole. streamsongresort.com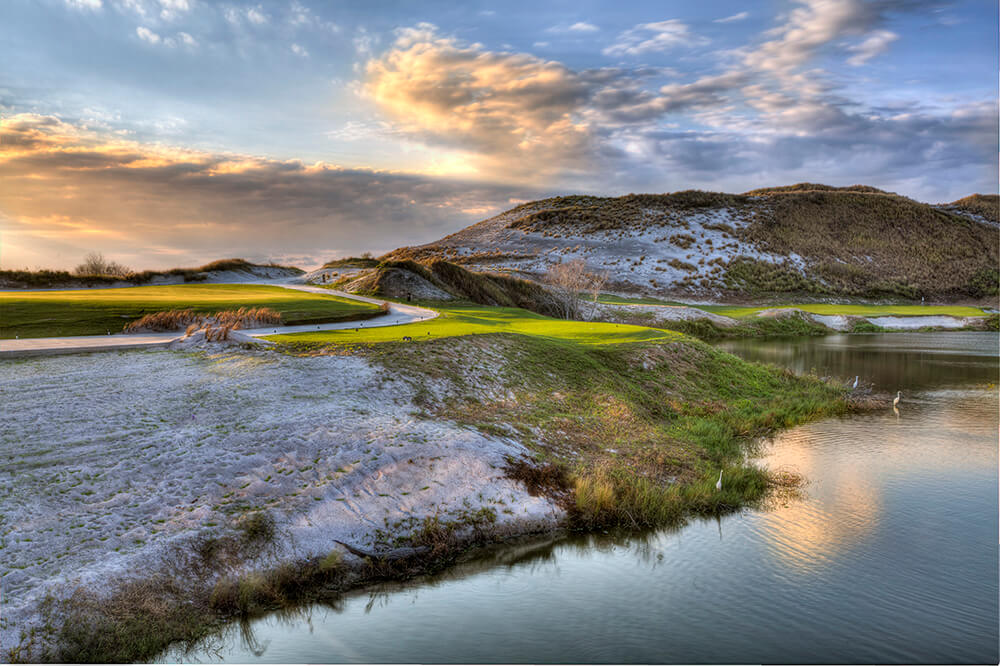 Koasati Pines—Kinder, La.
By the time golfers reach the bonus hole at Koasati Pines Golf Club at the Coushatta Casino Resort, they are assuredly battle-tested when it comes to water hazards. Aquatic obstacles are potentially in play on 12 of the 18 regulation holes, so it should come as no surprise that the 19th hole plays to an island green. Although similar in length to the world's most famous island green—the 17th hole at TPC Sawgrass—the Gambling Hole at Koasati Pines offers a bit more terrain as a landing area. In that respect, this gambling opportunity may offer the best odds at the resort but winning still won't come easy. coushattacasinoresort.com
Indian River Preserve—Mims, Fla.
Depending on its architect, a golf course can sometimes showcase design elements that shine a light on its creator. Donald Ross for example, often designed heavily contoured putting surfaces that typically sloped from back to front and featured false fronts and other run-off areas. Alister MacKenzie, by contrast, was a master of fairway bunkers, creating large, intricate sandscapes that were always visible from the tee and were typically connected to the land around them via sculptured contours and other mounding. At Indian River Preserve, it's the final (extra) hole that provides a signature stamp for its designer, Jan Stephenson. The 75-yard par three features a green shaped like Stephenson's native Australia. How's that for a sign off? indianriverpreservegolfclub.com
Cog Hill Golf and Country Club—Lemont, Ill.
Unlike many bonus holes, which ordinarily play on the shorter side and only require players to hit wedges or short irons into the green, the extra hole on the No. 2 Course at Cog Hill is a brute. The concluding par three on the Ravines course—so named for the rolling terrain and actual ravines that golfers must navigate on almost half of the holes—plays uphill and over a broad water hazard. Don't expect a reprieve once you reach the green, either, as the club aptly describes the putting surface as "testy." Needless to say, if your match needs a 19th hole to settle the score, this one will get the job done. coghillgolf.com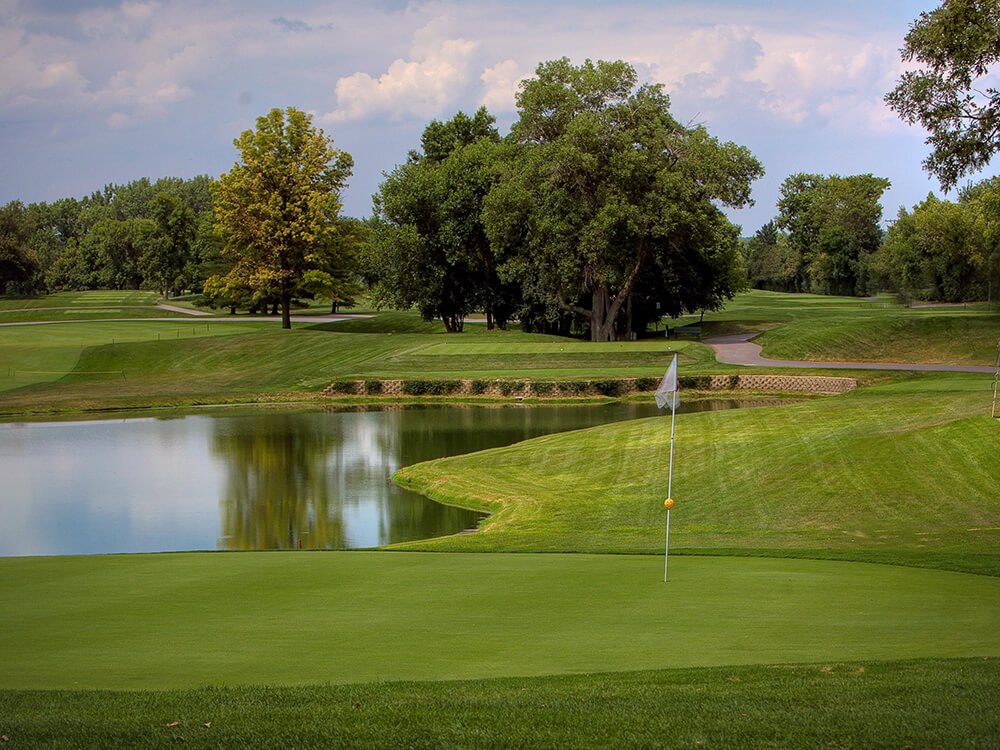 Legendary Run Golf Course—Cincinnati, Ohio
Each hole at the Legendary Run Golf Course in Cincinnati is named after a famous layout that provided at least incidental inspiration for its design. By the time you reach this 19th hole, you should be well prepared for the task at hand. The green on the par-three 4th hole, "Turnberry," is protected by a rocky creek, for example, while hole 16—dubbed "Inverness"—is defined by an expansive water hazard running from tee to green.
The bonus hole at Legendary Run is simply named "Legendary," and like the layout's previous par threes it requires a forced carry, this one over a small pond. At 163 yards, the 19th plays shorter than most of the course's one-shot holes, which makes it an ideal spot, as one of the club's pros acknowledges, "to end any ties or any outstanding bets." Of course, in the next breath, he also points out the reality of the situation: "It's just another chance to lose a golf ball into the pond." legendaryrungolf.com
Which bonus holes are your favorite to play?