When trips are scheduled to The Big Easy, it's easy to get caught up in all that the city can offer once the sun goes down. But there's plenty to do during the day—in particular, there are plenty of noteworthy public courses in and around New Orleans. So, if you're planning a visit to the Louisiana bayou, whether it's to coincide with Mardi Gras or really at any time of the year, remember to bring the sticks for a game at these seven tracks nearby.
English Turn Golf and Country Club (New Orleans)
At some courses, the architecture from hole to hole can reveal plenty about the layout's history, its creator, and—on occasion—its original purpose. Such is the case at English Turn, a championship venue located about a 30-minute drive southeast of downtown New Orleans, across the Mississippi River. Those who know that Jack Nicklaus often designed courses that seem to favor his particular style of play will immediately recognize that English Turn is a signature creation of the Golden Bear, as the almost 400-yard opening hole favors a fade off the tee. The course also features almost 100 bunkers, more than a dozen of which are sprawling in surface area. Nothing goes better with sand than surf, and English Turn has that covered, too, as all but three of the holes bring water into play. All of those factors provide insight into the partial motivation behind the course's design, as the 7,089-yard layout, which opened in 1988, immediately hosted an annual PGA Tour event until 2004. – englishturn.com
Grand Ridge Golf Club (Luling)
Requiring about a 45-minute drive west from the heart of New Orleans (the spot at which Canal and Bourbon streets converge), Grand Ridge boasts a golfing tradition born the same year the Golden Bear won his second of four U.S. Opens—that's 1967, in case your golf trivia skills need a bit of sharpening. The course, which was built amongst the swamplands of St. Charles Parish, doesn't surpass 6,500 yards, yet tight fairways and prevalent water hazards bolster the layout's difficulty. Ancient live oaks and towering cypress trees not only add to the beauty of the area but also reflect the distinctive region in which the course resides. – grandridgegolf.com
Lakewood Golf Club (New Orleans)
Originally designed by Robert Harris, Lakewood opened in 1961; but 13 years ago, the 7,002-yard, par-72 layout benefited from a renovation led by Ron Garl, one which modernized the course's fairways, tee boxes, and greens. Along the way, Garl also introduced eye-catching bunkering and distinctive contours to the fairways, which not only produced more striking visuals from the tee but also enhanced the dynamic nature of the course, since players are now more likely to face a variety of stances and ball positions when hitting their second shots. As bunkering goes, nothing is more dramatic than the course's reimagined 18th hole, a 444-yard par four with fairway and greenside bunkers shaped like flames and filled with red sand—a tribute to the city's firefighters. Not surprisingly, the final hole at Lakewood has earned the nickname, "Fire in the Hole." – lakewoodgolf.com
TPC Louisiana (Avondale)
A story about great public golf in The Big Easy would be incomplete without mentioning TPC Louisiana. Golf travelers will always jump at the chance to play one of the 14 TPC courses that allow public play, especially when examples like TPC Louisiana offer such great value. Aside from its value, this Pete Dye-designed layout can be approachable or downright Dye-abolical. With five dedicated tee boxes and two combo tees, the course can play anywhere from 5,121 yards in length, to more than 7,400 yards; however, the back tees are labeled "PGA Tour," which suggests they're only in use one week a year. That being said, you don't need to venture to the tips for a stout test of golf, as TPC Louisiana is outfitted with five artificial ponds, which bring water into play on seven holes. Elsewhere, more than 100 bunkers add additional topographical challenges. Perhaps best of all, throughout the round you'll be constantly reminded of your location in the Louisiana bayou, as the course meanders through wetlands along the Mississippi River Delta. – tpc.com/louisiana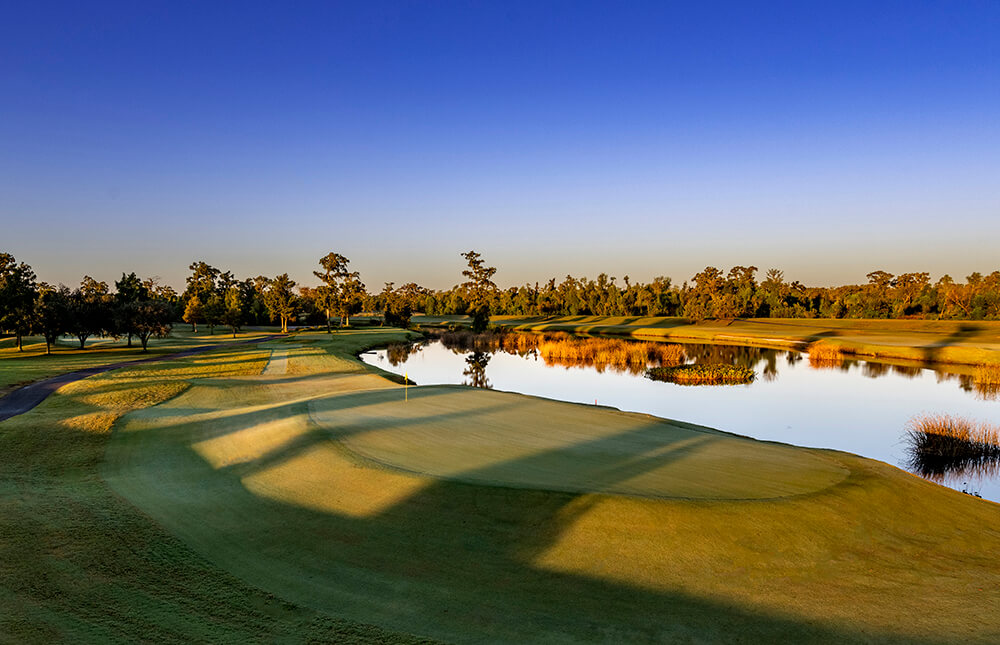 The Golf Club at Audubon Park (New Orleans)
Unlike TPC Louisiana, Audubon Park is situated north of the Mississippi River, which means the club is within close proximity to downtown New Orleans (the heart of Canal Street is only a 25-minute drive away). On paper, the Denis Griffiths-designed course might not look like much; after all, a par of 62 and a total distance of just less than 4,200 yards are two numbers that suggest Audubon Park is just a place to go to swing the clubs and say you played golf in New Orleans. However, the site is historically significant, as it hosted the World's Fair in 1898—in fact, a six-foot-tall boulder of iron ore (originally part of Alabama's state exhibit at the fair) still stands just off one of the fairways. The course benefited from a comprehensive, $6 million renovation in 2002 and today it's comprised of a dozen par threes, four par fours, and two par fives. – audubonnatureinstitute.org/golf
Bayou Oaks at City Park (New Orleans)
If you're looking for a round of golf that doesn't require you to venture outside of New Orleans's city district, simply hail a cab or book a ride to Bayou Oaks, a 36-hole facility located only 15 minutes north of where Canal and Bourbon streets meet. The property's North course first opened for play in 1969 and is what many likely envision when they think of a city park golf course. In other words, the par-68 layout is compressed in size. Measuring just 5,737 yards from the tips, the metropolitan course has only one par five, while its dozen par fours max out at an average distance of 368 yards.
The South course, on the other hand, was redesigned by Rees Jones in 2017 and plays as long as 7,300 yards. Meandering around groves of trees and several lagoons, the course is devoid of any housing along its perimeters, which allows golfers to focus on the site's natural beauty, specifically its many sprawling live oaks. The North course may not be suitable for championship golf, but the South course certainly is. In fact, Jones acknowledges that the layout's green contours are moderately sloped, which allows the putting surfaces to be conditioned for fast speeds. – cityparkgolf.com
Stonebridge Golf Club (Gretna)
Located due south of downtown New Orleans (about a 20-minute drive), Stonebridge is a quintessential Big Easy golf course, one that offers skyline views of the nearby city and requires golfers to navigate a handful of fairways that run parallel to one of New Orleans's canals. Whereas many courses open with a welcoming hole—a "gentle handshake" as it were—such is not the case at Stonebridge. Here, golfers will encounter the longest hole on the course right out of the gate—a 585-yard par five with a treelined canal running the entire right side of the hole and a pond along the left that can impact second shots and also players' drives if they're teeing it up from the middle boxes. With the presence of the canal, as well as other ponds and lagoons scattered across the property, more than 70 percent of the holes at Stonebridge bring water into play. The course also features three distinct nines, each one named after a celebrated jazz musician. – golfstonebridge.com
What is your favorite golf course in the New Orleans area?