Some thoughts on Jack, Tiger, and the question of which is the game's best ever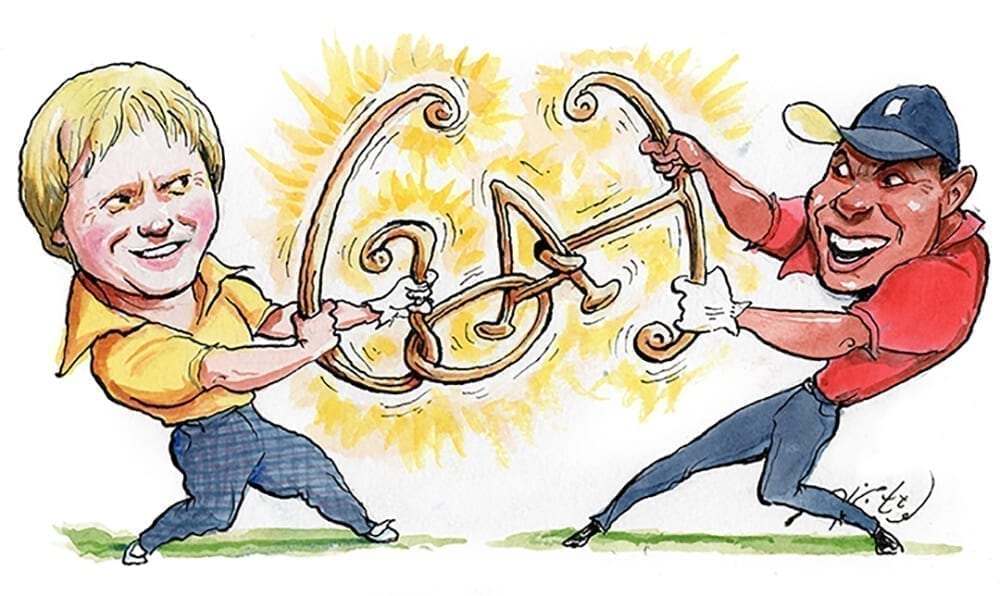 As Jack Nicklaus celebrates his 80th birthday this year, my thoughts turn to the day I met him.
It didn't go well.
This was late September of 1976 in Pinehurst, where a tournament called the World Open was being played. At the time, I was the low man on the masthead at GOLF Magazine, which meant I was tasked with collecting ballots for the annual GOLF Magazine All-America Team.
This involved approaching the PGA Tour players and asking them to name the best of their peers that year in each of seven areas—Driver, Fairway Woods, Long Irons, Middle Irons, Short Game, Sand Play, and Putting. (Today's computerized statistical categories were a quarter-century or so in the future so this was the game's only annual report on who was best at what.)
After two days of panhandling in the Pinehurst locker room, I'd collected ballots from over 100 players, including every one of note except Nicklaus, who for some reason had not yet arrived. Then, late on Wednesday afternoon, he came through the door.
I was intimidated at the prospect of meeting the man who even then (age 36) was the best the game had ever seen, having amassed 61 of his eventual 73 wins, 14 of his 18 majors. But I had a job to do.
"I'm collecting ballots for the GOLF Magazine All- America team," I said cheerily. "Would you mind filling one out for us?"
"Yes," he said.
"Great, here ya go," I said, nervously thrusting a ballot into his hand.
"I said 'Yes, I'd mind,'" said Jack, fixing me with the legendary Bear glare.
"Oh….uh…" [Brain warp…flop sweat…what did I say…why does he hate me…what happens now?]
"Let me get something straight," said Jack. "You have seven categories here and the deal is I have to name a different player in each of those categories, right?"
"That's right," I said.
"Well, if I were to be honest, I'd have to vote for myself in at least four of those areas, and since I can't do that, I won't vote," he said. With that, he handed the ballot back to me and headed out to the course.
Standing there, stunned in his wake, I thought, "What a pompous ass!"
Then I took a moment to consider his point. Although he hadn't won a major that year, he had won the Players Championship and the World Series of Golf. He'd also been named PGA Player of the Year and had led the Tour money list while playing only 16 events.
As to our categories, well… Driver (yup, Jack was hands down the best); Long Irons (no question); Middle Irons (Johnny Miller was more accurate, but not as consistent); Putter (slam dunk Jack). That year, I would have given Ray Floyd the prize for Fairway Woods, Hubert Green Short Game, and Gary Player Sand Play. Otherwise, our All-America team was all Nicklaus.
Indeed, back when Nicklaus was in full flower, most of us agreed 1) he was the best player in history, and 2) we would never see anything like him again. But in that September of 1976, none of us knew there was a nine-month-old kid in Cypress, Calif., who would turn the world of professional golf upside down.
So here we are, 44 years and one Tiger Woods later. With Jack turning 80 and Tiger in renewed vigorous pursuit of his majors record, the great debate has returned to center stage: Who is golf's GOAT, the greatest of all time?
The answer depends on the questions. Some are simple to answer, some not. Here are mine.
Who has the better record in the majors? JACK. It's not just his 18 wins, it's his mind-boggling 19 seconds (to Tiger's 7).
Who has the better record overall? TIGER. His 82 wins to Jack's 73 is ample proof, but then consider their winning percentages—22.8 for Tiger (82 wins in 359 starts) versus Jack's 11.5 (73 in 633). Yes, Tiger's percentage will inexorably decline, but know this: He could play 15 events a year until he's 65, win nothing, and still outshine Jack in this department.
Who has had the higher highs? TIGER. On three occasions he has won five times in a row. He's won the Masters by 12 and the U.S. Open by 15. And then there's the Tiger Slam. Jack, great as he was, never displayed that kind of dominance.
Who has had the higher lows? JACK. This gets to the question of consistency. Both played at the highest level longer than anyone else, each enjoying an era of domination three times as long as Bobby Jones's or Ben Hogan's. The decider here is Tiger's dark period, when a combination of physical injury and moral frailty sidelined him on and off for the better part of a decade, left him winless for five years (2013–2018), and plummeted him to a world ranking of 1,199.
Who faced tougher competition? DRAW. Now we're in murky waters. The case for Jack is that his contemporaries were more formidable: Palmer, Player, Watson, and Trevino each won six or more major titles, while Tiger had no such challengers (Phil Mickelson is the only cohort with more than four majors). On Tiger's side, however, the overall field is much broader and deeper. He may not face an A Team, but the B team is international, physically bigger and stronger than Jack's was, and grows each year. Recently, a data scientist named Daniel Braddock published a paper comparing the two sets of opponents: Using an algorithm based on Google's PageRank system, he found Tiger's competition to be much tougher. Still, because of the whole apples-to-oranges thing, I find this one too close to call.
Those five questions leave us with two wins for Jack, two for Tiger, and one tie—no definitive answer. Comparing the two titans according to their stats seems insufficient to the task. Additional more ethereal questions must be asked. Who was the better ballstriker/shotmaker? The craftier strategist? The fiercer competitor? If, at their respective peaks, they were to play 20 head-to-head 18-hole matches, who would win more of them? These answers will be by nature less definitive, more subjective, but one way to get at them is to return to those All-America categories.
Driver: JACK. He consistently outdrove his contemporaries while keeping the ball in the fairway. Tiger did not.
Fairway Woods: TIE. Both of them hit the ball long enough that they had little need to call on the woods (or hybrids).
Long Irons: JACK. He invented the towering 2-iron, which in today's game is a towering 4-iron. Tiger is also strong here, but Jack's misses were less dramatic.
Middle Irons: TIGER. No one—not even Hogan—has controlled length, direction, trajectory, and spin better—and then there's his preternatural ability, when needed, to bend a shot 50 yards either way.
Short Game: TIGER. Not even Jack would argue here.
Sand Play: TIGER. Neither was among the world's very best from bunkers, but Tiger had/has a creativity and range of shots that Jack never did.
Putting: TIE. Under pressure particularly, the two are in a class by themselves. But even such analysis goes only so far, explaining the "what" of greatness rather than the "why." I've always felt the most telling criteria come, oddly, from the 4-H Club, an international youth organization whose motto is "Head, Heart, Hands, and Health." If we compare Jack and Tiger according to those yardsticks, a clearer picture emerges.
Head: TIE. Each knew how to out-think his opponents. Each knew how to manage his game and the course. Rarely did either play a foolish shot or blow a lead.
Heart: TIGER. There was no give-up in either, and both could summon their best when they needed it most. But Tiger displayed an intense, unremitting desire to improve— while Jack, in the words of Chi Chi Rodriguez, was "a legend in his spare time." Jack had strong resolve, but I don't think he would have—could have—rebounded from oblivion in his 40s the way Tiger has.
Hands: TIGER. Jack relied mostly on one shot, a high fade, and not until late in his career did he pay much attention to short game finesse simply because he hit so many greens. Tiger can pluck, scrape, gouge, pound, poke, and feather his ball from all sorts of peril and deposit it consistently within the shadow of the flagstick.
Health: TIGER. Jack played his entire career without major physical issues, but he was never what you'd call super-fit. And yes, Tiger suffered numerous injuries but that was partly because he drove himself to be strong and supple. That same determination and sweat brought him to the top, kept him there, and has brought him back to where he is now at age 44 among the fittest players on the Tour.
The bottom line is that Tiger Woods embodies each of the 4H's in magnificent abundance while Jack does not.
Thirty years ago, a black-tie dinner was held at the Waldorf in New York celebrating the Centennial of Golf in America. Five hundred people were there, and the three- tiered dais consisted mostly of men and women who are now members of the World Golf Hall of Fame. At the end of the evening, it was my great honor to announce golf's Player of the Century Award and present it to Jack Nicklaus.
Jack Nicklaus will always be the Player of the Century. But the greatest of all time is Tiger Woods.