Before there were Street Signs and GPS systems telling us where things are, Native Americans had a clever way of doing the same thing with trees. They would bend saplings and tether them to the ground so the trunk would grow horizontally toward something of importance, like fresh water.
One such tree can be found at Bent Pine Golf Club in Vero Beach, Florida. It's located left of the fairway on the 549-yard finishing hole. Though it points to the five-acre lake that separates the 9th and 18th holes, what it's been signaling since the club's founding in 1979 is that this is one of the best golf clubs along Florida's southeast coast.
"Everybody plays with everybody else," says Bob Satola, a member for eight years. "There aren't a lot of cliques here. And the course is interesting and inviting enough to enjoy each day. It's not easy by any means, but it doesn't beat you to death like a lot of courses do. It's just right."
Designed by the late Joe Lee, who with partner Dick Wilson built such legendary layouts as Doral's Blue Monster, Bay Hill, and Cog Hill No. 4, the 6,779-yard Bent Pine course definitely lies in golf's Goldilocks zone. "I start with the premise that golf should be enjoyable, not a chore," Lee once said. "Golfers want a challenge, but they want a fair one. An architect can't put a foot on the golfer's neck and keep it there all day."
Golfers have some breathing room on a typical Lee course with friendly fairways, sculpted but playable bunkers, and gentle green contours, and Bent Pine is no different. Lee moved about 475,000 cubic yards of dirt, giving the course some unusual elevation changes for South Florida. The raised tee boxes allow players to see any trouble, as on the 192-yard 5th, which plays over a lake, and the 493-yard 14th—one of Lee's all-time favorite holes—with water left of the fairway and in front of the green. Other standouts include the 408-yard 9th with its lake-fronted two-tiered green and the dogleg right, 319-yard 15th that's drivable for long hitters if they challenge the 15-acre lake that runs down the right.
"It's one of the best risk-reward courses I've ever played," says long-time head pro Pat Gorman. "And with the holes spread over 250 acres, we've got our own little world here. There's plenty of room to expand if we need to."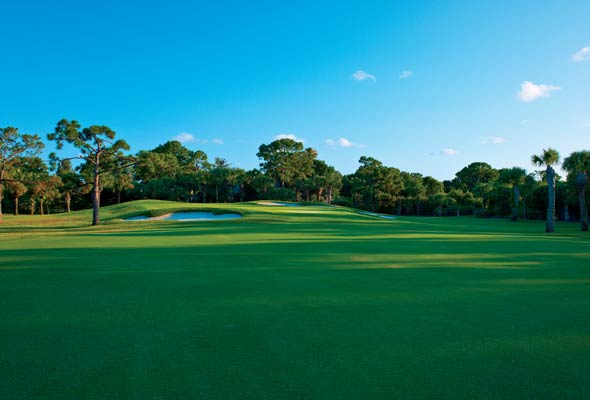 Tour pros particularly appreciate Lee's straightforward designs, which is why Ben Hogan chose to work with Lee when he made his only foray into architecture in the early '70s at the Trophy Club near Dallas. Bent Pine member Kenny Perry, who worked at the club as a cart boy in the early '80s, tunes up there every winter. In fact, it was on the practice putting green before the start of the 2008 season when another member, Paul Hargarten, approached Perry and gave him an old putter of his, a Ping Craz-E mallet.
"You need to play with this," the retired banker told him.
Perry thought it was a little odd but graciously accepted the gift. With his putting in the doldrums, he decided to give it a try. And then, magic. The model reignited his touch and his career, helping him win five times and more than $8 million over the next two years—all with Hargarten's name band still on the shaft. Perry thanked him by giving him one of the gold-plated replica putters that Ping sends to each of their pros after a win. It now hangs in the trophy case near the main entrance of the clubhouse.
"Bent Pine is a special place to me," says Perry, who began his tour career with the backing of a few club members, among others. "If it hadn't been for Bent Pine and the people here who supported me when I was getting started, I might not have gotten where I wanted to go. This is where it all started, really."
Perry is just one of a distinguished list of about 50 pros who got their start at Bent Pine. Others include Todd Anderson, now director of instruction at Sea Island Golf Learning Center who works with a lot of tour pros such as Davis Love III; Scott Davenport, head pro at the Quail Hollow Club; Eric Johnson, director of instruction at Oakmont Country Club; and Dennis Satyshur, director of golf at Caves Valley Golf Club.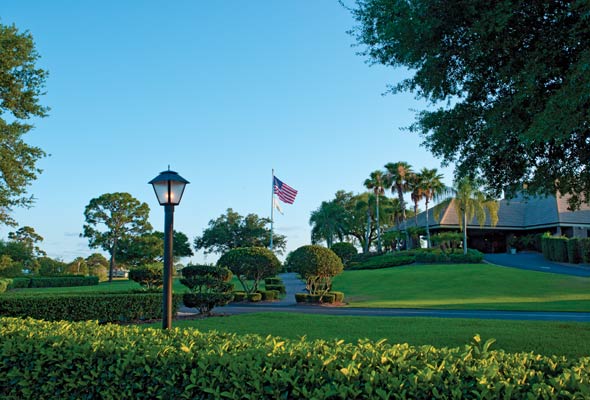 "Bent Pine is a quality place with quality people," says Satyshur, the club's first head pro from 1979 to 1984 who reunites with his successors at Bent Pine for a pro-am every five years. "The members treat everyone with dignity and developed a culture where they value people."
Those strong principles that form the foundation of the club began with the group of successful businessmen from John's Island who founded Bent Pine so they could have a private course to call their own. Teaming up with a real-estate developer, the group acquired 576 pristine acres dotted with lakes, dunes, and pines on the other side of the Intracoastal Waterway and told Lee to use whatever land he wanted to build the course, which is music to a designer's ear. Usually, an architect is given the leftovers from the real estate development, not the other way around.
The course quickly gained notoriety. One of the early events that helped attract attention was the Bent Pine Pro-Member held on the Monday between the Bay Hill and Doral stops on the PGA Tour. Many up-and-coming stars, like Tom Kite, Fred Couples, and Hal Sutton, played in the outing, which included a Sunday night team-drawing dinner and talks by the pros. Remembers Satyshur: "Having them there created a lot of excitement and energy."
Today, Bent Pine has about 300 members from all over the country and couldn't be in better shape, both agronomically and financially. The club sold 70 acres of land at the height of the real estate boom and used the money to pay off a 2002 remodel of the clubhouse (its panorama windows overlook the 9th and 18th holes), redo the irrigation system and greens, and put a couple of million dollars in the bank.
There's no tennis or pool, although a reciprocal agreement with a nearby club gives members access to those amenities. "The focus is on golf," says R.C. Smith, a member since 1983 who also belongs to Pine Valley. "We have the best golf course in Vero Beach, but the people are what make the place. It's just got a very friendly atmosphere. It's a very harmonious group."
Having a fun but challenging course, good friends to enjoy it with, fine dining in an elegant setting, and a dedicated staff, it's no surprise that happiness comes easy to the
members of Bent Pine.