By Tom Coyne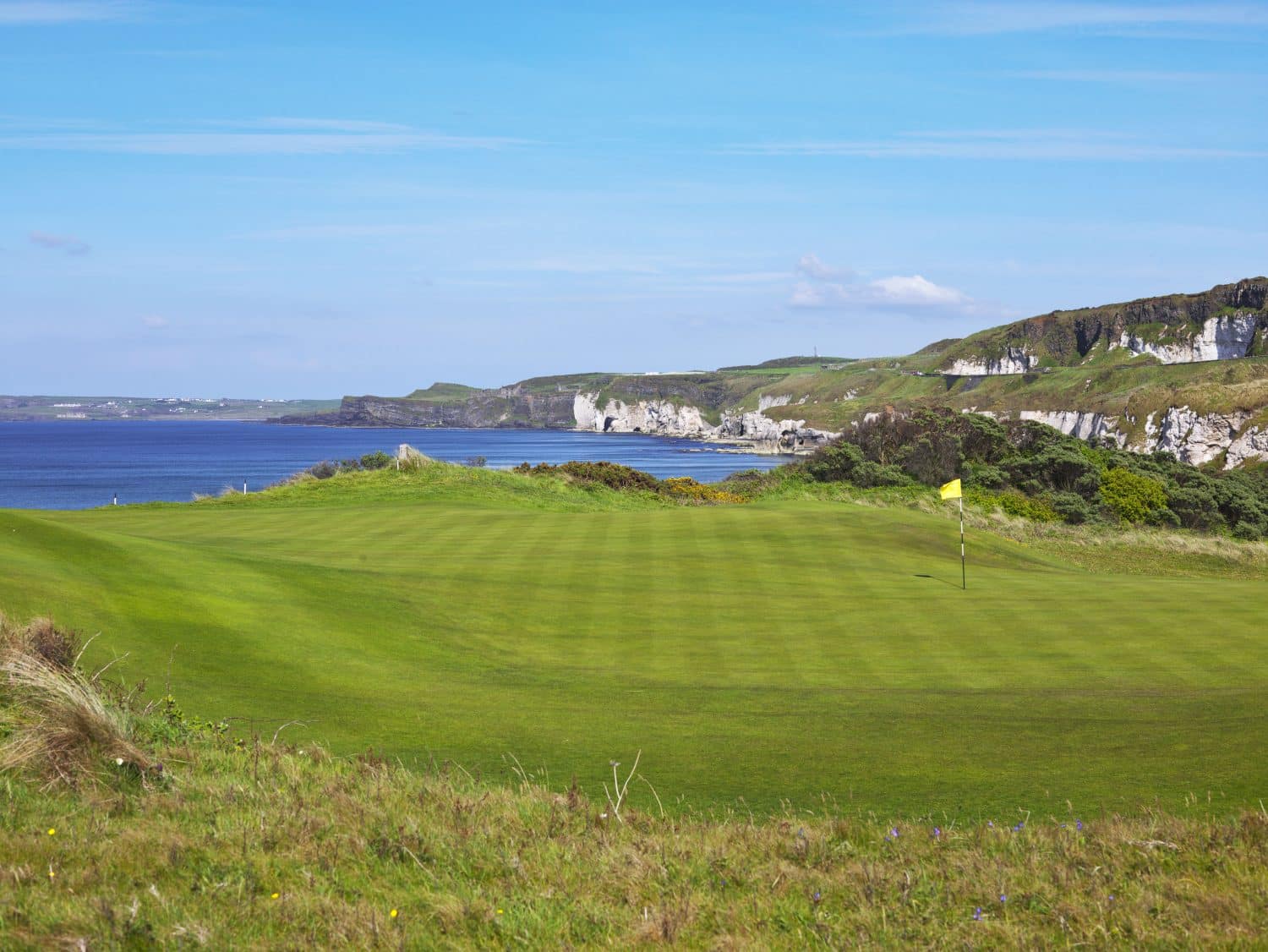 There are reasons you aren't playing golf in Ireland right now—vanished vacation time, your daughter's college orientation, your aversion to extraordinary hospitality and golf of the purest and most dramatic variety. But if it's money that is keeping you from the land of green and golf and Guinness, you are officially out of excuses.
"People think of an Irish golf vacation as something that the investment banker or surgeon at their club does once in a lifetime. That may have been the case years ago, but things have changed," says Tom Casey of Old Sod Travel. With airfares reaching new lows, the Euro (and in Northern Ireland the post-Brexit pound) sagging in comparison to the dollar, and aggressive deals from clubs eager for visitors after the country's economic downturn, golf trips to Ireland are more budget-friendly than they've ever been. Add a little local knowledge and you can't afford not to make your dream golf trip to Ireland a reality, and very affordably. Here are 10 tips for swinging through Ireland on a budget.
1: Don't fear the flight. And don't delay. Airfares are the biggest budget-saver right now. A new terminal at Dublin Airport and plans for a second runway mean more flights than ever between Ireland and North America, with the competition leading to lower rates. Aer Lingus and Norwegian Air both offer new crossings, and WOW Air is selling wow fares through Iceland for less than $400 round trip.
2: Stray from the bucket list. Top-100 list courses like Ballybunion, Tralee, Royal County Down, and Lahinch are all worth the hefty price tags, but they are but a small slice of Ireland's golf magic. Off the beaten tourist path, you will find golf rounds for much less than at the bragging-rights clubs: Courses like Dooks, Strandhill, Ardglass, Laytown & Bettystown, and Ceann Sibeal. If you do splurge for Ballybunion, Lahinch, County Down, or Portrush, get the most bang for your buck by playing their worthy sister courses, often offered at half the price of the marquee tracks. Wandering north from Ireland's popular but pricey southwest will also see values rise, and will take you to the simpler, quirkier, more soulful Ireland of your imagination, where when you ask an old man reading the newspaper for directions, as my friend did in County Mayo, you'd think you've walked into a scene from The Quiet Man.
"Excuse me, sir. How do you get to Ballina?" my friend asked.
The man looked up from his paper, thought about it for a moment, and replied, "My brother drives me every Saturday."
3: Nine is fine. Americans tend to discount nine-hole courses as inferior, but that isn't the case in places like Castlegregory in Dingle, where for $38 you can go twice around its hearty nine-hole layout, carving shots through hulking dunes on a course squeezed between a lough and the ocean. Spanish Point near Lahinch has some joyfully quirky holes; the Bann nine-holer at Castlerock in the North is a knockout; and Cruit Island in Donegal remains one of my favorite golf experiences on the planet—for $20, you'll finish and try to pay them more.
4: Be competitive. Listed on course websites as "fixtures" or "opens," club tournaments charge green fees well below their normal rates. You'll need to prove your handicap, and check if a tournament requires you to be a member of a GUI (Golfing Union of Ireland) club or not. Also, search club calendars for "open days," when visitors are welcomed at reduced prices.
5: Make it a challenge. Challenges and multi-course packages are the best value in Irish golf. Challenges are multi-day, multi-course tournaments played on set dates, while passes/packages can be used at any time. The brochure at North & West Coast Links contains a list of challenges, with some of the best:
The Atlantic Coast Challenge (July): Carne, Rosses Point, and Enniscrone for $155. Save over $200 on the cost of booking each individually, and play the absolute best of Ireland's west.
Donegal Links Classic (May): Ballyliffin, Portsalon, and Rosapenna for $140. Save $170 and play the destination links of Ireland's unspoiled northwest.
The Down Summer Links Trophy (August): Ardglass, Spa, and Royal County Down for $265. For less than the price of one round at Royal County Down, add enjoyable Spa and stunning Ardglass to your itinerary.
In Ireland's southwest, the Kerry Link Golf Pass and Shamrock Pass will get you on courses like Dooks, Ceann Sibeal (Dingle), Castlegregory, Killarney Golf & Fishing Club, and Ring of Kerry at steep discounts. Information on golf passes throughout the country is available via Tourism Ireland.
6: Bundle up. Playing where you stay makes cheap golf simple. In Donegal, the Rosapenna Hotel and Golf Resort offers luxury and three-night, three-round packages for $360. The new, four-star Diamond Coast Hotel in Enniscrone will organize a five-day, four-night package with golf at Carne, Enniscrone, and Rosses Point for less than $500. Don't forget that breakfast is always included.
7: If you can't afford them, join them. If you're planning to spend time in one area, joining a club as an international member can be a money-saver. Distance memberships at courses like Ardglass ($360) and Carne ($275) will not only allow you to go around each track until you drop, but as members of the North & West Coast Links, you receive a 50 percent discount at all their associate clubs, including Connemara, Enniscrone, Donegal, Rosapenna, Ballyliffin, Castlerock, Portstewart, and home of the 2019 Open, Royal Portrush. Membership also comes with a GUI card that will score you discounts and tournament entries around Ireland.
8: Golf knows no off-season. Traveling in April and October means reduced green fees almost everywhere, and as the North Atlantic current keeps the climate moderate year round (temperatures range from brisk to slightly-less-brisk), it's worth rolling the dice on low-season tee times. Trying to time the weather in Ireland is a fool's errand: You can get all four seasons on a July day just as easily as an October one, but you'll pay a lot less for the latter.
9: Don't discount the tour operator. You may think the only way to save money on your itinerary is to cut out the middleman, but tour operators have access to discounts that you don't. Go to an operator with your budget and give him a chance to design a trip for you. It's worth an email to Celtic Golf, Old Sod Travel, Perry Golf, or North and West Coast Links.
10: Travel like a veteran. A few small things I do to save money:
-Use a credit card without international fees (American Airlines has a good one).
-Change my cellular plan to an international one before leaving (Sprint's Global Roaming is shockingly cheap).
-Never exchange money (ATM's get you the best rate).
-Load up on the hearty and free breakfast—with chowder and brown bread for dinner (ubiquitous and always good), I can stay full for $10 a day. Alas, there are no discounts on Guinness, but a few pints of the black stuff can easily replace a meal.
-Get a Horizon card in one of the pro shops to track my souvenir shopping, and at trip's end it's easy to get the refund of all my VAT (Value-added Tax, which is 23 percent) at an airport kiosk.
-Pack a lot of golf balls (they are pricey in Irish pro shops).
-Travel light. I wear rain pants as my regular pants every day (even if it's dry, they are good in the wind) and don't pack too many shirts and sweaters as I always buy a few. Souvenirs come in as balls go out, keeping my travel golf bag under the weight limit.
Sample Itineraries: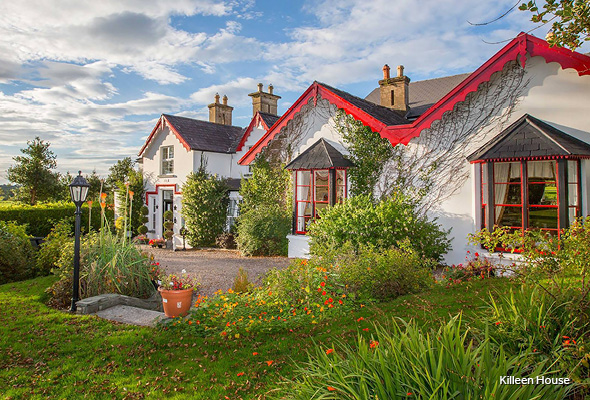 Southwest
Play: Dooks, Ring of Kerry, Ceann Sibeal, Castlegregory, Ballybunion Cashen, Lahinch Castle, Killarney Golf & Fishing Club, Spanish Point
Stay: Killeen House (Killarney), Sika Lodge (Killarney), Shelburne Lodge (Kenmare), Bambury's Guest House (Dingle), Greenmount House (Dingle)
Golf & lodging cost: $800–$1,000, seven days, six nights.
The Southwest is the corner of Ireland that budget-conscious golfers avoid, but by using the Kerry Link and Shamrock passes you can play great golf for fair money, saving you enough to sprinkle in a visit to Ballybunion's Old Course or Tralee.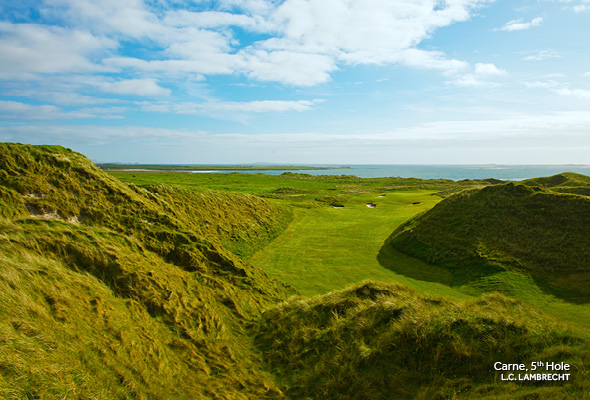 West
Play: Enniscrone, Carne, Rosses Point, Strandhill, Westport, Connemara
Stay: Diamond Coast Hotel (Enniscrone), Foyles Hotel (Clifden), Mount Falcon Estate (Ballina)
Golf & lodging cost: Using the Atlantic Coast Challenge or hotel packages, $650–$800, seven days, six nights.
You can't put a price on Carne, a course I consider tops in all of Ireland. For $40, Strandhill's wavy ride might be the most underpriced in Ireland. And a stay at Mount Falcon is the rare chance to reside in one of the best hotels in Ireland on a budget—their deluxe cottages can fit six at a cost of $60 per person  at a world-class estate.
Donegal
Play: Donegal (Murvagh), Lough Erne, Ballyliffin, Rosapenna, Portsalon, Cruit Island, Narin & Portnoo
Stay: Rosapenna Hotel & Golf Resort, Donegal Manor (Donegal Town), Ballyliffin Lodge
Golf & lodging cost: Using the Lough Erne Challenge and Rosapenna Hotel discounts, $600–$800, seven days, six nights.
Vast and picturesque, Donegal in Ireland's northwest is a budget golfer's dream—even without playing a challenge, you will feel the joy and savings of hotels and golf courses eager to welcome you. Rosapenna and Ballyliffin both boast two tracks, each must-plays, with bundle or twilight rates for your second round.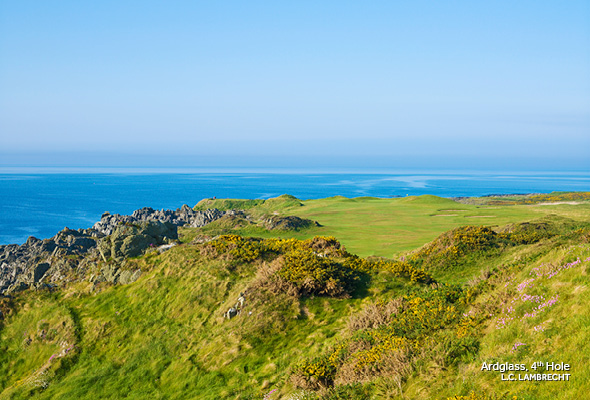 North
Play: Ardglass, Castlerock (Mussenden and Bann, 27 holes), Portstewart, Ballyliffin, Royal Portrush, Royal County Down Annesley Links
Stay: Ballyliffin Lodge, Strand House (Portstewart), Carriage House (Dundrum)
Golf & lodging cost: Using the Great North Links Challenge, $850–$1,000, seven days, six nights.
You lose a little value traveling into Northern Ireland and moving from Euro to Pound Sterling, but by playing in a challenge like the Great North Links (Portrush, Portstewart, and Ballyliffin for $235 in October), you can play an Open venue for an unbeatable rate.
Dublin

Play: St. Anne's Links, Laytown & Bettystown, Portmarnock Links
Stay: Portmarnock Hotel & Golf Links
Golf & lodging cost: $600, five days, four nights.
If you are spending time in Dublin, you're likely there for more than golf, but a package offered by the Portmarnock Hotel & Golf Links allows you to stay in four-star accommodations and sample some new and old Irish links between visits to the Guinness factory and the Book of Kells.
__________
Tom Coyne is the bestselling author of A Course Called Ireland. His next book, A Course Called the Kingdom, is due in 2017 from Simon & Schuster.