By James A. Frank
An old expression says that travel is broadening. A recent trip to Mexico certainly opened my eyes.
First, I was introduced to a company called Vidanta, which has developed seven luxury-resort/time-share properties around the country. I stayed at Vidanta Nuevo Vallarta, one of their developments near Puerto Vallarta, which offers a range of accommodations, dining, activities, and everything else anyone could possibly want in a spectacular oceanside setting. Having experienced one, I want to enjoy some of Vidanta's other properties, which can be found in Los Cabos, Acapulco, Mazatlan, and other Mexican destinations. And most of them have golf.
Which brings me to the second revelation: Greg Norman is a better golf course architect than many people realize.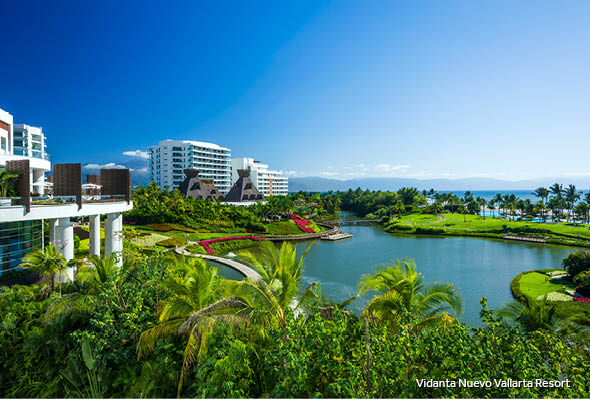 The principal reason for the Nuevo Vallarta visit was the unveiling of Vidanta's new Norman Signature Course, which features very wide fairways, small bunkers, long waste areas, and fast greens with plenty of subtle breaks and surrounded by tricky collection areas. The course was great fun with the challenge increasing exponentially as the tees moved back: The longer tees offered better, more interesting angles into the spacious fairways but also demanded more forced carries and dealing with the ocean breezes that make tropical golf tricky, particularly in the afternoons.
According to Norman—who was on hand for the official opening and sat down with the media to chat—Nuevo Vallarta is his 101st completed course, there are another 20 or so in some stage of development, and he expects to soon start a bunch more. Most of his finished work is overseas and he's presently very busy in South America, Asia, and Australia (plus looking for sites in Cuba). But he was confident that prospects would be picking up for him and others in the U.S.
I asked if it bothered him to not get more credit as a designer. Norman is always honest and thoughtful, and he was very diplomatic in answering. And while I didn't hit a nerve exactly he's obviously been asked that question before and it vexes him. He said that the volume of work alone would indicate that he's well regarded, and he made the point that his firm only takes on quality projects and does not (yet) do redesign work other than touching up his own older courses. And while he has associates working on-site, Greg makes numerous visits to each job, sometimes dozens of them, offering more than just a little tweak here and there. The man is involved.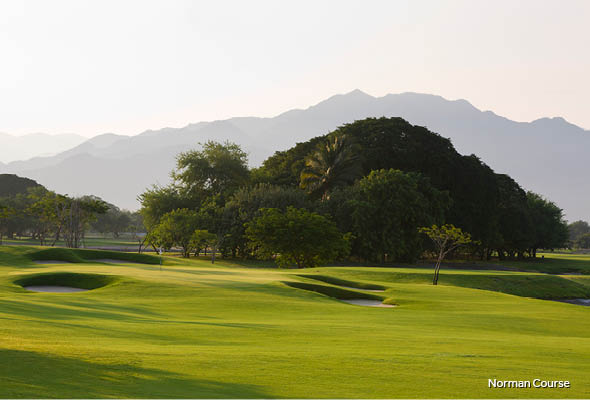 All of which got me thinking about other Norman designs I've seen or played. While only a few, certain traits are consistent, starting with those wide fairways and challenging green sites, and including an appreciation for the scenery on and around the course. When asked how he first appraises a piece of land, Norman said he looks closely for natural elements to incorporate—water, elevation changes, and especially specimen trees—then looks up at what's in the longer view. At Nuevo Vallarta, for example, the Sierra Madre Mountains are visible for nearly 360 degrees around and he wants golfers to see and enjoy them.
I won't go so far as to call Greg a "minimalist": There are too many pushed-up greens (whether for design effect or water flow) and the collection areas can be severe (short is usually better than long, while trying to save part from the sides can be particularly tough). But other than some strangely placed tee boxes, which were partly the result of water issues, this course felt very natural. And the more I thought, so did the other Norman courses I've played. They can be hard, but they never feel contrived.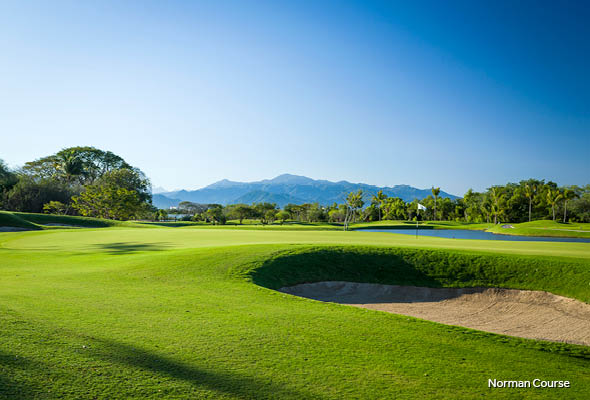 As for hard, Nuevo Vallarta will be much more so in a few months when five new holes replace five already there. The change is being made for a few reasons, including flooding issues with the nearby Ameca River and some ambitious plans Vidanta has for the property, notably a Cirque du Soleil entertainment park that is scheduled to open in 2018. The new holes—which should be in play by mid-February—include an island-green par three, carries over the river, and slightly tighter fairways. Plus, while we were driving the yet-to-grow-in holes, we spotted an alligator that the superintendent said was the biggest he's seen on site, about four meters long.
There's more golf at Nuevo Vallarta, as well. A very cool par-three course is presently being built among the high-rise accommodations; it will open this winter and will be lit for night-time play. The original course is a Jack Nicklaus design that will need to be changed to accommodate the Cirque du Soleil park. When it's done, which should be by Spring 2018, the Nicklaus and Norman courses will offer a unique opportunity to see the two architects' work side by side. Of course, it's silly to judge them solely on just these two courses, particularly since Jack has three or four times as many designs around the world in a much longer career. Yet I'll bet that Greg's work will prove a welcome surprise to many as it was to me. And also like me, it will make them want to search out and play more of them.
_______________
Have you played golf in Mexico? If so, where did you play and what did you think of it? Tell us in the comments below!