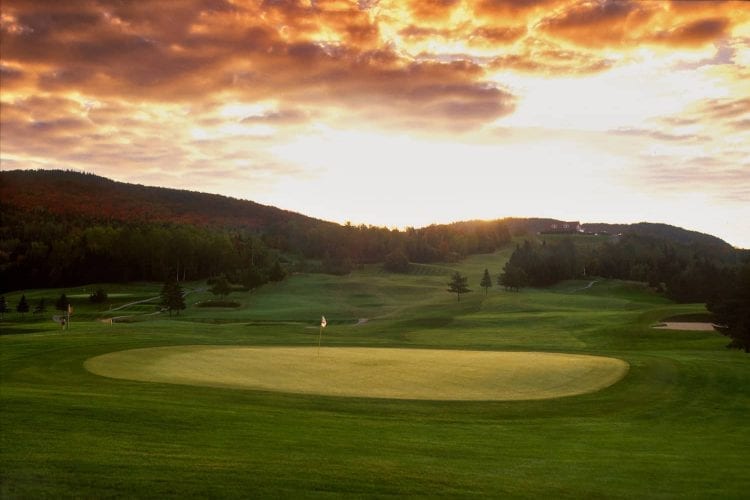 A lot of golf courses lay claim to the name Donald Ross, but in few of these places do you feel Ross' presence as strongly as at New Hampshire's Panorama Golf Course, part of an elegant Dixville Notch resort called The Balsams. This palpable sense of Ross' genius is probably due to three factors: He personally supervised the work here, something true of only a small percentage of the courses that bear his name; his original 18 has not been "tweaked" for the modern world with changes to make the greens and bunkers more tolerable for resort guests; no houses have been built in sight of these fairways.
With its square, grassy-faced bunkers, devilish putting surfaces, optical tricks, and offset tee markers, Panorama stands as a memorial to its creator at every turn, offering generous landing areas that give way to difficult approach shots, that lead to short-game challenges of such marvelous intricacy that make Panorama one of the most difficult in New Hampshire.
The 387-yard 12th hole is a perfect example of Ross' gift. It is a downhill tee shot to a bowl of a landing area with water right and woods left. You then face a sharply uphill approach over a crescent bunker placed so that the half-visible flag seems much closer than it actually is. The right side of the green is preferable here, but watch out for a bunker and a steep drop-off. Most players will hit their approach shots left to be safe, but that means putting toward a slope so deceptively severe that a three-putt from 15 feet is a 70–30 proposition. Hole by hole, the observant player here will get lessons in classic golf design.
The Balsams itself, 10 minutes down the road, has the single disadvantage of being far from civilization—a pretty three-hour drive from the nearest big airport in Manchester. That negative is more than offset by the striking scenery of cliffsides and forested hills, a placid pond just out the front door, and a stately, 140-year-old, 200-room full-service hotel with heated outdoor pool, an executive golf course, fishing, kayaking, mountain biking, horseback riding, a small spa, billiard room, a movie theater, tennis courts, a full kids' program, moose-viewing safaris and clothing shops.
Breakfast and lunch buffets feature long tables brimming with every imaginable hot and cold dish, from made-to-order omelets to fresh seafood, from Angus beef to vegetarian delights. The six-entree-per-night gourmet dinner menu includes offerings like lobster, prime rib, line-caught swordfish, fresh trout, all preceded by a daily selection of soups, salads and appetizers and followed by 20 choices of dessert.
For those wanting to experience a different side of the culinary experience, the Balsams offers cooking classes, culminating in a four-course luncheon, as well as an apprentice training program for aspiring chefs.
The resort has a classy country feel—port on the veranda and jackets at dinner, alongside cool mountain air and nice little touches like framed inspirational quotes set up in the hallways once walked by Teddy Roosevelt and Frank Sinatra. You can even visit the Ballot Room. Since 1960 the room has been the site of the first returns in presidential elections because the entire voting populace of Dixville Notch (26 in 2004) shows up at midnight to cast their ballots.
But it's the golf that really makes the trip worthwhile. Even those who prefer to play on modern courses fashioned by the blade of a bulldozer will be impressed by the variety of golf shots, awed by the 40-mile mountain views and spectacular September foliage. After a round on a windy day at Panorama, you come away with a rare exhilaration, feeling like you have just held a private conversation with one of the game's greatest designers.
The Balsams
Location: Dixville Notch, N.H.
Accommodations: 203 rooms and suites
Golf: Panorama Golf Course, par 72, 6,804 yards; Coashukee, par 32, 1,917 yards
Amenities/activities: Spa, tennis, hiking, fishing, nature programs, theater, mountain biking, game room, kids' Camp Wind Whistle, watersports on Lake Gloriette