By James A. Frank
In the early 1900s, the Pacific Ocean was a long journey from the East Coast, which was the center of American golf at the time. So when Samuel F.B. Morse—in charge of developing part of the Monterey Peninsula for a resort and real estate—approached leading architects including Donald Ross and C.B. Macdonald about designing a course at Pebble Beach, they turned him down rather than make the trip.
Instead, Morse stayed local, enlisting two California State Amateur champions—Jack Neville and Douglas Grant—to the task. They might have been architecture neophytes, but they were blessed with an incredible advantage: An untouched stretch of land along Carmel Bay.
The course briefly hosted its first events in early 1918, but course conditioning was a problem. The links reopened the following February in better shape, but still not quite right. More work was necessary, and significant resources were put forward. The routing remained with the maintenance greatly improved and the overall aesthetics enhanced.
Research has uncovered evidence that some other notable architects contributed to the greatness of Pebble Beach. Alister MacKenzie (who would soon lay out Cypress Point next door) rebuilt the green complexes at holes 8 and 13 in 1926. Englishman Herbert Fowler, who was redesigning the nearby Del Monte course, proposed extending the 18th hole from a par four to a par five, creating the formidable shoreline beauty we know today.
But most of the additional work was done by former U.S. Amateur champion H. Chandler Egan, who redesigned many of the greens, and alongwith Robert Hunter (who would aid MacKenzie at Cypress) was responsible for lengthening the course, adding bunkers, and improving the strategic challenges: this included moving the ninth green to the edge of the cliff.
In 1929, Pebble Beach hosted the first U.S. Amateur west of St. Louis, and the course the competitors faced would remain famous to decades of players. But as the 21st century neared, more changes came along.
In 1998, Jack Nicklaus designed a new 5th hole on a plot of land that had been in private hands since 1915. The hole remained a par three, but rather than turning inland through a chute of trees, it now runs along the beach and ocean.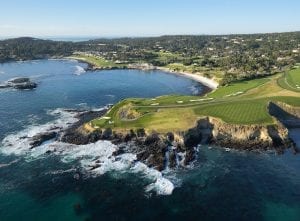 Other changes and restorations—along with weather-related fixes—were done. Arnold Palmer oversaw touch-ups to greens and bunkers in 1999. And in preparation for the 2019 U.S. Open, four greens—at 9, 13, 14, and 17—have been restored to more closely resemble how they looked near the course's inception. They're also a little bigger than they were 100 years ago, built to USGA specifications, and fitted with underground drainage and ventilation systems.