By Tony Dear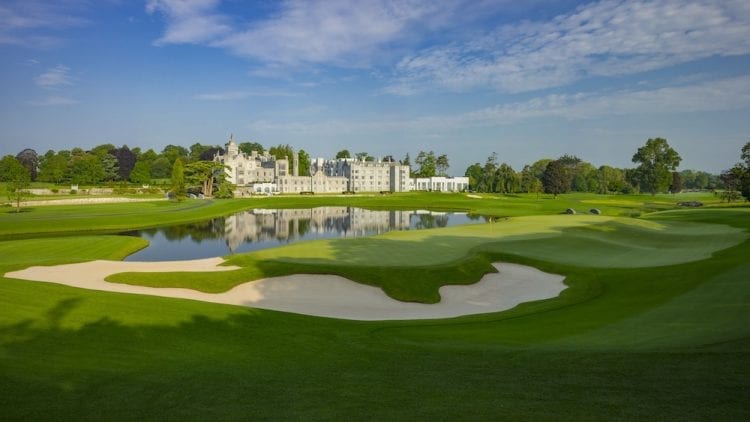 It was suggested that when Richard Finch stumbled backwards into the River Maigue on the 72nd hole of the 2008 Irish Open at Golf Course at Adare Manor, it helped put the charming village of Adare on the map.
In reality, Áth Dara had been on the map for centuries, especially since the early 1830s when the second Earl of Dunraven transformed his family's nearby home into a magnificent Tudor-Revival manor. The property remained in Dunraven hands until 1982, when the seventh Earl, unable to afford its upkeep, sold it to a group of investors who, in turn, sold it to American businessman Thomas Kane in 1987.
Kane converted the place into a luxury, 62-room hotel, which became the focal point of a golf resort in 1995 when 18 holes designed by Robert Trent Jones, and laid out on 230 of the estate's 840 picturesque acres, opened for play. The course hosted two Irish Opens—one in 2007 when Padraig Harrington won in a playoff, and another in 2008 when Finch overcame his watery blunder on the 18th to win by two.
Adare was considered every bit as good as Ireland's other big money, U.S.-style courses that popped up fairly frequently during the 1990s and early 2000s. But though it frequently appeared in UK publications' top-100 lists, Adare rarely drew visiting Americans inland. Why go to a parkland course, not dissimilar to those at home, when you could battle the dunes next to the Atlantic Ocean or Irish Sea?
Despite Kane, Trent Jones, and Finch's best efforts, the Golf Course at Adare Manor would never become a significant part of the Ireland golf trail.
The situation is now changing. County Down, Portrush, Ballybunion, and all their coastal neighbors will surely remain the country's top draws forever, but the latest version of Adare should rouse more interest and lure more golfers away from the coasts.
The catalyst for change was JP McManus. The Irish-born billionaire businessman and philanthropist acquired the manor toward the end of 2014 and, a year later, set about a major renovation of the hotel—adding a ballroom and 42 bedrooms with the addition of the new West Wing, and refitting the whole building to the point where it now resembles a royal palace inside and out.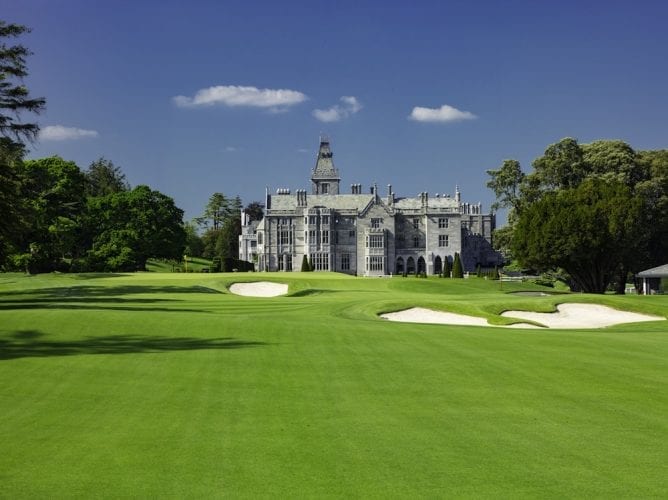 His vision for the golf course was similarly palatial. McManus didn't just order a bunker rebuild; he transformed Jones's layout as much as anyone can without actually rerouting or redesigning any of the holes.
To implement his grand plan, which grew grander as work progressed, McManus hired Tom Fazio, whose only previous experience in Ireland came 15 years before at Waterville on the Kerry coast, where the American had likewise executed a substantial, and very brilliant, makeover.
Though Fazio visited the Adare site often, it was Senior Design Associate Tom Marzolf who was omni-present, working alongside much-admired course contractor Atlantic Golf Construction, headed by Anthony Bennett.
Marzolf lived on site from March 2016 to May 2017, and describes the changes to the course as "staggering." "Though the routing is the same, we regraded everything and created a six-inch sand cap with over 24,000 tons of sand," he says. "There is no rough, 135 acres of maintained turf, 42 bunkers—our fewest ever—and really very little similarity between the old and the new."
In all, 150 exceptionally talented individuals from Fazio to Marzolf to Bennett to shapers, turf/bunker/drainage/irrigation specialists, and a team of experts who installed an electrical/cable infrastructure to facilitate the hosting of large-scale events worked on the project. Seven bulldozers and 38 backhoes were used.
The raised, angled greens were sown with Pure Distinction bentgrass and are kept implausibly firm and smooth by Superintendent Allan MacDonnell and his 50-strong maintenance crew. A SubAir turf management system and more than 50 miles of drainage pipe contribute to conditions that few Irish golfers will have seen before.
Though Marzolf is reluctant to say it directly, comparisons between the new Adare Golf Club and Augusta National are inevitable. Not only are the playing surfaces comparable, Adare also has a select membership of roughly 300. It will record more rounds than its Georgia cousin, however, about 14,000 in 2019 according to Director of Golf Andy McMahon as Adare welcomes outside play. Green fees aren't terribly affordable (summer rate of €375/$420 with an obligatory €75 caddie fee), but excellence never comes cheap.
Ireland's finest parkland layout is still fighting Ireland's links courses to attract American golfers, but today, Adare is ready for the bout.