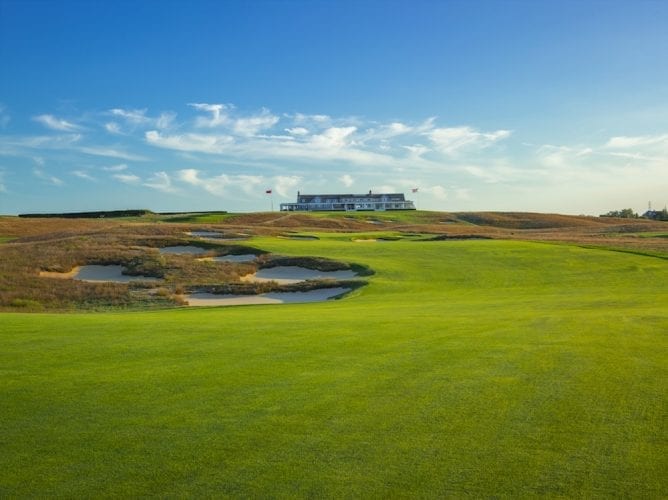 Home to classic major championship venues, breathtaking modern layouts, and everything in between, Long Island has long been a favorite summertime destination for avid golf travelers. Whether you're spending the night in your car to save your place in line for the "People's Country Club" or lucky enough to tee it up at one of the exclusive clubs in the Hamptons, there's great golf for everyone on Long Island. Here's our top 10.
1. Shinnecock Hills, Southampton
The venue for five U.S. Opens, it calls for everything—brave tee shots, well-struck irons, an imaginative short game, and patience—all in a fabulous setting.
2. National Golf Links of America, Southampton
C.B. Macdonald's 1911 masterpiece, then hailed as America's first great course, has been lengthened over the years but its essential design and remarkable character remain unchanged. 
3. Fishers Island, Fishers Island
Yes, it is technically part of Long Island, although it lies closer to Connecticut. This Raynor gem is hard to get to—and harder to get on—but easy to love, with water in view on almost every hole. 
4. Bethpage Black, Farmingdale
Host in 2019 of the first PGA Championship to be held in May in 70 years (plus two U.S. Opens), this public course, part of the New York State Parks system, is a brutal test from the 7,465-yard tips: rating 77.5, slope 155.
5. Maidstone, East Hampton
The course Willie and Jack Park laid out nearly a century ago remains largely intact, a journey that winds through marshland and salt ponds with a stretch of links-like holes smack beside the Atlantic.
6. Friar's Head, Baiting Hollow
Coore & Crenshaw overcame a Jekyll & Hyde site, crafting a series of brilliantly strategic holes that weave back and forth from a potato field to majestic dunes overlooking Long Island Sound. 
7. Piping Rock, Locust Valley
The first Macdonald/Raynor collaboration on inland terrain, it includes all the template holes on a site that begins on flattish open land and climbs to a woodsy, elevated back nine. 
8. Garden City Golf Club, Garden City
Walter Travis won the 1900 U.S. Amateur here, then redesigned the links-like course. Today it's known for its fast-running fairways, thick fescue rough, and 175 penal bunkers of all shapes and sizes.
9. Sebonack, Southampton
Co-designed by Jack Nicklaus and Tom Doak—and set audaciously beside National and Shinnecock—it's more modern than classic in design but more than worthy of its rarefied zip code, having hosted the 2013 U.S. Women's Open. 
10. Atlantic, Bridgehampton
Longtime Hamptons summer resident Rees Jones did some of his best work on this expansive links-like journey that twists, turns, climbs, and dips with the dramatic flow of the land. 
____________________
Do you agree with our choices? Let us know in the comments below!