If you're willing to battle the notorious freeways, several fun and affordable golf courses in Los Angeles await you—and the weather is hard to beat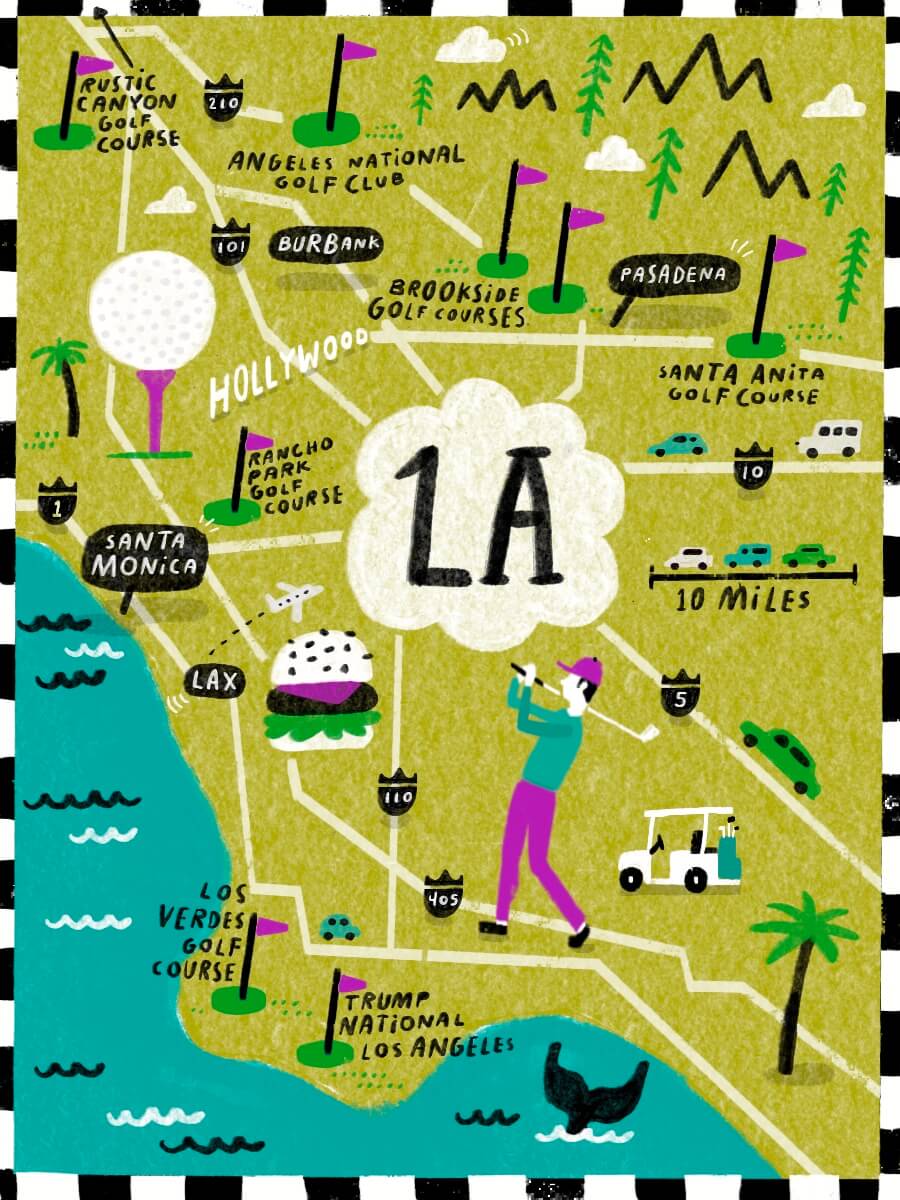 Angelenos validate all of the worst clichés about this sprawling region. We arrive late and leave early. We travel down peculiar vanity and dietary excursions. But the golfers of SoCal? I'd argue they're among America's hardiest given the sheer number of players, the scarcity of good public golf, and the even worse practice situation. Then again, the weather only fails to cooperate a handful of days, and what options exist are affordable and a few are super fun to play.
Given the size of greater LA, any golf excursion should be built around convenience and freeway routes taking a rush hour path-of-least-resistance. It can be done. Really.
The mess that is the airport, LAX, is improving. Billions spent on renovations include a much-needed rental car center coming in time for the 2023 U.S. Open at Los Angeles Country Club. And the airport is surprisingly well located for golfers: If you need to hit a quick bucket after a long winter, Westchester Golf Course is adjacent to the north runways and you're almost guaranteed to see a well-known athlete or actor hitting a $10 bucket. (I've even seen Corey Pavin stop in and, because it's LA, no one had a clue a U.S. Open champion was there.)
Westchester fits nicely with the now apparently mandatory In-N-Out burger stop (locations on either side of LAX) and tees you up to the 405 freeway for Palos Verdes. That's where LA's two best oceanside options await: Los Verdes and Trump National Los Angeles. The views are stunning at both, especially during grey whale migration season. Trump is as upscale (and expensive) as LA golf gets; Los Verdes is a county-run favorite of locals. In between sits the magnificent Terranea Resort with swell views from its par-3 course.
From Trump National, a trip up the 110 will get you to downtown LA faster than expected and lead just as easily into the greater Pasadena area. Three excellent public options await, with Brookside's pair of Billy Bell-designed courses set in the Arroyo Seco surrounding the Rose Bowl. The No. 1 course is a strong test while No. 2 has more character; just avoid them after a big game (tailgaters are messy). Lesser known but providing equally majestic purple-mountain views is Santa Anita Golf Course, a remarkable gift of the Works Progress Administration designed by a one-hit-wonder engineer who created tribute holes with some positively wild undulations. Built on the site of the original Santa Anita racetrack, it sits beside the venue where thoroughbreds run from late December to June.
Hand pick your tee time and get on the course for a great day of golf. Its really that easy. Book here: https://t.co/8GcGYDL57E pic.twitter.com/u510KCXVhs

— Angeles National GC (@AngelesNatl) October 29, 2020
There are two linksy options even further north of downtown: Nicklaus Design Group's Angeles National and Gil Hanse's Rustic Canyon, the latter co-designed with the author of this article. Both were built at the turn of this century and have thrived thanks to their fun factor and use of sandy washes.
Back near the city make one final stop at Rancho Park, home of various tour events and the nerve center of LA golf. It's still one of the world's most popular (aka busy) courses and full of epic range rats. A new foodie-friendly operator is gradually livening up the offerings and vibe without killing the spirit of Rancho. Sample The Apple Pan's one-of-a-kind counter burger and enjoy a fairly stress-free return to LAX following what hopefully has been a cliché-defying golf experience.
Where do you recommend someone to play golf in Los Angeles?