The nation's capital has enacted some capital golf, from center city to the lush surrounding hinterlands
Golf has long been popular in and around Washington, D.C., for locals and lawmakers alike. A hundred years ago, it was mostly private clubs and there are still plenty left, including several presidential playgrounds. (If you think Donald Trump played more golf than any other president, think again. Woodrow Wilson totaled over 1,200 rounds from 1913 to 1919. The sickly 28th president was advised by doctors to get more sunshine and exercise, so he walked nine holes virtually every day during the week and 18 on Saturday.)
Several fine public courses have since opened, most in the Virginia and Maryland suburbs. D.C. itself has only three golf courses, all public, and until they all get planned facelifts from the likes of Tom Doak and Gil Hanse, the best is historic Langston in northeast D.C., five miles from Reagan Airport.
6 Courses | 131 Miles | $284-$504
Langston opened in 1939 on an abandoned landfill to accommodate Black players unwelcome at other D.C. public venues. Over the years, heavyweight champion Joe Louis often visited, while Calvin Peete, Charlie Sifford, and Lee Elder competed on this challenging, hilly layout on the Black pro circuit in the 1960s.
After 18 morning holes at Langston, it's definitely worth a side trip for lunch at Ben's Chili Bowl, about three miles away, where a chili half-smoke is the specialty of the house. Ask Barack Obama, a regular, how tasty that cholesterol buster can be.
If indigestion doesn't get you, cross the Potomac River via the 14th St. Bridge and take 395 to 95 South 22 miles to Laurel Hill Golf Club in Lorton, Va. Designer Bill Love created an impressive 18-hole course on land that formerly housed a prison. It's long gone, but there's still plenty of jail in nasty rough and woods.
Another 15 miles south in Dumfries, Va., is the Jack Nicklaus-designed Potomac Shores, with lush, treelined fairways, several double fairways into the same green, and tricky putting surfaces. From there, it's 30 miles to the west, where three more public gems await.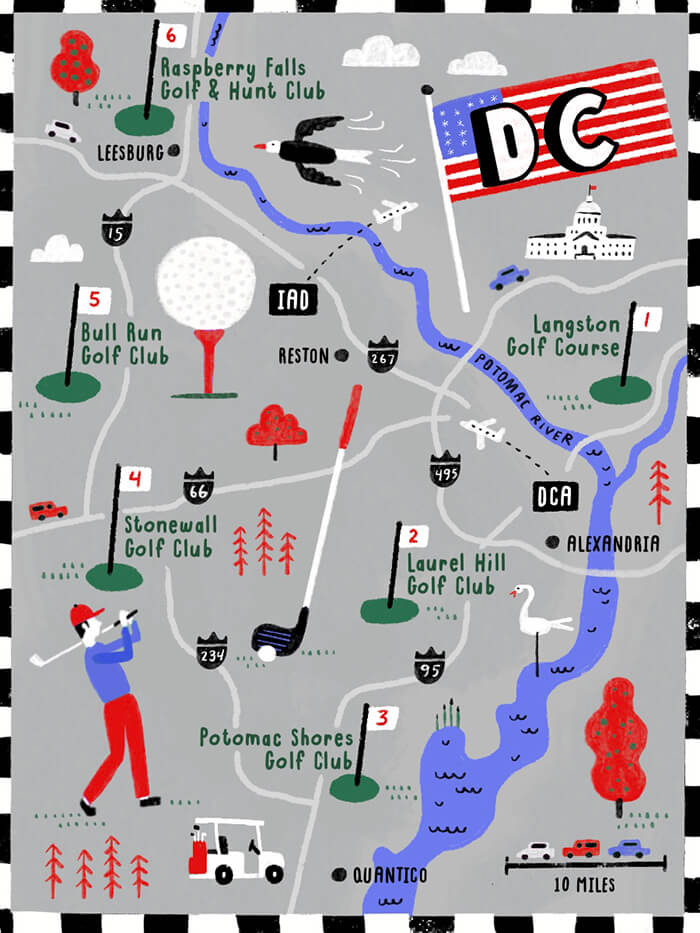 Stonewall Golf Club in Gainesville, Va., is next door to the far more exclusive Robert Trent Jones Golf Club (the original Presidents Cup venue) and shares the Lake Manassas shoreline. You can see several RTJ holes from Stonewall, but better to concentrate on a challenging layout that tests every aspect of your game.
From there, it's less than 10 miles to Haymarket, Va., and the Bull Run Golf Club in the shadow of Bull Run Mountain. If you play the front tees, there's a drivable downhill 302-yard par four at No. 8, especially when fairways are rock hard from summer sun. But be prepared for payback at No. 9, a brutish par four with a pond that runs along the right side from tee to green.
Last stop, 24 miles north on Route 15, is Raspberry Falls Golf & Hunt Club, in Leesburg, Va., designed by Gary Player. It's filled with gurgling streams, yawning bunkers, stone walls, and the rolling terrain of Virginia horse country, all backdropped by the Catoctin Mountains.
It's worth a four-mile trip back into the town of Leesburg where a meal is a must at The King Street Oyster Bar. From there, it's 18 miles to Dulles Airport. If your round trip started at Reagan, it's about an hour from course to main concourse, where there's a satellite branch of Ben's Chili Bowl and perhaps another gut-busting half smoke before you leave town.
Have you played golf around Washington, D.C.?