On the occasion of a notable birthday, one of Augusta National's most enduring monuments opens up. But talk about feeling trod upon…
This year marks the 65th anniversary of the dedication of the Sarazen Bridge, which spans the pond at Augusta National's 15th hole, and the 85th anniversary of the moment the bridge commemorates, Gene Sarazen's remarkable 4-wood shot that found the hole for a double-eagle 2, propelling him to victory in the 1935 Masters. Sarazen passed away in 1999, but recently we were able to secure an exclusive interview with the bridge.
GP: Thank you so much this opportunity.
SB: Are you kidding, the honor is all mine. When I heard there was a chance I could appear in LINKS, I was thrilled!
GP: Well, it's not as if we're GOLF or Golf Digest, you know. We're just…
SB: Why in the world would I want to talk to a golf publication?
GP: But LINKS is a golf publication…
SB: Whaaat? Ohmygod, with a name like LINKS I just assumed your subject matter was, well…bridges.
GP: Oh…
SB: Fine…as long as you're here, let's get on with it, but please know you're talking to one very crossed bridge.
GP: Well, let me begin by asking, what shall I call you?
SB: What kind of question is that? My name is Sarazen Bridge, so it's either Sarazen or Mr. Bridge. My friends call me Squire, but why don't you go with Mr. Bridge.
GP: Your surname is Bridge…
SB: Duh… as in London, George Washington, Brooklyn, Golden Gate, and Swilcan, not to mention my two neighbors here at Augusta, Hogan and Nelson. We're a large and diverse but very close-knit family.
GP: Close-knit. Really?
SB: We're bridges, pal. Connecting is what we do. If you worked for the right magazine, you'd know that.
GP: Well let me be the first to wish you a happy 65th birthday. You look great for someone on Social Security and Medicare.
SB: Not yet. I came into the world in '55 so my full retirement age is 66 years and four months—next summer.
GP: And you were born three years before Hogan and Nelson.
SB: Not born, erected. We bridges do the bearing. But yes, I'm three years older than Ben and Byron, although they appear on the golf course three holes earlier than I, and they never let me forget it. They refer to me as the bridge too far.
GP: That's rather disrespectful.
SB: Ya think? Those two think they're special because they arch over Rae's Creek and get lots of attention and TV time while I lie here flat across an unnamed pond. But you know something, they're both pathetic, especially Hogan. Everyone thinks of him as this tough guy, but the truth is he's a whiner. For years, he moaned about being chilly because he was in the shade too much and the constant breezes stiffened his back. The only way the club could shut him up was to carpet both him and Byron with strips of Astroturf. I call it their shawls.
GP: Hmm…
SB: Look, I realize I have all the architectural charm of a 1950s elementary school, but is that my fault? And believe me, I'm not delighted with the way I've been slapped down in the water. It may be fine in the heat of summer, but consider what it's like lying face down in a slimy pond that has frozen over. And do I get a shawl? No, just those two hunchbacks at Amen Corner.
GP: You sound bitter.
SB: You'd be bitter too if the whole point of your existence was to be walked on by people. In spikes.
GP: Yeah, I guess that can't be an easy life.
SB: Truth is, it's not all bad. I don't get anywhere near the traffic Ben and Byron do. Everyone who plays the course clomps across them while people tend to avoid me.
GP: Why?
SB: Partly it's my looks, but it's also the fact that most of the club members and their guests slice their second shots so they walk to the green from the right side, as do the majority of the Masters contestants. But in terms of the overall quality of my life, everything changed dramatically for the better in 1992 when soft spikes were invented.
GP: You must have some great memories. Did you know Bobby Jones?
SB: I met him on my dedication day in 1955. He was in pretty bad shape by then, had trouble standing, so they set up a folding chair on me and he and Gene had a bit of a chat during the ceremony. Lovely man. And some of my fondest moments were spent in the company of none other than President Eisenhower. He'd wander down in the early morning or late afternoon with a fishing rod and cast a few lines. There are some nice bass in my pond, you know.
GP: What about the players?
SB: Well, I have a soft spot for Jack Nicklaus. I've been lucky enough to witness all six of his victories and some amazing shots. Of course, the best of them was that 4-iron he hit here on Sunday in '86, setting up the eagle. I was also a big fan of the late Seve Ballesteros—we were more or less contemporaries, we both have birthdays during Masters week, and we share the same initials.
GP: Tell us something about you that no one knows.
SB: Well, I'm a bit of a sadist.
GP: Really?
SB: Yes, maybe the whole face-down-in-the-pond thing has made me this way, but nothing gives me greater pleasure than observing the misfortune of others. Watching the Augusta National members chunk and skull their approach shots into the pond is a hoot, and on a couple of occasions I've known pure bliss when guys lost their footing and toppled back into the pond.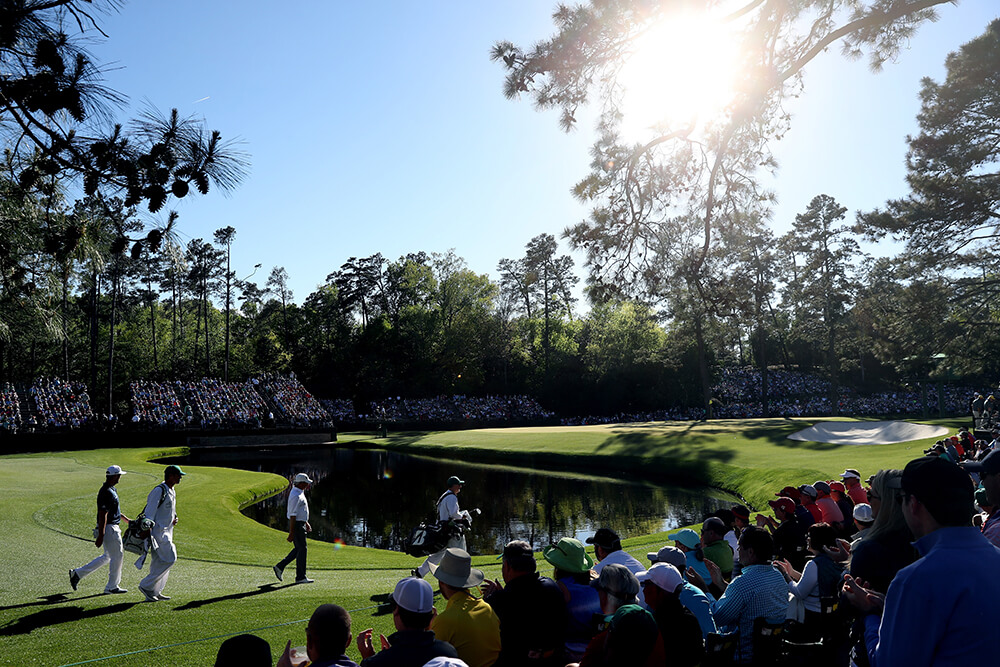 GP: What about Masters calamities?
SB: A few entertaining performances come to mind, beginning with Spain's Ignacio Garrido back in 1998. In round one of his first and only Masters he made an 11 here. He came back with a par the next day, so his lifetime scoring average on 15 is a sporty 8. In 1996, I was delighted to watch Colin Montgomerie make a pair of snowmen on the weekend. But my all-time favorite moment came just two years ago when Sergio Garcia, then the defending Champion, somehow contrived to hit five consecutive wedge shots into the pond, posting an octuple-bogey 13, which tied for the highest single-hole score in Masters history!
GP: It's ironic that you mention Sergio because he's also one of the guys who has played 15 the best. Back in 2004, he made two eagles and two birdies—six under for the week.
SB: Yeah, a bunch of guys have done that, including Tiger Woods. Of course, Tiger got his comeuppance in 2013 with that whole episode of hitting the flagstick, caroming back into the drink, and then taking that very questionable drop.
GP: Speaking of Tiger, at some point the club will surely have to dedicate something to him, right?
SB: I guess so, but they're out of bridges. They had to rig up water fountains for Palmer and Nicklaus, so I suspect that's the way they'll go with Tiger. I just hope they don't put it anywhere on me. The last thing I need is people slobbering water all over my back. That's the only aspect of the Masters that I hate. Each year they build a huge grandstand right behind me—less than two feet away—and invariably some yahoo in the front row gets a bit too excited after a great shot with the result that a cup of Miller Lite spills all over yours truly.
GP: So with the Masters just around the corner, what are you hoping to see this year?
SB: I always hope for the same thing, dry conditions, as that usually leads to more violently backspinning wedges, which means more balls in the water. Other than that, I live for the prospect of someone equaling Gene's albatross. It will happen—with the way these bombers are hitting short irons, even wedges, into the green it's just a matter of time. I just hope that when it does, I'm still young enough to enjoy it. So that's my wish, to see a 2. Either that or a 14.