How can players be sure they're getting the right wedges for their games? I asked some of golf's top club designers this question and the answer was unanimous: club fitting.
"It's so important to be fit with the proper loft, grind, and bounce angle," says Bob Vokey, master wedge designer for Titleist.
Chris Voshall, Mizuno's club engineering wizard, agrees. "Proper fitting is vital. The first thing in fitting is having a lot of options. We offer every loft from 45 degrees to 62 degrees. Different bounce options, as well, and each of the bounce options is tied to a grind option."
Club Champion offers fitting sessions specifically for wedges. Company honcho Jay Hubbard explained why. "Today's irons have stronger lofts and lower centers of gravity that can produce gapping issues with your wedges. A skilled club fitter will find the right distance-gapping by looking at different wedge heads, lofts, shafts, and swing weights. They'll also look at the type of course and turf conditions a golfer plays and fit for bounce and sole grind to produce more consistent wedge shots that land closer to the pin."
To learn more, I attended a wedge fitting session at a Club Champion facility, where a scratch player was being fit for a new set of wedges. After warming up, the club fitter asked the player to hit some shots with his current pitching wedge in order to establish a baseline. They looked at stats that included clubhead speed, ball speed, launch angle, spin rate, and smash factor.
Then they discussed what the player was looking to achieve with his new wedges—in this case, more consistent trajectories and distances. They talked about gapping the new wedges, so that the differences between his wedges in terms of lofts and carry-distances wouldn't be too large or too small.
The player's numbers were good with all the clubs he tested—typical of a scratch golfer. But he had strong preferences for the shape and appearance of certain wedges, and for the feel of the materials they'd been made with. Having chosen a make and model, the next step was to pin down the optimal bounce angles, grinds, and shafts.
"Your choices should be based on what your technique is from 40–50 yards in," says Roger Cleveland, Callaway's wedge design guru. "Anything over that you're hitting the ball first. When you start to hit shorter shots, you're using the sole more and that's where all the sole grind and bounce options we have for you really come into play."
Choosing the right shaft is important with any club. For a better player who hits a lot of wedges and expects to save strokes consistently around the greens, getting the right club/shaft combination is especially important. The club fitter identified four or five shafts that she thought would be best, and they tested them one by one, looking at metrics for each. In the end, based on the numbers and this player's personal preferences, the optimum wedges for him turned out to be:
-Vokey SM8 50-degree Gap Wedge, F Grind, with 10 degrees bounce
-Vokey SM8 56-degree Sand Wedge, F Grind with 14 degrees of bounce
-Vokey SM8 60-degree Lob Wedge, M Grind with 12 degrees of bounce
-All with D3 swingweight and Oban CT-125X shafts (with SST Pure Shaft Alignment, which Club Champion offers)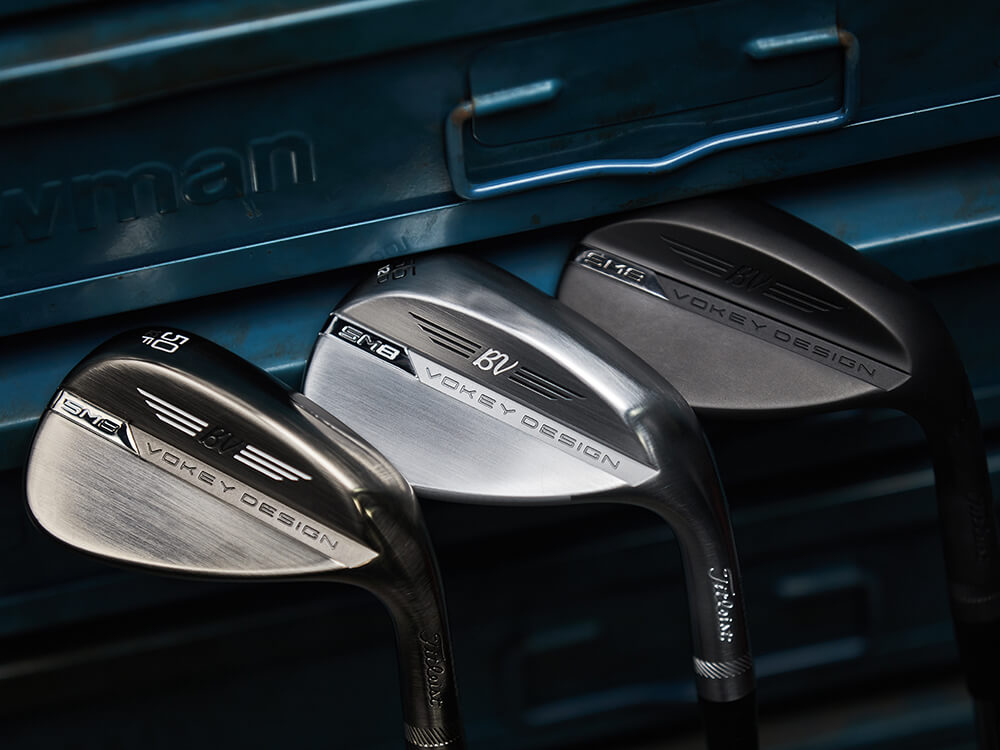 Ideally, after your fitting, you'll also want to test out your prescribed wedges at a short-game practice area. PGA pro Brad Faxon is renowned for his wedge game. For him, choosing a wedge starts with liking how it sets up and looks to his eye. But after that, it's about confidence, playability, and flexibility.
"With wedges, tour players want to be able to hit the variety of shots they need to hit on the variety of lies that they're going to get," Faxon says. "I want to know that I can trust a club whether the face is square, or whether the shaft is leaning forward and I have it closed a little bit more. With wedges, mostly I want to see what happens when I open the clubface, because most wedge shots around greens are played with open faces."
Have you done a wedge fitting?