The PGA of America chief turned NBC Sports head talks about gambling on golf, Phil Mickelson, the Masters, and the coolest perk of his job
What's been the biggest challenge in going from a longtime career in golf administration to one in TV? It's making the effort to build personal relationships with the key people in each of those organizations. It's a part of the job that I absolutely enjoy.
Who were your own broadcast heroes? I think of John Madden and Howard Cosell. Our very own Al Michaels is somebody I admired before I ever got to NBC Sports. On the golf side, I've always been a fan of Johnny Miller and his great U.S. Open calls over the years.
What's your take on gambling on professional golf—what do you think it will do for, and to, viewership of events? I think if handled properly it's a good thing. As sports betting continues to become more prevalent, the biggest mistake we could make is to keep our head in the sand and not try to utilize that to make the broadcast more compelling to a wider audience. The advantage golf has is that betting has always been part of the culture.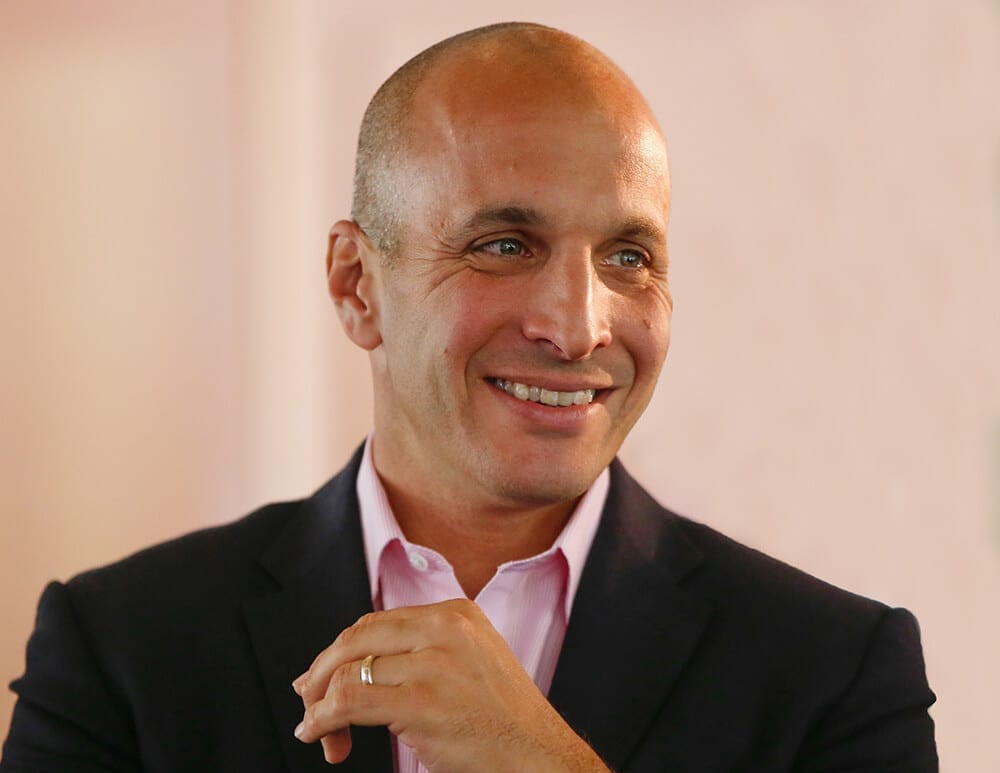 Are you looking seriously at Phil Mickelson to join your team? I've known Phil well over the years—I'm a big fan and think he has wonderful golf knowledge, but we love our team. With the great work of Dan Hicks, Paul Azinger, and the full team I like where we are and think we have tremendous energy.
Do you see any chance of NBC ever televising the Masters? We'll do anything we can to help the Masters Tournament, we love being there, and who knows what the future will hold? CBS does an absolutely wonderful job with it. We're not sitting awake at night wondering if we'll ever be able to do it—we feel very fortunate with our relationship with Augusta National that allows us to do the Drive, Chip and Putt and the Augusta National Women's Amateur, and we're focused on those events.
What's the coolest perk of your job? As somebody who grew up playing and loving sports, seeing these great events up close and personal—the Olympics, the NHL playoffs, the Indy 500, or our Sunday Night Football NFL games. It's special for me as a lifelong Notre Dame football fan and an alum to be able to combine one of the true passions in my life with what I do for a living. I still pinch myself when I fly to South Bend for one of those games.
Who would fill out your dream foursome? It's easy to think about the great players, but I go in a different direction—going back in time and recreating one of the times I had as a kid with my father and my best friend playing the Black course at Bethpage. I'd keep it at a threesome instead of a foursome.
What are your favorite courses? I'm fortunate to be a member at Seminole and rounds there are so unbelievably enjoyable. Winged Foot, one of the great golf clubs in the world. I love playing in Maine at a Walter Travis course called Cape Arundel, a par-69; it's not terribly long, but you have to be accurate and the greens are absolutely sinister. Then all the wonderful rounds I had as a kid on Bethpage Black, a golf course that always makes you feel so small.
What are your favorite places you have traveled, for business and personal time (golf or non-golf)? My favorite place in the world to go is Maine—I've been going there since I was one-month old. We've made great friends there and the golf is also great. In terms of golf, those trips to Scotland with friends, playing some of the great courses and enjoying time there is a wonderful, memorable experience.