The earliest clubhouse in golf has roots that go back to the 1700s in Scotland—not at St. Andrews, but near Leith Links and Bruntsfield Links in Edinburgh. It was home to the local member association of golfers, hence the name "club" house.
Today, the clubhouse has become commonplace in golf, from grand and stately structures to the simple shack or double-wide trailer. Not all golf courses have them, of course, and they're not just for clubs—for many golfers it's simply a place to check-in or change their shoes.
The clubhouse at Liberty National in Jersey City, N.J., for example, is a post-modern marvel. It's all glass and chrome, and in a terrific location looking toward the Statue of Liberty and New York City skyline. But for some, it doesn't feel warm and welcoming. The Frank Lloyd Wright design at the King Kamehameha Club on Maui is impressive architecturally, but it's not the airy, dark Koa wood, tropical feel that many expect to find in the Hawaiian Islands. The artistic, hilltop clubhouse at The Bridge on New York's Long Island—built on the site of a former racetrack—is comprised of bladelike shapes meant to symbolize both the golf swing as well as the turbine wheel in a racing engine. Unquestionably it's unique and inspired, but not everyone's cup of tea.
What follows is a subjective rundown of some of the most impressive golf clubhouses—at least in the U.S.
Naturally, private clubs in the U.S. tend to have the more luxurious clubhouses. So, you'll see a heavy leaning here toward private clubs (the opposite of overall U.S. supply, which has 75 percent of courses open to the public). Styles vary greatly and people may gravitate toward a certain aesthetic, so let us know your favorites.
Private
Augusta National (Augusta, Ga.)
Built in the mid 1800s, Augusta National's clubhouse might be the most recognizable in golf, even if only a lucky few get to see the stately edifice while actually driving down Magnolia Lane. Purportedly the first concrete house built in the South, the three-story clubhouse is rich in golf history—beyond the Masters trophy there's items from President Dwight D. Eisenhower throughout—and the course it overlooks isn't half bad.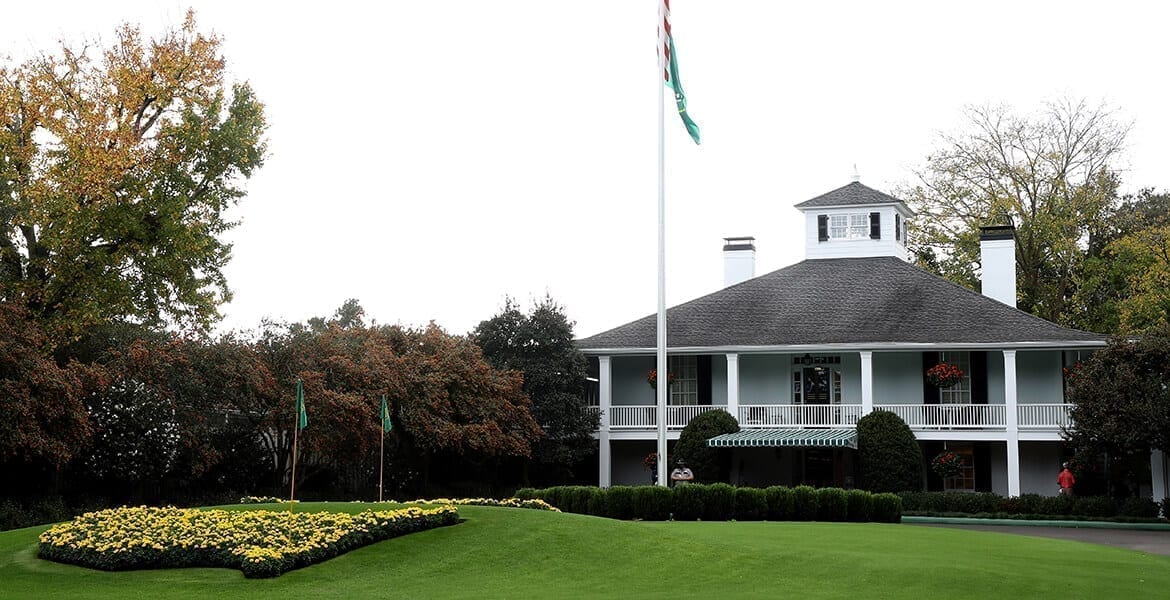 Newport Country Club (Newport, R.I.)
Newport C.C. is one of the founding five members of the USGA, with a historic course complemented by a stately Beaux Arts style clubhouse that stands out like a beacon. Situated on a mostly flat piece of property with terrific views of Brenton Point, the original clubhouse was built in 1895 and completely renovated in the early 2000s.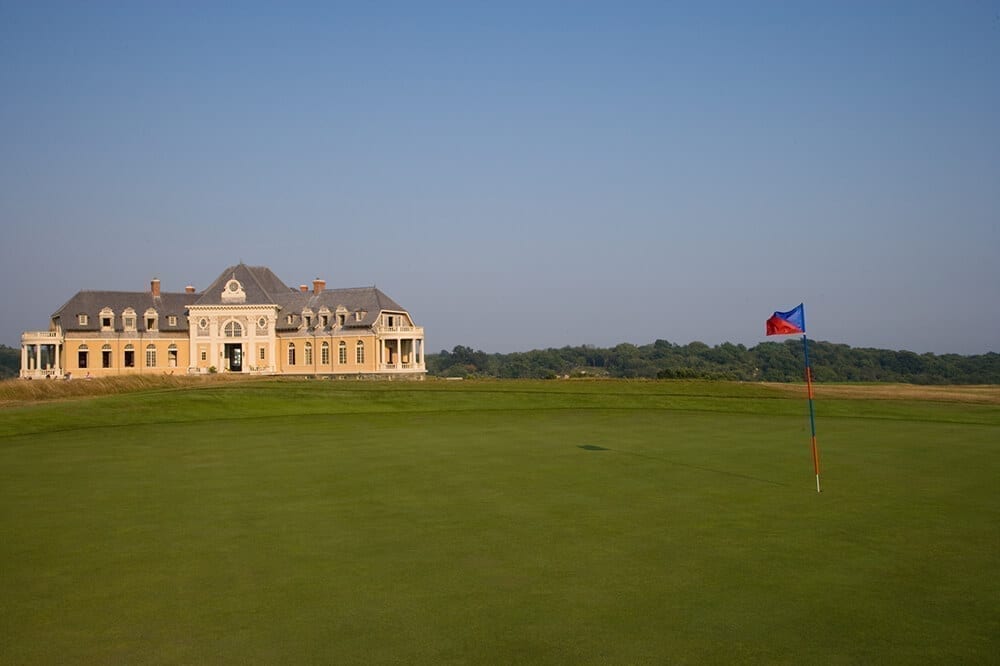 Shinnecock Hills (Southampton, N.Y.)
Considered the oldest structure in the U.S. built specifically as a golf clubhouse, the light and airy Stanford White design that dates back to 1892 sits on the highest point of the property overlooking the golf course and Peconic Bay. Costing about $8,000 at the time, it doubled in size by the early 1900s, taking on the iconic look it retains today.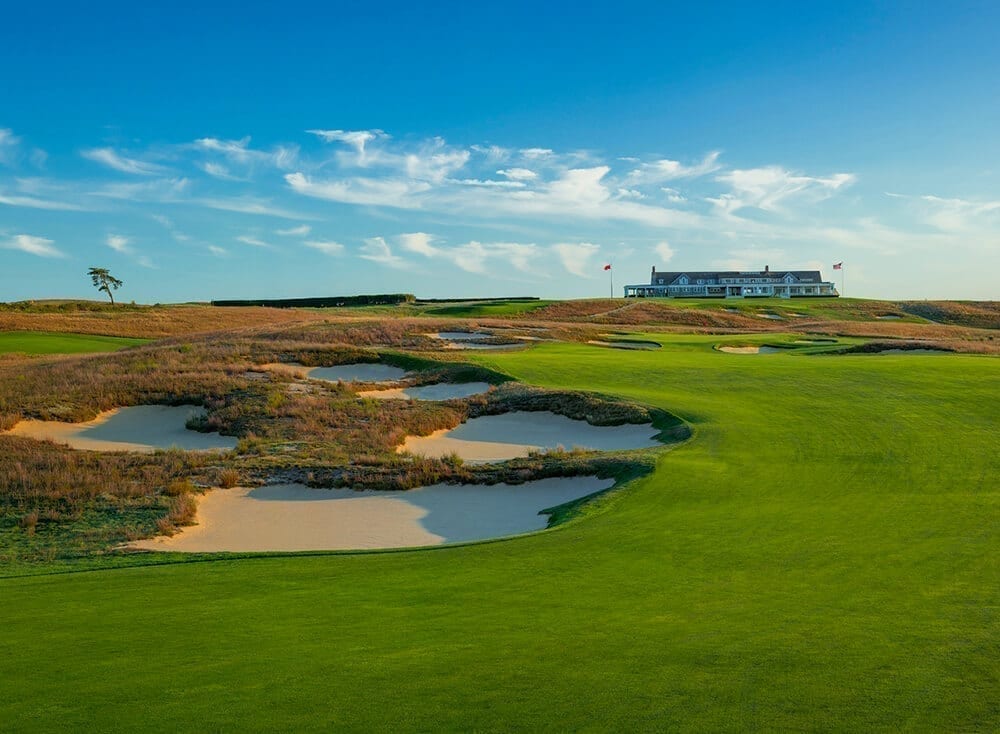 Friar's Head (Baiting Hollow, N.Y.)
Early sailors gave rise to the name Friar's Head, using it as a description for a large sand formation in view from the water on this stretch of Long Island's North Shore. The exclusive club boasts one of the finest modern clubhouses in the game, with views of the water as well as multiple holes on the highly ranked Bill Coore & Ben Crenshaw design.
Congressional Country Club (Bethesda, Md.)
You're not getting cozy and intimate at Congressional C.C., which boasts one of the nation's largest golf clubhouses at a whopping 140,000-plus square feet. The sprawling Spanish Revival clubhouse, with a barrel-tile roof and stucco exterior, is a visual stunner for those lucky enough to play in its backyard.
View this post on Instagram
Martis Camp (Truckee, Calif.)
This private luxury community between Truckee and North Lake Tahoe features a 50,000-square-foot centerpiece clubhouse intended to pay homage to the great western lodges of America's most notable national parks. It's dramatically sited atop a 70-foot rock promontory, offering spectacular views of its surrounds, including a scenic course that Tom Fazio says is as good as anything he's ever designed.

Winged Foot (Mamaroneck, N.Y.)
Architect Clifford Charles Wendehack worked closely with course designer A.W. Tillinghast when Winged Foot Golf Club was built in the 1920s, talking sight lines and design to ensure the now-iconic stone structure would seamlessly mesh with the holes that surrounded it. Wendehack also created other much-revered golf clubhouses in and around New York such as those at Ridgewood and Bethpage State Park.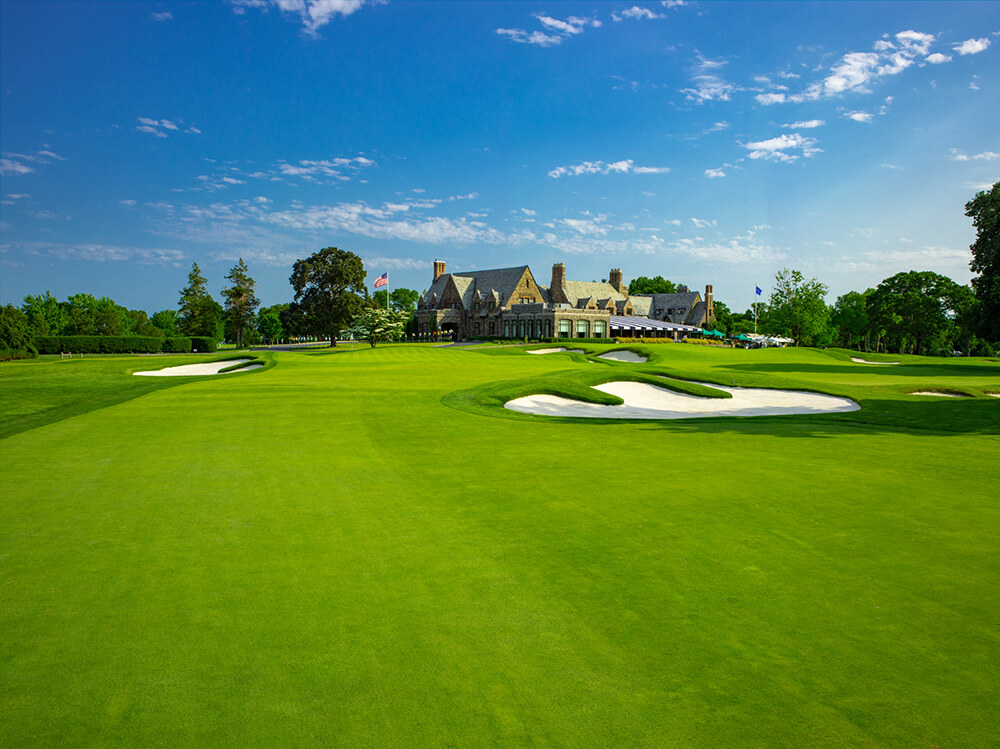 Baltusrol Golf Club (Springfield, N.J.)
When a fire claimed the old farmhouse that was Baltusrol's first clubhouse, ground was broken just three months later on the Tudor revival style structure that's become one of the most identifiable in the game. Brick and stone, with decorative stucco and half-timber detailing, the clubhouse was designed to emulate a British manor house.
View this post on Instagram
Public
Pinehurst Resort (Pinehurst, N.C.)
Much like the Pinehurst Resort itself, the clubhouse has evolved over the past century from a modest two-story structure to an expansive and bustling venue that serves as the central hub for the five world-class courses that begin and end directly at its doors. The entire resort was designated as a national historic landmark in 1996.
TPC Sawgrass (Ponte Vedra Beach, Fla.)
Tour hospitality isn't just for the pros at Sawgrass, where the Mediterranean-Style, 77,000-square-foot clubhouse serves as a majestic centerpiece that marries upscale amenities and an old-world elegance.
View this post on Instagram
What golf clubhouses are your favorites?