During a recent stay at a luxury Rhode Island resort community known as The Preserve, I followed up 18 fun-filled par-three holes by taking aim at a different kind of target at the facility's 19-station sporting clays course.
The Preserve's owner, Paul Milhailides, told me he intentionally built the clays course like a golf course, complete with the "extra hole" of sorts to settle any bets or ties. We traveled quiet wooded paths between the artfully constructed shooting pavilions—each of which offered its own challenge with open fields and diverse, rugged landscapes. Not unlike a golf course.
In addition to being a successful developer and businessman, Milhailides is a good golfer and even more accomplished as a marksman, with more than 40 years as a certified shooting instructor under his belt. He knows well the crossover between the two pursuits, which is why his 3,500-acre property also has high tower hunts, upland hunting, a 12-station compact clays course, and the longest indoor range in the country, with 150-yard lanes and 24 shooting stations, along with the golf course.
Shooting ranges are unquestionably a complement to golf at many facilities across the country, including as a popular amenity at private clubs like the Rod & Gun Club at Cordillera Ranch (Texas), the Brays Island Gun Club (South Carolina), and the Medinah Gun Club (Illinois). But a growing number of public resorts and destination properties offer a mix of golf and sporting clubs, whether for target shooting or hunting. Following are eight noteworthy examples.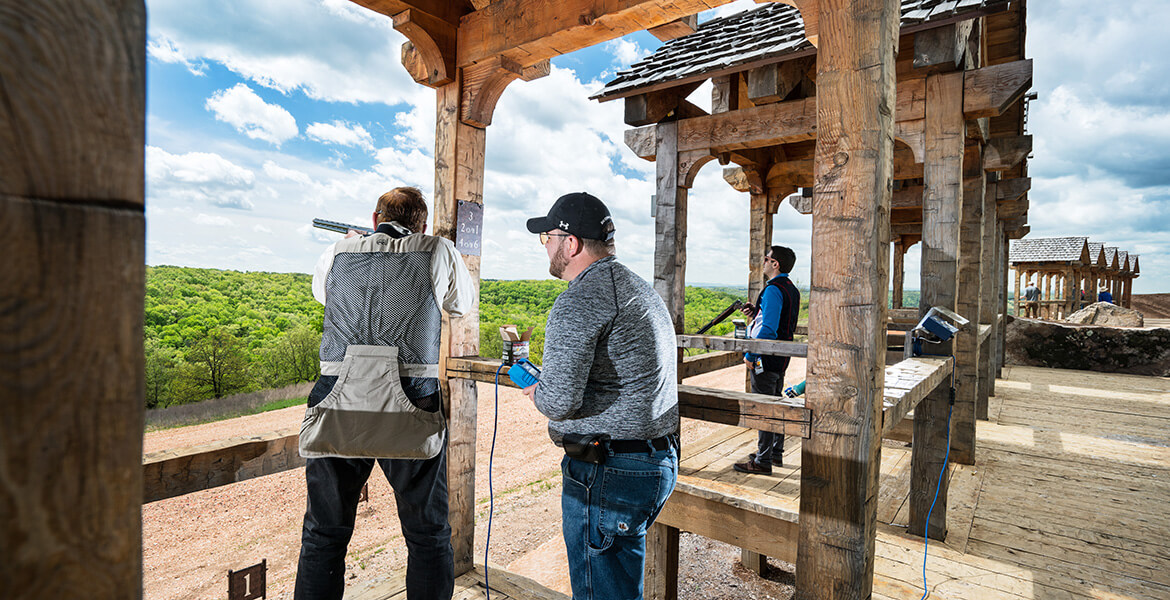 For guests looking for a challenge beyond the golf at Whistling Straits and Blackwolf Run, there's a bit of a different shooting experience at Destination Kohler's property—a year-round tactical pistol and rifle course. Access to a club known as River Wildlife is limited to those staying at the American Club or Inn on Woodlake and with the shooting experience participants engage static and dynamic steel targets from 10 to more than 200 yards while combining pistols and rifles on the same course.
While Big Cedar has a wealth of great courses designed by some of the top names in the golf world (including Bill Coore & Ben Crenshaw, Jack Nicklaus, Tom Fazio, Gary Player, and Tiger Woods), there's plenty to do beyond golf at the Ozarks getaway billed as America's premier wilderness resort. Shooting is a natural extension and the Bass Pro Shops Shooting Academy sits in a stunning location, with a natural amphitheater overlooking Table Rock Lake and the Ozark hills. The facility offers a variety of shooting sports including ATA trap, Wobble trap, American Skeet, Sporting Clays, and 5-Stand.
The Greenbrier (White Sulphur Springs, W.Va.)
The Gun Club at the historic Greenbrier is more than 100 years old, with skeet and trap long being popular pastimes at a property fondly known as "America's Resort." The current offerings include four combination trap and skeet fields along with a 10-station sporting clays course designed by Justin Jones and John Higgins from the British School of Shooting and meant to engage and challenge shooters of all levels.
Nemacolin (Farmingdale, Pa.)
There's a seemingly never-ending lineup of things to do beyond the two championship golf courses at this western Pennsylvania destination. Among the most notable is the Nemacolin Field Club, which houses one of the nation's top sporting clay facilities that weaves through a 150-acre property in the Laurel Highlands. There is also hunting land available (275 acres) from September through March, as well as an archery and air rifle experience.
Just down the road from Mississippi State University, this destination features two very different championship courses located across the main road from one another. And while it's not directly tied into the golf courses, the nearby Prairie Wildlife is owned by members within the same family as the golf interests. The facility is a conservation-driven sporting estate that offers hunts (quail, dove, pheasants, deer, rabbit, and more), as well as clay shoots, corporate outings, and more at a location regarded as one of the premier wing shooting destinations in the southern U.S.
Primland (Meadows of Dan, Va.)
The Sporting Club packages at Primland provide breathtaking adventure in the Blue Ridge Mountains beyond the scenic 18-hole Highland Course, with upland hunting retreats that include experienced guides and dogs to navigate the 12,000-acre property. There are driven pheasant shoots, wild turkey hunting (including an event called the "Spring Gobbler"), deer hunting, and, for those who prefer non-live targets, clay shooting and instruction.
One of the newest amenities at this Georgia getaway midway between Atlanta and Augusta is the Sandy Creek Sporting Grounds, which features a 20-station sporting clays course designed by international shooting champion Justin Jones of Great Britain (see also The Greenbrier above) that winds past scenic ponds and through forested thickets and a century-old pecan orchard. There's also a five-stand shooting range set above a spring-fed pond, a sporting clay instruction and games area, an air rifle range, and an archery range.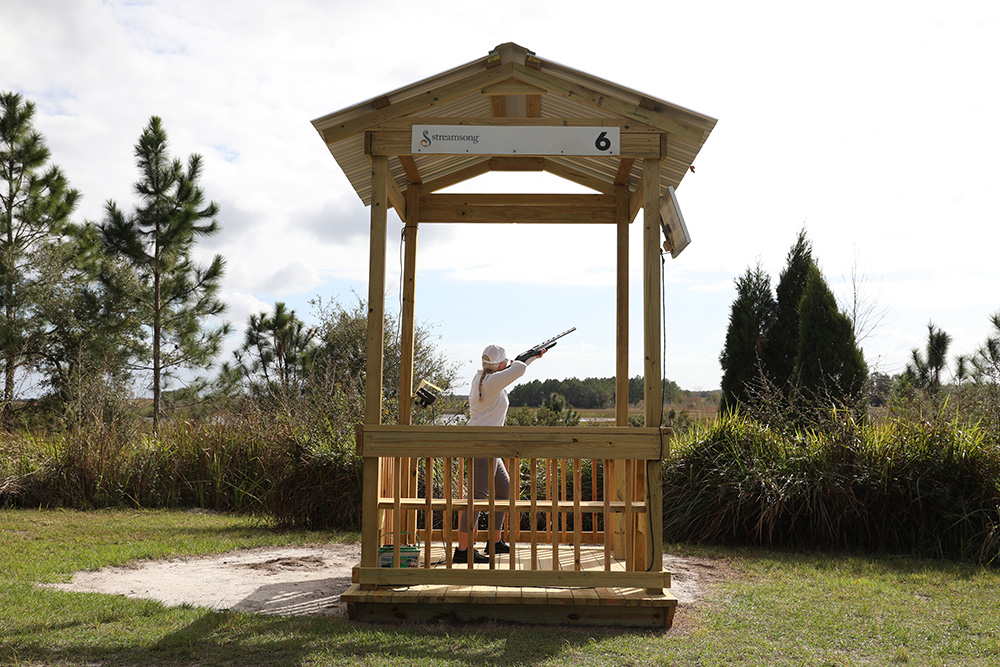 Streamsong (Bowling Green, Fla.)
About 15 minutes from the main lodge at Streamsong Resort—a former phosphate mine in Central Florida—is a 12-station sporting clay challenge course set amid the same kind of wild terrain that make the property's three 18-hole championship courses so special. While the Red, Blue, and Black courses are incredibly popular with resort guests, 16,000 acres leaves a lot of space for other outdoor experiences, from archery and guided bass fishing to the sporting clays challenge.
What other examples have you come across in your golf travels?