Though golf was being played in some manner across several parts of the world by 1620, it's unlikely that anyone who stepped off the Mayflower at Plymouth Rock brought a set of sticks. But if they had, they'd have found a landscape ideally suited for the royal and ancient game. And today, visitors to the Plymouth, Mass., area are undoubtedly thankful that they have a bounty of excellent courses to choose from.
Within a 10-mile radius of Plymouth Harbor, there are several renowned private golf clubs including Old Sandwich, with its 2004 Coore & Crenshaw design, and Plymouth Country Club, featuring a par-69 Donald Ross gem. But the same terrain has served as the canvas for a handful of terrific public courses. The weather in this area tends to be milder than inland, so like courses in nearby Cape Cod, you can count on almost all of them being open at Thanksgiving while some of the Plymouth courses stay open through the winter (weather permitting). In the summer, when the warm, saltwater breezes are blowing in off the Atlantic, this region is a golfer's heaven—and even more so if you like seafood or want to take in any of the local historical sites, like Plimouth Patuxet Museums.
Here's a list of public courses where you should absolutely look to tee it up should you find yourself setting sail for Plymouth.
Waverly Oaks Golf Club
One of the top public courses in Massachusetts (if not New England), Waverly Oaks is a Brian Silva design that makes the most of the sandy, tree-lined terrain on which it was routed. The topography here is rolling and offers over 100 feet of elevation change—something that Silva uses to good effect. Silva pays homage to the designers of golf's Golden Age of architecture at all of his courses—and he does here too, including on the 14th and 15th holes, "Raynor" and "Punch Bowl." But it's his own playful imagination that makes Waverly Oaks so memorable and such fun to play.
The par-five 4th hole, "Dare," dares you to ignore the green-front water hazard and go for the putting surface in two. The 207-yard, par-three 8th, "Carry," asks you to hit a high fade to an elevated green that angles away from you behind a sinuous bunker lurking below. The closing stretch demands a strong finish; the par-five 16th hole stretches to 636 yards from the tips, and the par-three 17th to over 250 yards. It's an exhilarating course from beginning to end, and one that's not to be missed by any golfer venturing to the Plymouth area. https://www.waverlyoaksgc.com/golf/course
Pinehills Golf Club (Jones Course)
This course from "Open Doctor" Rees Jones is one of two strong and beautifully maintained courses in the expansive Pinehills community. It's upscale daily-fee golf and they do that very well here. The Jones Course is a fun but stern test that requires equal measures of thought and precision. The fairways often appear generous, but beware the shot that misses them by much, as deep bunkers and drop-offs can make recovering from a bad tee shot difficult. The dramatic, par-five 18th plays downhill and ends at a green protected by water. It's 574 yards of all-out fun. http://www.pinehillsgolf.com/jones-course/
Pinehills Golf Club (Nicklaus Course)
The other course at Pinehills comes to you courtesy of Jack Nicklaus II, a.k.a. Jackie. Though he hasn't designed as many courses as his Golden Bear father, Jack II has more than two dozen tracks to his credit all over the world and the one here would give Papa Bear a lot to be proud of. Though Pinehills is a real estate community, the holes here offer privacy and lots of different challenges, especially at those like the 189-yard par-three 15th, where you play your tee shot first across a deep kettle and then over a yawning bunker to a green bisected in the middle by a pesky ridge. http://www.pinehillsgolf.com/nicklaus-course/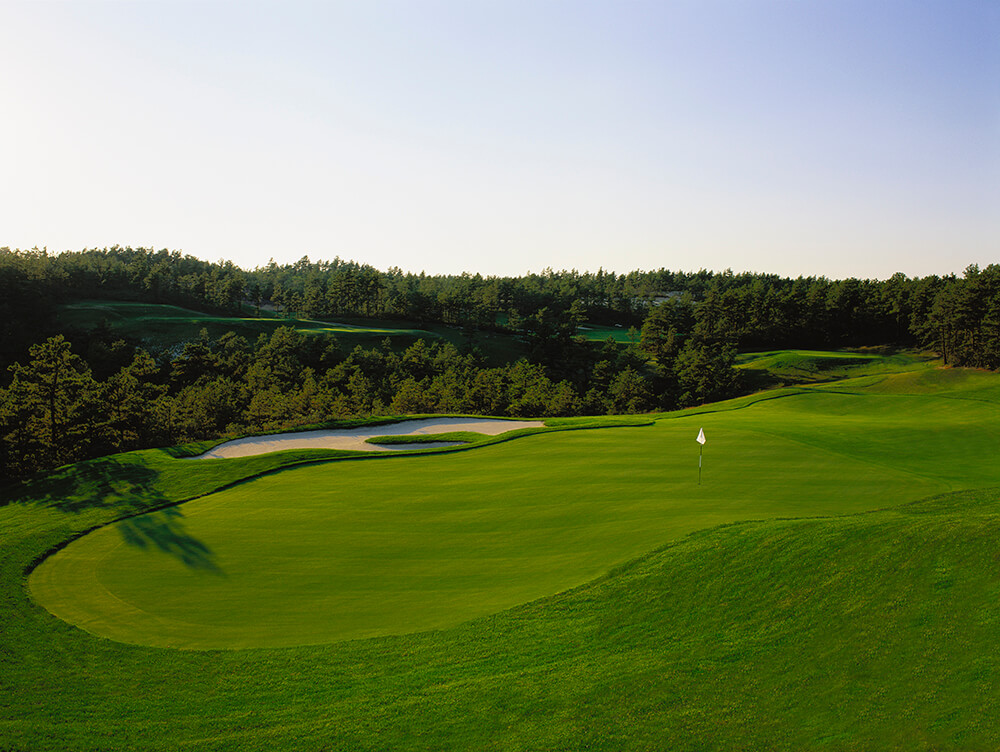 Crosswinds Golf Club
Located just to the east of Waverly Oaks, the 27 holes at Crosswinds share the same kind of rolling terrain and pine-covered sandhills as their brawnier neighbor. Here, Michael Hurdzan and Dana Fry were a good choice for the design work, since several of the holes border sensitive environmental areas, including cranberry bogs that are a wonder to behold in the fall when the berries are ripe for harvest. The Jones, Ouimet, and Zaharias nines are all challenging, and Crosswinds is one of the best values in Massachusetts golf. This can result in crowded tee sheets and slower rounds, but area golfers put up with that to experience the quality of golf offered here. https://www.golfcrosswinds.com/
Atlantic Country Club
At just a little over 6,700 yards from the tips, Atlantic isn't a punishingly long course. But what it lacks in length it makes up for in character. It's thinking man's golf, calling for thoughtful decisions to be made and careful shot placement from start to finish. Atlantic has perennially been known for its excellent playing conditions featuring bentgrass fairways and greens, and there are plenty of memorable holes including the dogleg-left 15th, which plays around the edge of a large lake, and the 18th where a smaller lake and bunkers await your approach shot to the green. https://www.atlanticcountryclub.net/
Southers Marsh Golf Club
Executive courses are seldom worth going too far out of your way to play, but this one is. Even though it measures just 4,100 yards from the tips and has only seven par fours, Southers Marsh offers enjoyable and very scenic golf. Here, cranberry bogs come into play frequently, and they, coupled with tight fairways on the par fours and well-protected greens on the par threes, call for precision. Golf doesn't always have to be 18 holes and four hours to be enjoyable—and this Plymouth course proves it. https://southersmarsh.com/
Have you played golf in Plymouth, Mass.?