By Graylyn Loomis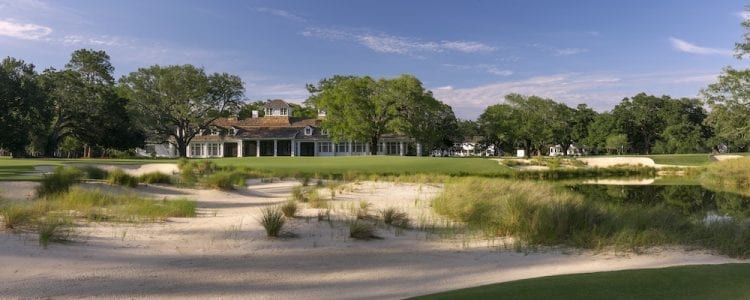 Some of the most exclusive courses in the world are also the most famous. Think Augusta National, Cypress Point, Shinnecock Hills, and others. Thanks to "best lists" and hosting major championships, those courses are well known even if extremely difficult to get on. But then there's another level of exclusive courses—those so restrictive you likely don't even know they exist. They may be on private estates or open only to the owner's family and friends. Or they have deliberately small memberships and no plans to open the doors. Here are five such clubs:
Ardfin
The rocky terrain and expanses of peat bogs of Scotland's inner Hebridean islands make them perfect for whisky but a tough place for a golf course. That didn't deter Australian hedge fund manager Greg Coffey, who purchased 12,000 acres on the isle of Jura and had Bob Harrison build a course along the picturesque coastline. Since its completion in 2018, rumors have flown regarding outside access and whether Coffey will ever bring on members. For now, he seems happy to have the place to himself, tough news indeed since by all accounts Harrison built a stellar course on a very difficult and beautiful site.
Cherokee Plantation
Cherokee Plantation, located in Yemassee, S.C., dates back to the late 1600s when it was established via royal grant. In the late 1990s the property was purchased by British entrepreneur Peter de Savary and he established a private club on the site. The club was initially limited to 50 shareholders, but word is there are only around two dozen members and no plans to grow. The first U.S. design by Brit Donald Steel, it has no out-of-bounds, but live oaks and Lowcountry wetlands border many of the holes. The very few members also can enjoy hunting, fishing, hiking, and other activities befitting a Southern-style estate.
Congaree Golf Club
Our business is to know when new courses are being built, so it was a shock when a course opened near LINKS HQ that few in the industry knew of. When I visited the Ridgeland, S.C., property, I asked the director of golf how they'd kept it under wraps: "We worked very hard to keep it that way." Billionaires Dan Friedkin and the late Bob McNair hired Tom Fazio to build a links-y sand-based course on a 2,000-acre southern plantation. Instead of members the club has "ambassadors," all of whom are powerful figures that support the philanthropic efforts of Congaree (centering around young people and education). Read more about Congaree in an article published in late 2017.
Ellerston Golf Club
A photographer I know visited Ellerston and was asked prior to teeing off to sign a non-disclosure agreement, agreeing not to take any photos or share any details from the day. It's that private. Located on the estate of the late Australian media mogul Kerry Packer north of Sydney, the course was designed by Greg Norman and Bob Harrison. The designers were able to build anywhere on the 70,000-acre site and they chose an undulating area with a fast-moving stream that's incorporated into many of the holes. Very difficult, it's often ranked among the top 10 in Australia.
Golf de Morfontaine
Should Morfontaine be on this list? Located in northern France, the club has a membership numbering in the hundreds (although when it opened in 1913 it was the private playground of the 12th duc de Gramont). Yet it's still one of the hardest tee times in the world, particularly for Americans, who don't often mingle with France's golf illuminati. Also, Morfontaine is the highest ranked course on this list, often appearing among the world's top 100. If you're one of the lucky souls who gets to visit, you'll find a charming heathland course, Grand Parcours, designed by Tom Simpson and renovated recently by Kyle Phillips. There's also a Simpson-designed nine, the Valieres, that many visitors say is the most enjoyable nine of the day.