The game of golf has a long and proud history going back centuries. Golf enthusiasts around the world embrace that history, and there's a long list of places where you can revel in it. Whether you're interested in golf's great champions, its major tournaments, the evolution of golf equipment over the years, or all of the above, you'll be able to get a window into the past by visiting golf's top museums, both in the U.S. and in other countries.
Some of them have extensive collections with interactive exhibits, artifacts, and memorabilia that celebrate the many legends and milestones from golf history; others are focused on just a single player's career. Many clubs, especially in the British Isles, have rooms dedicated to their histories lined with significant photos, scorecards, and lots of silver trophies. And many state golf associations also have museums, often affiliated with their halls of fame.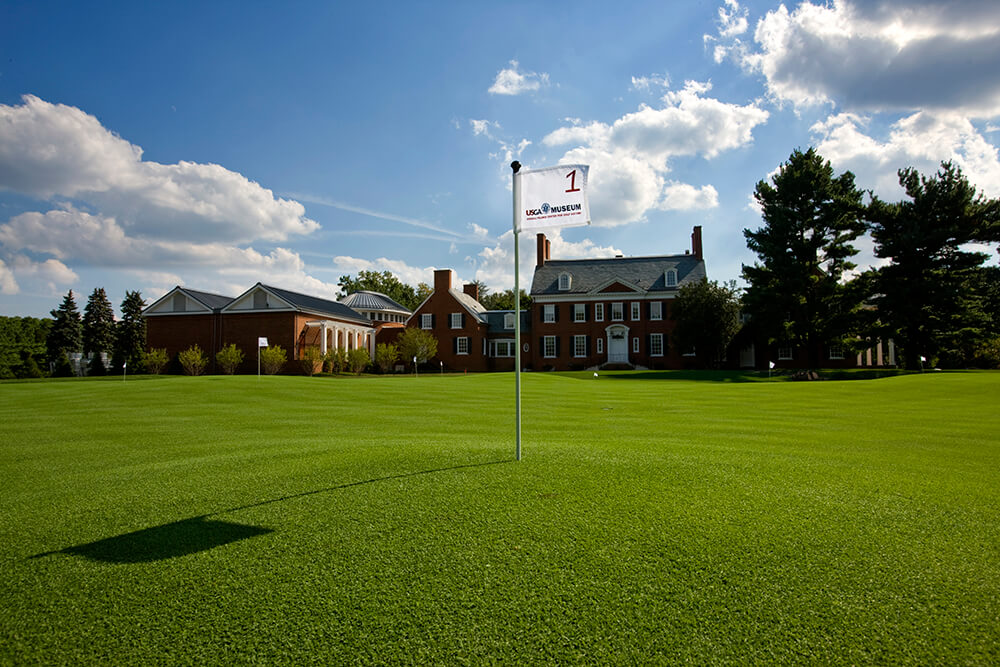 Here's a list of a few places where you can expand your knowledge of golf's fascinating history. Take your family and friends, and make some history of your own.
The USGA Golf Museum & Library in the historic Russel Pope House has expanded twice since its relocation there in 1972—first in 2008 with the Arnold Palmer Center for Golf History and later in 2015 with the opening of the Jack Nicklaus Room. Its collections include more than 2,000 artifacts, including three of golf's most famous clubs: Bobby Jones's putter, "Calamity Jane;" Ben Hogan's 1-iron from the 1950 U.S. Open at Merion; and the makeshift club that Alan Shepherd swung on the moon. The museum's permanent galleries tell the story of American golf from the late 19th Century to the present, with galleries that focus on iconic moments, like Tiger Woods's 15-shot victory at the 2000 U.S. Open, and the emergence of golf as a more global game. There are rooms dedicated to Jones, Palmer, Nicklaus, and Mickey Wright, along with other special exhibits. If you can't visit in person, you can take a 360-degree tour online and view everything remotely. But you really should visit in person. The Pynes Putting Course, inspired by the famous Himalayas putting course in St. Andrews, is a ton of fun. Note: The USGA's Golf House Pinehurst at Pinehurst Resort in North Carolina is slated to offer a visitor-friendly USGA Experience that will include a Hall of Fame locker room, plus a USGA Shop and an educational landscape feature. It's expected to open to visitors in 2024.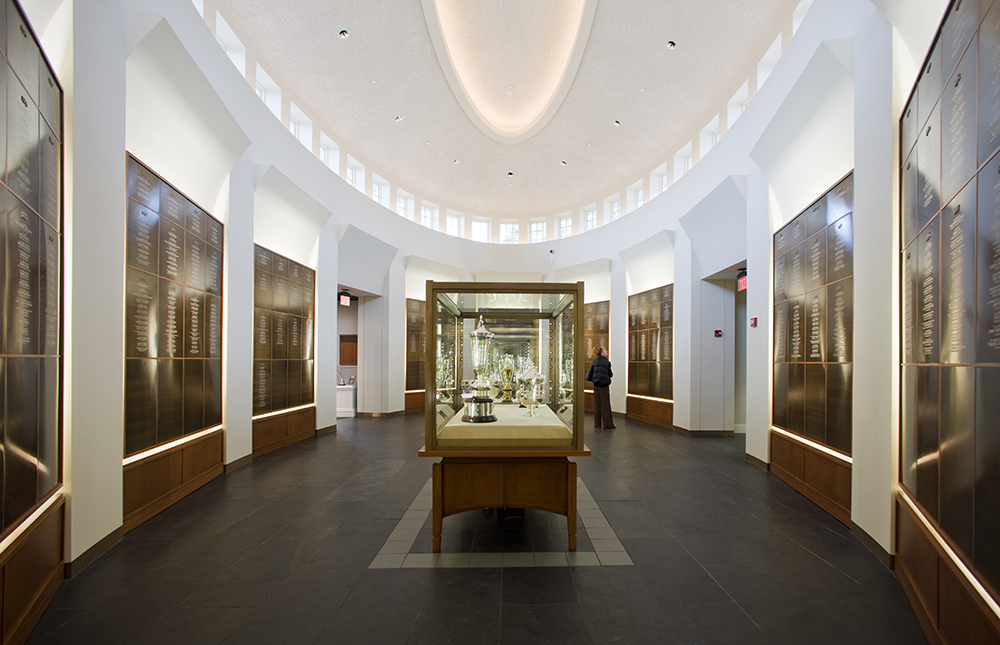 If you've seen the commercials in which Gary Player tells you that if you love golf, you've just got to go to the World Golf Hall of Fame at World Golf Village, you'll need to take Gary up on his offer soon. The museum is closing at the end of 2023, when many items from its existing collection will be relocated to Pinehurst and incorporated into the USGA Experience spaces there. In the meantime, though, the museum has several exhibits worth going out of your way to see, including one on Nancy Lopez that includes the Ray Cook putter she used to win so many titles, a tribute to African-Americans in golf, the Members Locker Room where the stories of each Hall of Fame member are told, and much more.
There's no place on Earth with a more distinguished golf history than St. Andrews, Scotland—and you can see it come to life at the R&A World Golf Museum, located just steps from the first tee of the Old Course. This museum's collections of clubs, balls, trophies, and other artifacts is dazzling. There are interactive exhibits that profile famous St. Andreans like Old and Young Tom Morris; others tell the stories of the Open Championship and other R&A world events; yet others give you a window into the inner workings of the organization itself. A full calendar of events, including informative talks and summer holiday "crafternoons," offer something for everyone. Test your skill at the interactive putting green, then venture upstairs to the Niblick restaurant for breakfast, lunch, dinner—or just a ginger beer.
Against the odds, Walter Hagen scored four at each of the last seven holes to catch clubhouse leader Ernest Whitcombe and win the Claret Jug by a stroke.
"The Haig" won @TheOpen four times, and the Museum displays the Medal and Driver from his 1929 victory at Muirfield. #TheOpen pic.twitter.com/8gTOH08yWq

— R&A World Golf Museum (@WorldGolfMuseum) July 19, 2023
There are three strong links courses at Gullane Golf Club in East Lothian—and an amazing wee museum that's accessible by appointment. It shows how the game developed after it arrived in Scotland from The Netherlands between 1400 and 1500. Items on exhibit trace the evolution of clubs from the days when they were made by bow-makers and blacksmiths, and of the ball from its feathery and gutta percha days. Golf's "costumes" through the years are also well documented, along with all manner of medals, buttons, bags, and fascinating ephemera.
Next time you're golfing at Gullane why not make an appointment to visit our wonderful Heritage of Golf Museum: from featheries to hickory, gutta percha to mashie niblicks, anyone with an interest in the history of the great game will love this Aladdin's cave of golf treasures. pic.twitter.com/GuZmETwpEH

— Gullane Golf Club (@GullaneGolfClub) October 3, 2018
Located at Glen Abbey Golf Course and operated by Golf Canada, which is itself governed by the Royal Canadian Golf Association, The Canadian Golf Hall of Fame focuses on the history of the game in Canada and on the Canadians—players and others—who have made significant contributions to the growth of the game in that country. There's an exhibit space with 18 separate sections (or "holes"), a research library, and archives. Each year, new members are inducted into the Hall, which includes players like Moe Norman, Mike Weir, and Stephen Ames, and other notables like golf course architects Stanley Thompson and Geoffrey Cornish.
The Jack Nicklaus Museum is located on the campus of Ohio State University, where Nicklaus attended college. It traces the storied career of The Golden Bear—and many other legends of the game. More than 2,000 pieces are on display there, providing an immersive journey through Nicklaus's unparalleled 100 worldwide professional wins and 18 major championship victories. Jack's story is told from his boyhood days in the 1940s through his PGA Tour and PGA Tour Champions days and all the way through his course design career. You'll see clubs, balls, trophies, scorecards, bags, and other memorabilia. There are special galleries devoted to his major championship wins, and even a recreation of the Nicklaus family room at his home in Florida.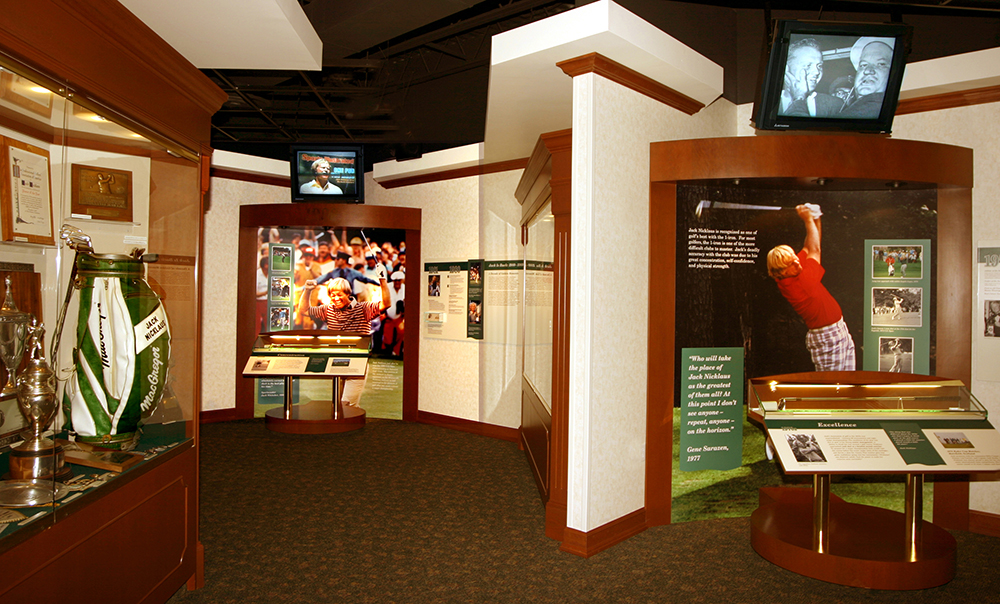 The Jones Museum at Atlanta Athletic Club includes more memorabilia from the life and career of legendary amateur player and Augusta National Golf Club founder Robert Tyre Jones Jr. than anywhere else in the world. The four trophies from his grand slam career are on display, as are handwritten letters exchanged by Jones and President Dwight D. Eisenhower, signed scorecards, family photographs, and even a silver cup Jones was given at age six after a match he'd played against childhood friends, a group that included Alexa Stirling, who went on to have a storied career of her own. Public admission to the Jones Museum is by appointment only.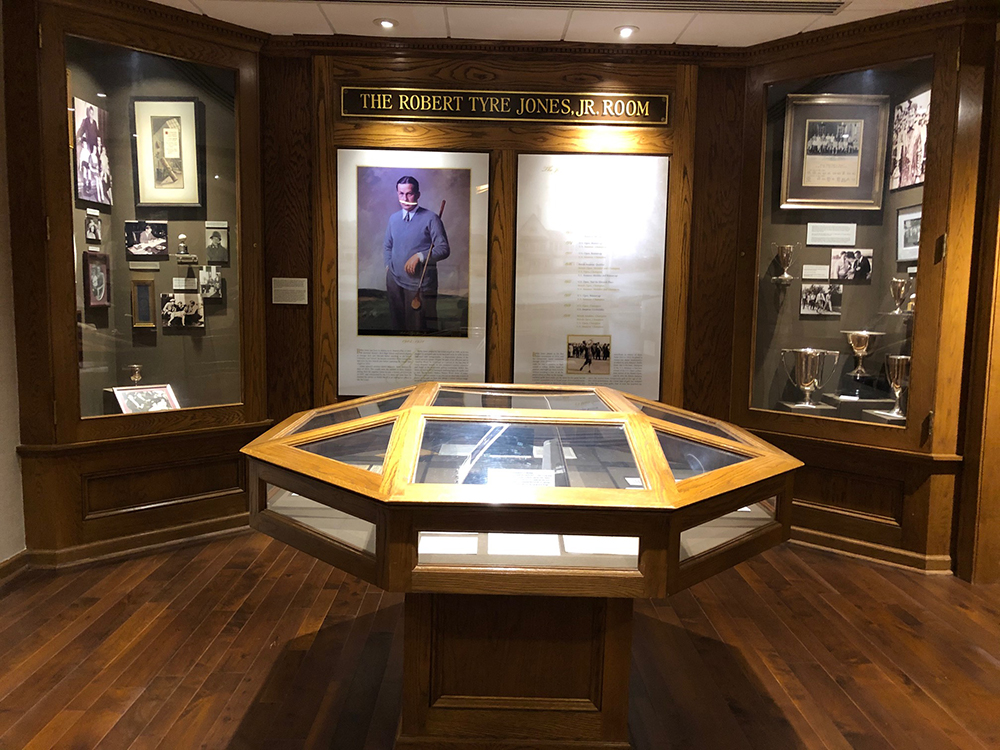 Fittingly located adjacent to the Georgia Hall of Fame, this permanent exhibit also celebrates the life and career of Bobby Jones. It features artifacts, photographs, and library materials from the USGA's Bobby Jones collection.
Not a museum, but an impressive exhibit that's now open at the Atlanta History Center, "Fair Play" chronicles Jones's 14-year competitive playing career, which culminated with his 1930 "grand slam" wins at the U.S. Open, U.S. Amateur, British Amateur, and Open Championship. Highlights include replicas of Jones's grand slam trophies, a Masters green jacket, and Depression-era Spalding golf clubs that Jones helped design—the first set of matched irons.
A Signature Exhibition at the museum, "Celebrating a Grand Tradition" explores how the game has evolved over the centuries—its general history, technological advancements in the equipment realm, and the particularly rich history of golf in the Augusta area. Major personalities that have had a significant impact in the golf world are showcased, including Bobby Jones, Patty Berg, Arnold Palmer, Jack Nicklaus, and Tiger Woods. Also on display in the museum's rotunda are life-size bronze statues of golf greats in Jones, Nicklaus, Palmer, Ben Hogan, and Byron Nelson. You'll see everything from an Augusta National green jacket and notable trophies to hickory clubs and golf balls though the ages.
West Coast golfers appreciate golf history, too. This small museum, named for Cinnabar Hills club founder Lee Brandenburg, has a fine collection of items that Brandenbrug collected over a 60-year time span. There are historic clubs, balls, books, photographs, and special items like Dwight D. Eisenhower's Augusta National member's green jacket, Walter Hagen's Ryder Cup captain's jacket, replicas of major championship trophies and the Ryder Cup trophy, letters from Bobby Jones to the R&A, Jones "flip books" published to demonstrate his legendary swing, Bing Crosby Clambake memorabilia (including a complete collection of the commemorative Jim Beam decanters given to amateurs at those events), and a Tony Jacklin exhibit. Jacklin was a longtime friend of Brandenburg's.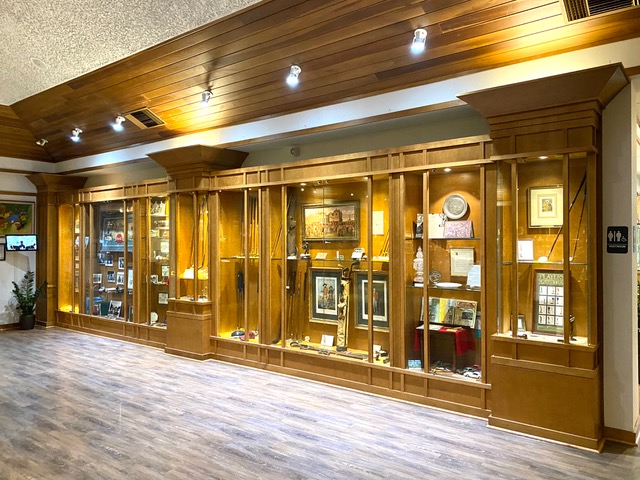 The Pete Dye Room, located in the Harbour Town Golf Links clubhouse, is a celebration of the life and work of one of the preeminent course designers of the modern era. The comprehensive museum explores the close relationship between Dye and Harbour Town. It includes exhibits, videos, photographs, and awards that chronicle Dye's brilliant career and offer insight into his philosophy and work ethic. Visitors will also learn how his process as a course builder revolutionized course design and helped change the game.
Who would've guessed that Doug Sanders, a native son of a small town in Georgia, would have his own museum? Well, the 20-time PGA Tour winner affectionately known as "The Peacock"  most certainly does, and a lot of the colorful clothes and shoes he wore are on display, along with lots of other memorabilia from Sanders's career. A highlight is the felt top from his pool table, which was autographed by everyone from Ronald Reagan to Frank Sinatra. Stop by and get information on how you can join Doug's friends at the annual Doug Sanders Charity Classic.
One of two golf museums on the Australian mainland, this museum features long-nose cleeks from the Old Tom Morris era, an exhibit on Australian golfer Kel Nagle, lots of historic memorabilia from the Australian Open, and more.
The Tuncurry Golf Museum covers the development of golf in its local area, where it was first played at Port Macquarie in 1910 and includes details of many North Coast clubs. The main gallery traces the game from its early beginnings in Scotland, and later in Australia at Grose Farm in 1839, to the present day. There are features on Jim Ferrier, Peter Thomson, Kel Nagle, Jack Newton, and many others. The clubs that Craig Parry used to win the 1992 Japan Open are also on display. One wall is dedicated to the greats of Australian Golf, from the first Australian- borne major champion, Walter Travis, to the more recent ones, Minjee Lee and Cam Smith. Also on display is a set of clubs made in 1948 for Don Spence, the Concord professional, which were refurbished in 1998 and used by Greg Norman to promote the 50th anniversary of the Holden automobile brand.
What golf museums have you visited?