Ask any golf course architect what course or hole he or she is most proud of having designed, and most will demur. Typically, they don't want to single out one as being any better than another. But they do have opinions on the work of others. For this story, I asked 12 course architects to name a hole they would be proud to have designed—and why.
Tom Doak
2nd Hole (552 yards, par five)—Talking Stick Golf Club (O'odham Course), Scottsdale, Ariz.
Architects: Bill Coore and Ben Crenshaw
"It is a super-simple short par five with a very wide fairway through scrubby desert trees. A lot of desert courses fall short because playing recoveries out of the desert becomes tiresome; instead, at Talking Stick, they put some stakes down the left side of the hole and declared it out of bounds! You're scared to drive it close to the left side, but the more you play away from it, the harder it is to stop an approach shot from going over the green and O.B."
Ben Crenshaw
17th Hole (495 yards, par four)—The Old Course, St. Andrews, Scotland
Architects: (Daw Anderson, Tom Morris Sr., Alan Robertson, others)
"I've played it many times in competition and it's a troublesome hole, but a vastly interesting and strategic one. Even in today's high-powered game, it still offers a fascinating study in how choices have to be made. All sorts of things can happen—and have happened in the past. It's amazing how far right the line of the tee shot is rewarded—dangerously close to the hotel and out of bounds. The green is unbelievable. It takes a very well-played and well thought out shot."
Forrest Richardson
12th Hole (585 yards, par five)—Fossil Trace Golf Club, Golden, Colo.
Architect: Jim Engh
"What Jim Engh managed at this par five really has no equal. He used natural formations to interrupt the entire length of a three-shot hole. He created a hole that will rarely play the same. He didn't rely on sand or water. He created a one-of-a-kind golf hole that will never be duplicated."
Jack Nicklaus
17th Hole (653 yards, par five)—Baltusrol Golf Club (Lower Course), Springfield Township, N.J.
Architect: A.W. Tillinghast, Design Modifications by Robert Trent Jones (1954) and Gil Hanse (2021)
"I have always liked the original 17th hole at Baltusrol Golf Club. It was just a great hole, and I have used the concept numerous times in my course designs over the years. Here is a par five that is virtually unreachable in two. I am not sure what the club did in its recent renovation, but the hole I played both times I won there, if you missed the tee shot in the deep rough or hit your drive into a bunker, the cross bunkers forced you to lay up short of them on your second shot. From the cross bunkers, you can't get to the green. Well, John Daly got there, but typically you can't, due to the bunker complex in front of the green. You actually lose a shot. If you hit a good tee shot, the same thing can happen if you miss the second shot and hit into the rough. You won't be able to get over the complex of bunkers in front of the green, which are maybe 50-60 yards long. That means you have to lay up again. So, there are a multiple of mistakes you can make on that hole. If you hit your first two shots in the fairway—I played it mostly with a 3-wood, then 1- or 2-iron into the fairway, 9-iron or wedge into the green, and I played it as a three-shot hole. But you must be careful off the tee and very careful on your second shot, or you will find yourself getting caught up in the multiple of mistakes that exist. You are going to lose a shot, because, physically, you can't play the shot. It compounds problems. I always liked the concept of the hole, because it forced you to think and play. It was one of the true three-shot par fives in the game of golf.
When I last won there at age 40 (in 1980), I birdied it in the last round by sinking a 20-footer. My playing partner, Isao Aoki, birdied it, too. But we both played the hole properly."
Jim Engh
18th Hole (541 yards, par five)—Carne Golf Links, Belmullet, Ireland
Architect: Eddie Hackett
"Eddie Hackett discovered this hole and then chose to leave it with its natural unique beauty. I believe the hole originated from the planet "Gigglefest." The giggle-meter is my way of determining how much I like a golf course. I have not seen anything like it."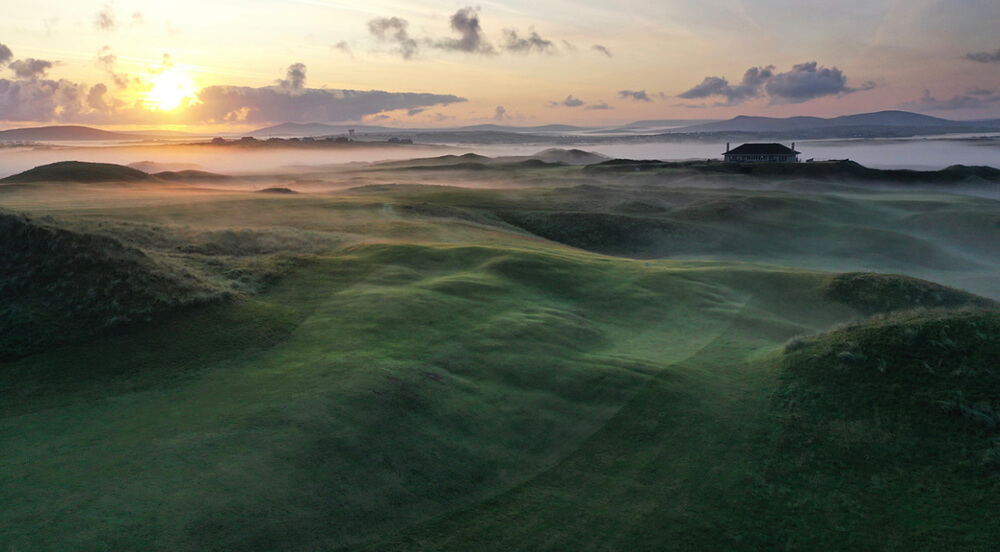 Bruce Charlton
13th Hole (510 yards, par five)—Augusta National Golf Club, Augusta, Ga.
Architect: Alister MacKenzie
"It's a beautifully conceived, short par five that creates great drama every year during the Masters. MacKenzie was a master of utilizing flow of land, and on this gently rolling piece of the property, there isn't a better example. The hole canters from right to left, with the beautiful creek left that is a major strategic factor. The creek cuts in front of green, which presents its own set of challenges. I'm a color guy—some architects aren't—so I love the color of the azaleas on the hillside above the creek. It's like visiting a botanical garden."
Azalea, the par-5 13th at Augusta National, is perhaps the most beautiful inland hole in American golf. At just 510 yards, the hole does not rely on length for distance – instead, the hard dogleg left, protected inside by Rae's Creek, demands control and precision from the tee.. pic.twitter.com/PVuTLEejig

— LinksGems Golf Photos (@LinksGems) April 19, 2019
Dan Maples
18th Hole (526 yards, par five)—Pebble Beach Golf Links, Pebble Beach, Calif.
Architects: Jack Neville and Douglas Grant
"Pacific Ocean on the left, wind blows left to right, impossible for the average player to hit it in the ocean. Tom Kite hit driver in the U.S. Open! What did Tom like about the 18th that Arnold Palmer did not? Amazing golf shot, Tom!"
Frank Pont
10th Hole (339 yards, par four)—De Pan Golf Club, Bilthoven, Netherlands
Architect: Harry Colt 
"The thing that makes the 10th at De Pan so special is the fact that it is a drivable par four hole that no one in his or her right mind would ever consider driving. Not only that, it also is a visually stunning hole. Due to a bottleneck with three strategically positioned bunkers, the driver really is not an option. Rather, the smart player has to choose anything between a 6-iron or hybrid to place the ball so that the shot to the green is from an optimal spot, most often from somewhere in the middle of the undulating fairway. Rare birdies are balanced by quite frequent (double) bogeys…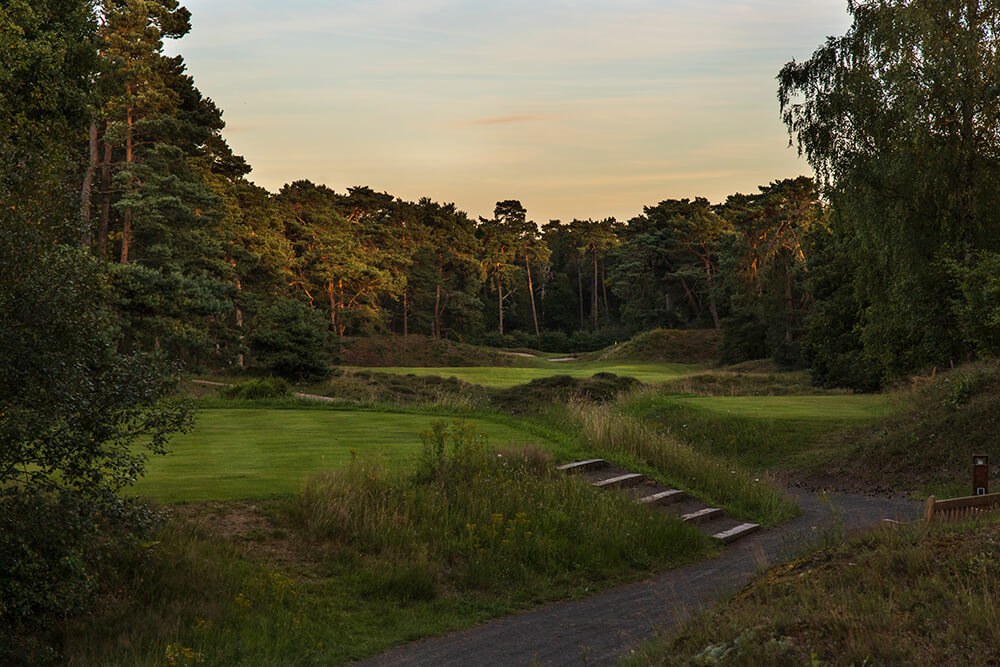 P.B. Dye
1st/10th Hole (408 yards, par four)—Bushfoot Golf Club, Portballintrae, Northern Ireland
Architect: David Jones
"Just go stand on the first tee."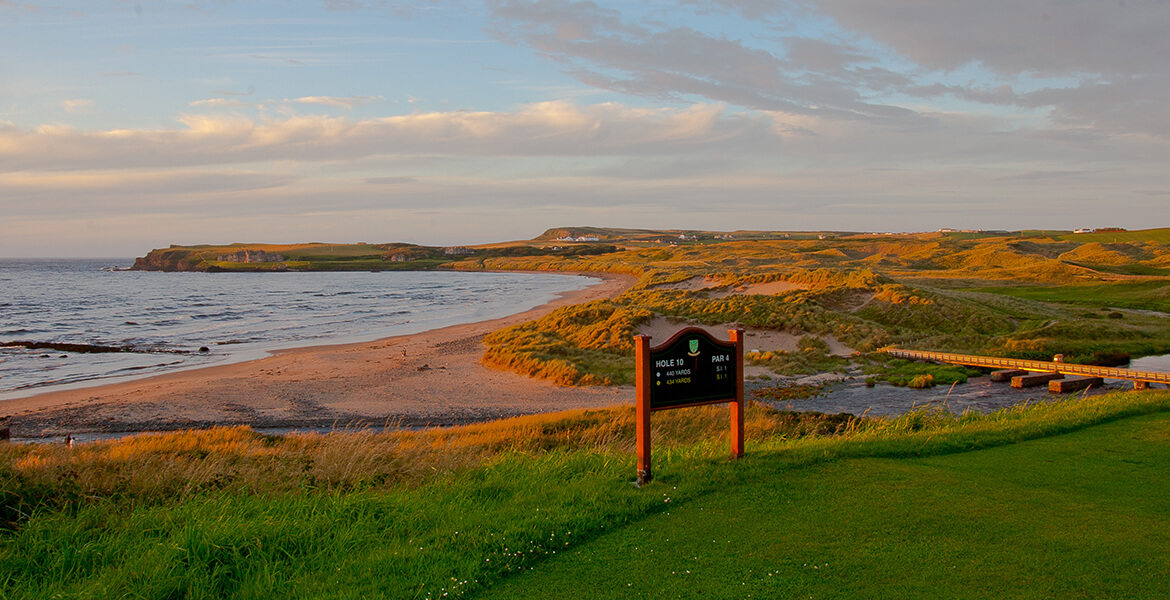 Steve Smyers
13th Hole (442 yards, par four)—Pine Valley Golf Club, Pine Valley, N.J.
Architect: George Crump
"The hole and its features fit rhythmically with the landscape. The brilliant design makes the fairway appear that there is more room than there actually is. From the tee, the strategic and contouring fairway tempts the golfer to take the shorter route along the left side to leave a flat lie and the ideal approach to the large putting surface. The less attractive and safer route for the tee shot is right and away from the movement of the golf hole. The putting surface is protected on the front and left by deep and intimidating bunkers. Subtle contouring of the large fairway to the right and immediately adjacent to the green, will funnel the ball toward the middle of the putting surface if correctly utilized. An approach that settles right of this gentle contouring will leave the golfer with a treacherous downhill pitch."
The 486-yard 13th at Pine Valley Golf Club. There are many people, Bobby Jones among them, who consider this the greatest par-4 in the world. There are many others who don't consider it even the best par-4 on this course. If that doesn't sum up Pine Valley's greatness, what does? pic.twitter.com/UDrq2dVGSb

— LinksGems Golf Photos (@LinksGems) January 13, 2019
Brian Silva
11th Hole (433 yards, par four)—Links at Hiawatha Landing, Apalachin, N.Y.
Architects: Mark Mungeam and Brian Silva
"Back in the early '90s, I was contacted by a group that wanted to develop a course south of the Finger Lakes in New York State. At that time, I was extremely busy, so Mark Mungeam was going to handle the day-to-day of what would become the Links at Hiawatha Landing. I never got to see the course during construction, so when Mark asked me to make a playing visit there with him a couple of years after the course opened in 1994, I really looked forward to it. As we stood on 11 tee and viewed the hole, I was initially dismayed by the fact that the fairway stopped past the landing area—something that I am not normally comfortable with. But as I looked more closely, I could see that the approach and green were set up on a plateau that was probably 30 feet higher than the landing area. Mark had placed a punchbowl green and surrounds on terrain perfectly suited for that style of playing surface. The combination created a golf hole that was FUN to play."
Michael Hurdzan
10th Hole (315 yards, par four)—The Riviera Country Club, Pacific Palisades, Calif.
Architects: George Thomas and William Bell
"The golf hole presents fair strategic options for all players—by choosing the right tees, every golfer can enjoy the same strategic challenge and shot selection. The variety of hazards (sand, rough, trees, slopes, etc.) all allow for a recovery shot, unlike any hole with water involved. The hole is highly visible from the clubhouse, practice range, putting green, other holes, etc.; a spectacular valley scene like a postcard picture burned into one's brain that is easy to recall and replay one's golf shots. The single most important element that makes the hole work is the green complex. The green's size, shape, slopes, and dictated play angles, perfectly set up the challenge of the hole, while the hazards, especially the green bunkers, define the strategic options. This hole also has a timeless quality that challenges golfers as much today, even with today's longer-hitting equipment and techniques, as it did when Thomas designed it."