Gil Hanse and his design team have faithfully restored some of the most renowned golf courses around the country, names like Merion, Fishers Island, Sleepy Hollow, Los Angeles Country Club (North), and 2022 PGA Championship site Southern Hills. So, it's telling Hanse calls the Yale Golf Course the "most significant restoration opportunity" he's been entrusted with.
Located about four miles from Yale University's campus in New Haven, Conn., the C.B. Macdonald and Seth Raynor-designed layout is closing in on its 100th anniversary and has long been considered the gold standard when it comes to college courses. Hanse, quite simply, calls Yale one of the landmark courses in the history of American golf course architecture.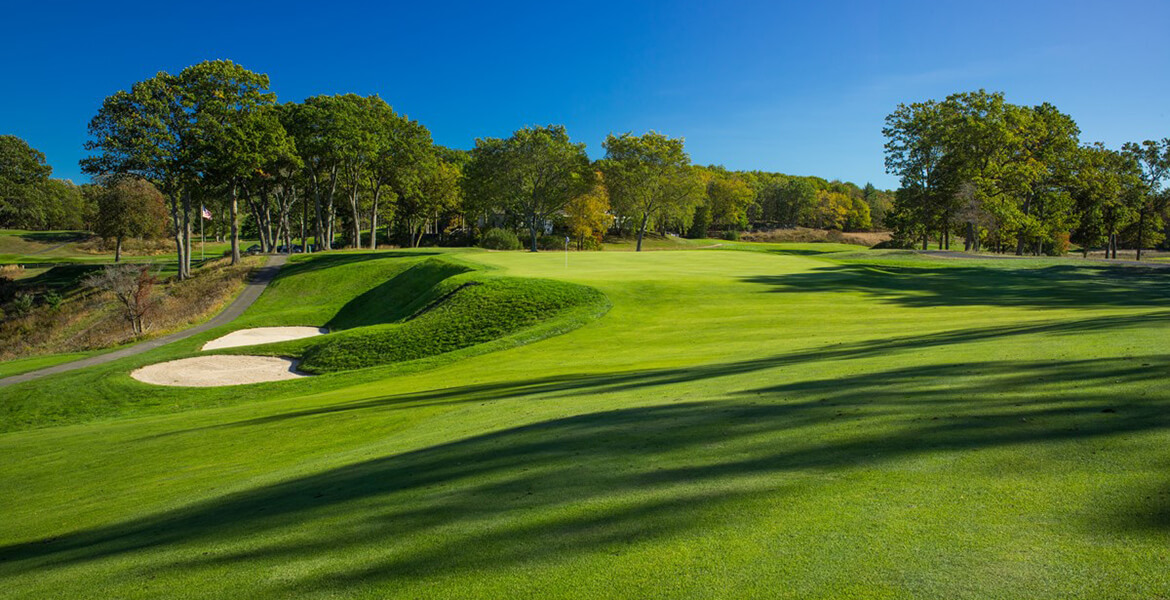 The conditioning of Yale's course took a blow during the onset of the coronavirus pandemic in 2020, remaining closed and unmaintained for half a year even after golf operations in the state of Connecticut had been cleared to resume. But the historic Golden Age course is back (even hosting 2022 NCAA regionals) and soon its terrific template holes will be restored to recapture the grand scale of the original design, no doubt further solidifying Yale's standing as the finest U.S. golf course affiliated with a college.
There are more than 100 courses with collegiate ties, according to the National Golf Foundation, with a diverse geographic spread and maybe an even more diverse lineup of architects—from Alister MacKenzie to Fuzzy Zoeller. Here are 10 more of the nation's best college courses.
Birck Boilermaker Golf Complex (Purdue)
West Lafayette, Ind.
Purdue boasts two 18-hole championship courses with Pete Dye touches: the Kampen, which Dye completely overhauled in 1996 with the help of 32 Purdue students, and the Ackerman-Allen Course, which Dye renovated in 2016 free of charge. The latter was originally built in 1934 by Indiana Golf Hall of Famer Bill Diddle and was the site of Purdue's convincing team victory at the 1961 NCAA men's championship, where the individual title was won by an Ohio State junior named Jack Nicklaus.
Jimmie Austin Golf Club (Oklahoma)
Norman, Okla.
Noted architect and native Oklahoman Perry Maxwell built OU's original course, which opened in 1951. It was extensively renovated by Bob Cupp in the mid-1990s thanks to contributions from supporters, most notably that of namesake Jimmie Austin. When the course was in need of major upgrades and improvements in 2017, the school turned to a member of the Sooners' 1989 national championship team: architect Tripp Davis.
https://twitter.com/OU_MGolf/status/1524034961568722944
Ohio State University Golf Club, Scarlet Course (Ohio State)
Columbus, Ohio
Some pretty big names are tied to Ohio State's golf complex, with Alister MacKenzie drawing up the original plans in the early 1930s and Perry Maxwell getting the contract to build two courses after MacKenzie died. The longer and more heralded of the two 18-hole layouts—the Scarlet course—was renovated in 2006 by Ohio native Jack Nicklaus. Both are open only to those with an OSU affiliation.
First trip to Columbus, so naturally had to check out THE Ohio State University's famed Scarlet Course. Student membership: $750, for unlimited golf! pic.twitter.com/PdpMRoWrut

— Ryan Lavner (@RyanLavnerGC) July 15, 2020
The Pfau Course (Indiana)
Bloomington, Ind.
Architect Steve Smyers teamed with two-time major champion Fuzzy Zoeller, a native Hoosier, to completely redesign and rebuild the new Pfau Course on the existing footprint of a university layout that dated to the 1950s. The diverse landscape of southern Indiana is highlighted throughout what's become a destination property, transitioning from forest to open space on the eastern edge of campus.
Brute of the Big Ten – The Pfau Course at Indiana University possesses championship aspirations.

Read: https://t.co/vfXeSKsMlZ pic.twitter.com/30XrZOR9vn

— The Pfau Course at Indiana University (@PfauCourse) October 15, 2020
The Rawls Course (Texas Tech)
Lubbock, Texas
 In 2003, architect Tom Doak created one of the best courses in all of Texas by moving 1.3 million cubic yards of earth to completely transform a flat cotton field on the high plains of the West Texas panhandle. The result is a landscape that mimics that found southeast of Lubbock, where plains start falling into valley and canyons, with the Rawls course marked by wide fairways and boldly contoured greens.
Stanford Golf Course (Stanford)
Stanford, Calif.
 Stars like Tiger Woods, Tom Watson, and Mickey Wright honed their game over the years on this on-campus classic designed by famed architects Billy Bell Jr. and George C. Thomas. The course, which was renovated in 2008 by John Harbottle III and updated again in 2018, features stunning views of the surrounding mountains and scenic foothills, while the meandering San Francisquito Creek comes into play on almost half of the holes.
Taconic Golf Club (Williams College)
Williamstown, Mass.
Nestled in the Berkshires of western Massachusetts, scenic and challenging Taconic at one point earned recognition as the No. 1 public course in the state. While many top college courses are linked to big schools, Taconic is the home course of Williams College, a private, liberal arts school of about 2,000 undergraduates that was founded in 1793. The school's women's golf team won the Division III national title in 2015, six years after Taconic was renovated by Gil Hanse.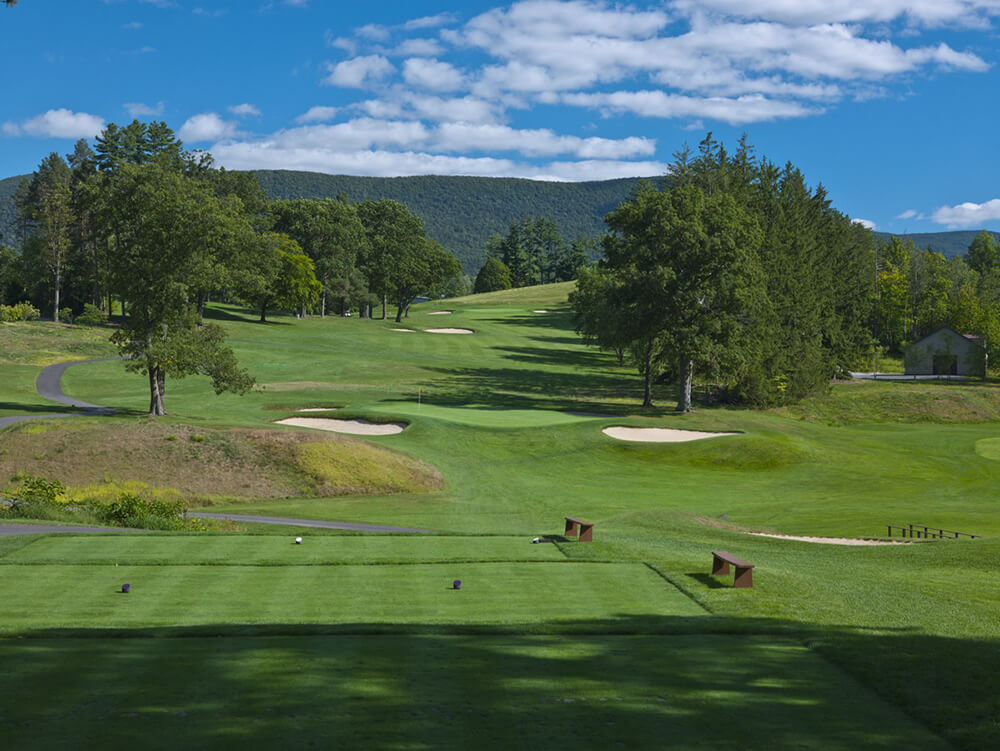 University of Michigan Golf Course (Michigan)
Ann Arbor, Mich.
Alister MacKenzie brought golf from St. Andrews to Ann Arbor in designing and building Michigan's celebrated course, which was just the fourth located on a college campus when it opened in 1931. Michigan graduate Arthur Hills in 1994 oversaw a faithful, multi-million-dollar renovation of this gem, which is among only a handful of U.S. courses (including Augusta National) designed by MacKenzie and is located just across a main road from Michigan's football stadium.
The Alister MacKenzie designed University of Michigan Golf Course. ⛳️ pic.twitter.com/atcmfPrcMl

— University of Michigan Golf Course (@umichgolfcourse) August 20, 2021
University Ridge (Wisconsin)
Madison, Wis.
Designed by Robert Trent Jones Jr. and opened in 1991, University Ridge derives its name from landscape left by a retreating glacier. Set atop a ridge overlooking the city of Madison, the well-contoured course weaves through prairie, marshland, and dense Wisconsin woodland. The signature 16th hole is particularly memorable, with a downhill tee shot played through the woods to a split fairway that's bisected by tall cottonwood trees.
https://twitter.com/RTJ2GolfDesign/status/1013775213346148352
Warren Golf Course (Notre Dame)
Notre Dame, Ind.
After losing the back nine of its decades-old course to the construction of campus dorms and athletic fields, Notre Dame alum William K. Warren (class of 1956) stepped up to fund development of a new championship course. The up-and-coming team of Bill Coore and Ben Crenshaw was enlisted to design the layout, which opened in 1999 and winds wonderfully through 250 wooded acres that's preserved as a wildlife habitat and earned Audubon International certification.
The #USSeniorOpen takes place this week at Warren Golf Course at Univ. of Notre Dame, a Bill Coore, @ASGCA/Ben Crenshaw design. David Toms defends his title at a great example of public golf: four sets of tee boxes & course rates start as low as $31. @USGA @USGA_PR @WarrenGCatND pic.twitter.com/pDKPX2iw22

— ASGCA Home Offices (@ASGCA) June 25, 2019
What are your favorite college golf courses?