Jack Nicklaus said golf is a better game when played downhill. The Golden Bear doesn't speak for everyone of course, but he's won more of the really big tournaments than anyone and is one of just a handful of architects to have worked on 300 courses or more.
It doesn't take a multi-major champion or prolific course designer, however, to know he speaks the truth. Downhill holes are typically more attractive to look at than uphillers and more fun to play. But why do golfers get so excited by downhill holes? Why do we anticipate them above all others?
To a large extent, the reason we like downhill holes so much is because unlike uphillers, they tend to be easier to walk, usually guarantee us a little extra distance, and we can see most, if not all, of the hole. That last point is what architects rely on most when including a downhill hole in their routing.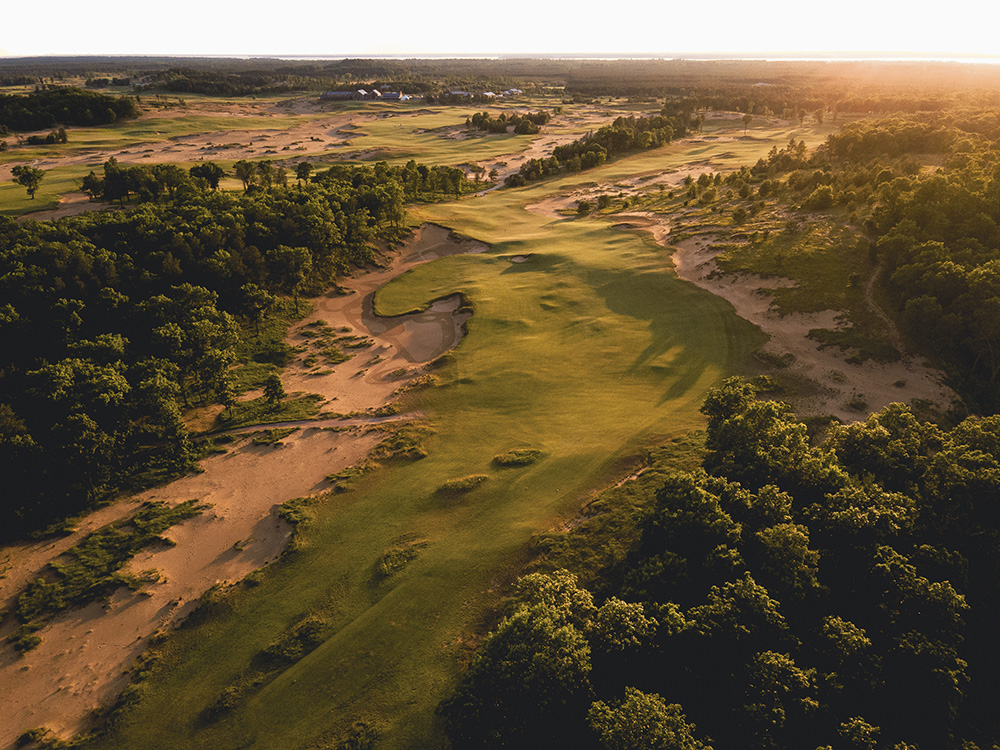 "Downhill means visibility," says David McLay Kidd whose downhill short par fours at Gamble Sands (2nd hole) in Washington and at Mammoth Dunes (14th hole) in Wisconsin rank among the game's most enjoyable. "On uphill holes there's usually a degree of blindness. That happens quite frequently at Augusta National where you're hitting into elevated greens you don't necessarily see. With a downhill hole, you have much better visibility which is a large part of why we like them so much."
Mike DeVries, architect of Australia's Cape Wickham and several Michigan gems including Kingsley Club, says hitting downhill is one of the more exciting parts of the game. "You see the ball hanging in the air," he adds. "And you have an expansive view of the hole which can make it significantly more dramatic."
Another appealing feature is that a ball rolling on the ground fills a golfer with excited anticipation—sometimes panicky, sometimes more composed, but always stimulating. A ball landing softly on damp, over-watered ground doesn't create nearly the same spark of intrigue or eagerness.
"Downhill emphasizes the ground game," says McLay Kidd. "There's obviously much more roll which means you don't really know what's going to happen until the ball stops moving. That's fun and interesting."
Few would argue that the roll McLay Kidd mentions and hang-time DeVries alludes to are wonderful aspects of golf, but they need to be kept in check if a downhill hole is to be successful, fit the course, and remain playable.
For starters, says DeVries, you can't make every hole downhill. "You need to have balance, and creating good variety is the most important thing with any course. You need to accommodate a wider dispersion arc since the ball is up in the air for so long and will go further on each side."
McLay Kidd adds that a failure to provide sufficiently wide corridors for downhill holes can create issues. "They're both amazing courses obviously, but I've run into that problem at both Pine Valley and Royal County Down," he says. "The fairway at the 18th at Pine Valley is actually quite generous, but your tee shot hangs in the air for so long it can very easily end up in trouble. And County Down has a number of elevated tees which, incidentally, don't make a true downhill hole. If it's windy, your ball gets picked up and carried off into some frightful places, even though you may not have hit that bad a shot. That doesn't happen on the Old Course at St. Andrews because it's so much flatter and the ball gets on the ground quicker."
This is obviously a problem with drop-shot par threes, which can be very entertaining, but which have their drawbacks.
DeVries is clearly not a fan. "The biggest error in downhill holes is the drop-shot par three," he insists. "When the hole falls too much, you can lose visibility of the green or surrounds. Also, having big drops can make club selection a bit iffy and leads to luck having too great an influence."
Many architects lick their chops at the possibility of designing downhill holes knowing they are going to be popular. More often than not these holes are fun and exhilarating, but architects can't just wing it. A good deal of thought, experience, and skill are required to build a genuinely good downhill hole.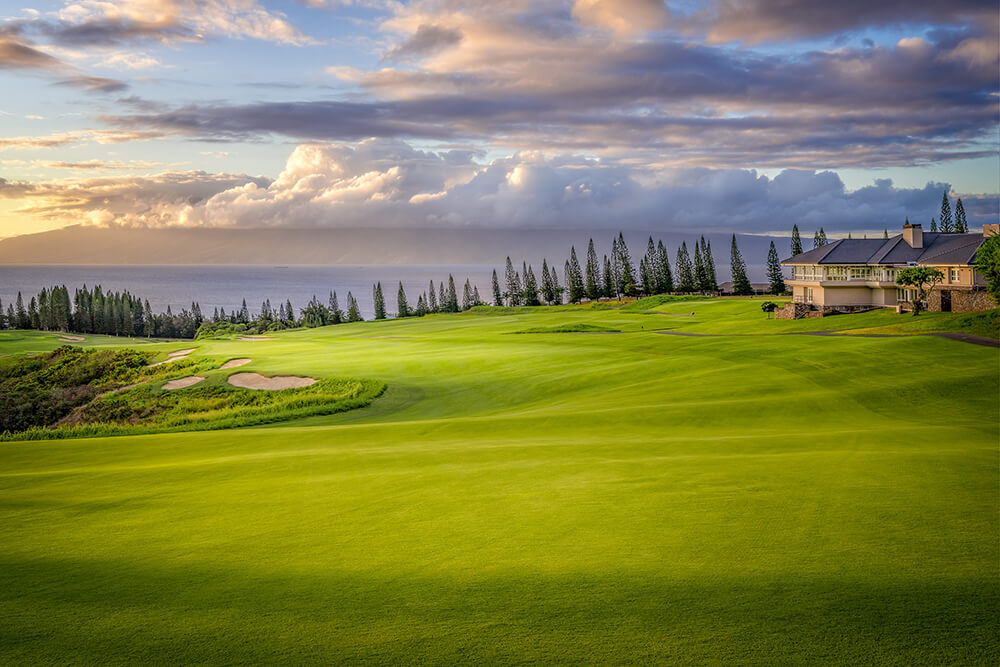 Nine Great Downhill Holes
Par Threes
7th, Pebble Beach Golf Links (Pebble Beach, Calif.)
11th, Los Angeles Country Club, North Course (Los Angeles, Calif.)
13th, The Glen, East Links, North Berwick (East Lothian, Scotland)
Par Fours
1st, Oakmont Country Club (Oakmont, Pa.)
1st, Capilano Golf and Country Club (West Vancouver, British Columbia, Canada)
5th, New South Wales Golf Club (La Perouse, New South Wales, Australia)
Par Fives
1st, Spyglass Hill (Pebble Beach, Calif.)
11th, Arcadia Bluffs, Bluffs Course (Arcadia, Mich.)
18th, Plantation Course at Kapalua (Kapalua, Hawaii)