In 2019, Pebble Beach Golf Links will celebrate its 100th birthday and host its sixth U.S. Open. To commemorate these milestones, each issue of LINKS Magazine and LINKSdigital between now and then will tell the unique story that is Pebble Beach. Those articles will also be shared here on our website.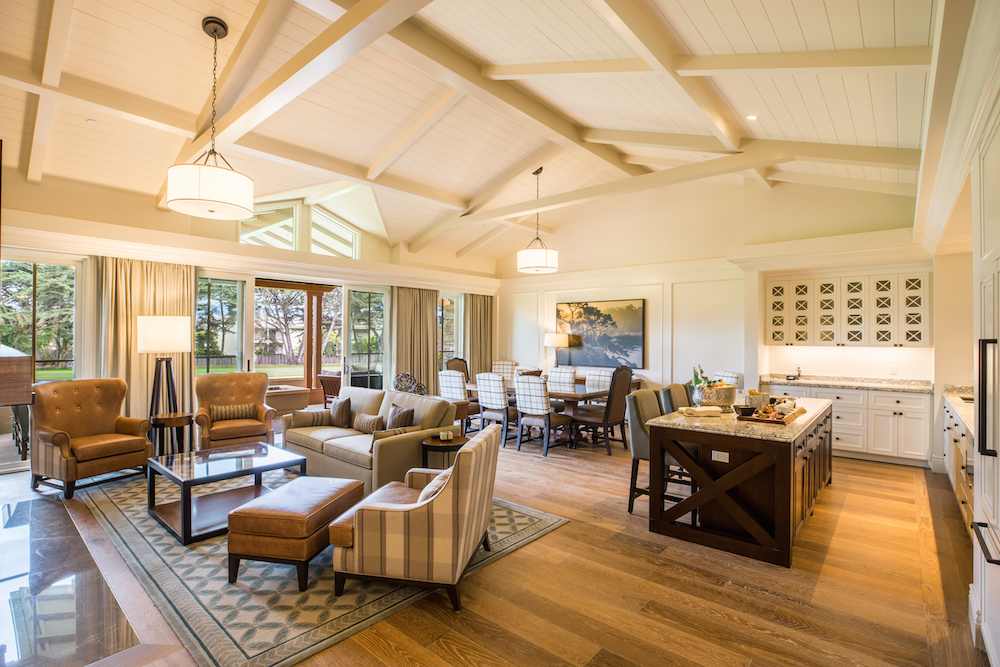 With its world-class golf course and resort amenities, Pebble Beach is already one of the game's most popular destinations. But as good as things are now, they're only going to get better because in 2019, along with hosting the U.S. Open, the Pebble Beach Golf Links and its iconic Lodge will celebrate their 100th anniversary. Preparations are already well under way.
Among the changes, one is already done and ready for guests. The Lodge at Pebble Beach has added a new complex, called Fairway One, located just across the first fairway of Pebble Beach Golf Links. Offering oversized guest rooms, more privacy, and the resort's signature amenities, Fairway One—which opened this past August just in time for the Pebble Beach Concours d'Elegance—is comprised of 38 new rooms total: 30 guest rooms are located in three new two-story buildings, plus two Fairway One Cottages (named The Palmer Cottage and The Eastwood Cottage after two of the more famous partners and board members of Pebble Beach, Arnold Palmer and Clint Eastwood), each with four individual bedrooms and an expansive living room. The living rooms feature two large-screen televisions, bar, and outdoor terrace with firepit—making them perfect for a golf buddy trip, families, weddings, or small business groups. (They can be booked as individual rooms when available.) Fairway One also offers meeting facilities designed to host business events as well as social gatherings, anchored by the 2,500-square-foot Fairway One Room with floor-to-ceiling views of the first fairway.
By the time the U.S. Open begins in 2019, all 454 guest rooms in The Lodge, the nearby Inn at Spanish Bay, and Casa Palmero will have been renovated. At The Lodge, each ocean-view room's wall of windows is being enlarged to provide bigger and better views, along with expanded patios and balconies. Additionally, all rooms feature a signature fireplace wall with mounted flat-screen televisions, updated bathrooms, and upgrades to the in-room technology, including air conditioning.
Rooms at The Inn will showcase a contemporary "California Coastal" look featuring marble fireplaces, bigger windows in ocean-view rooms to gaze at the beautiful Links at Spanish Bay and the Pacific Ocean, upgraded bathroom space, and better in-room technology. Some of the renovated rooms have already opened, with work at The Lodge set for completion in 2018, and at The Inn in 2019.
Let the second century begin!