By Susie Burning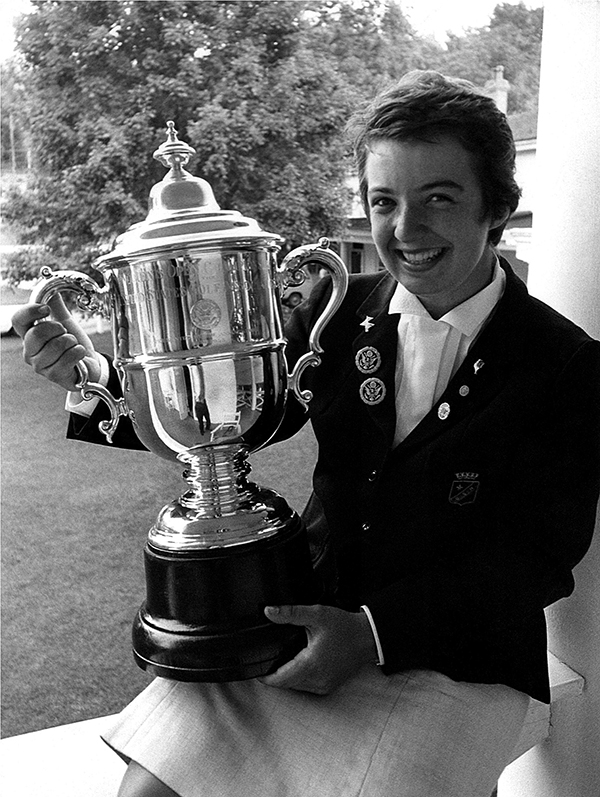 I came to the 1967 U.S. Women's Open, at the Cascades course of the Homestead Resort in Hot Springs, Va., feeling confident. I'd won twice that year, including just two weeks earlier, and my game was in good form. Besides, I loved the whole atmosphere of the Open. Back then it was the only televised event on the LPGA Tour, and at the first tee, an official announced your name and said, "Play away, please." It was all so frightfully formal!
That tone probably intimidated some players, but it inspired me. I was fortunate to win the Open three times—in 1968, '72, and '73—and I also took home a share of the first-prize money in 1967. But I didn't win. Instead, the victory went to a young French woman named Catherine Lacoste, who at the age of 22 became 1) the youngest woman to win the title; 2) the first non-American to win; and 3) the first (and only) amateur to win the U.S. Women's Open.
I recall the Cascades course as being tight and hilly, and under Open conditions it yielded few low scores. When Catherine played the first 36 holes in one under par, she had a stunning five-stroke lead.
Most of the competitors were staying at the resort in a cluster of cottages surrounding a fire pit. On Friday evening, the topic around the pit was, of course, Catherine, the consensus that she would never hold up on the weekend. It wasn't the fact that she was young, or a foreigner, but that she was an amateur. Amateurs just didn't beat professionals… or so we all believed.
Maybe we should have had more respect, if not for her then for her pedigree. Catherine's father, Rene Lacoste, was one of the world's finest tennis players, winner of seven Grand Slam titles, not to mention the creator of the Lacoste tennis shirt with the iconic crocodile logo. Her mother, Simone de la Chaume, won the 1927 Ladies British Open Amateur Championship, the first non-British player to do so.
I was paired with Catherine in round three and although she lost some of her sharpness, posting a 74, no one—myself included—put any pressure on her. "The Crocodile Kid" entered the final round with the same five-stroke cushion.
My 76 on Saturday had left me seven behind, paired with Beth Stone in the penultimate group as Margee Masters, in solo second, joined Catherine in the final pairing. When Margee double-bogeyed the first hole, Catherine's lead was suddenly seven. Her victory seemed inevitable, even to the staunchest doubters.
Then, incredibly, she began to crumble—six bogeys in seven holes. There were few scoreboards in those days, but we sensed what was happening behind us.
When I reached the 16th hole I was one over for the round when someone told me I was just one stroke back. I proceeded to chili-dip a wedge, leading to a bogey. That shot would haunt me for months.
Catherine, to her credit, played the dogleg 17th hole with boldness, hitting a big drive around the corner and striking a wedge to 10 feet for a birdie. A par at the last gave her a 79, good enough for a two-stroke victory over Beth and me. She had not played well that day, but under the extreme pressure of the final round—and of history—she had played well enough to win.
Catherine never turned pro. She returned to France, married, had four children, and is now the happy grandmother of eight. A few years ago, the USGA held a reunion of past champions at Pinehurst. I was able to spend some quality time with Catherine and truly enjoyed getting to know her better. Catherine Lacoste is a lovely person and I am proud to have my name just above hers on the U.S. Women's Open trophy.