Scotland is notably famous for its Open Rota venues—celebrated courses where you can experience links golf at its finest and walk in the shadow of history. These acclaimed courses each merit high ranking on any traveling golfer's bucket list. But there's so much more to Scottish golf than the courses you see on television.
There are over 500 golf courses in Scotland, a country about the size of South Carolina. So you're never far from a visit-worthy course when you're touring Caledonia. And it's easy to combine rounds at some of the more exalted courses with visits to lesser-known but equally enjoyable ones—courses where the emphasis is on fun rather than fame.
Here are a few that I recommend you consider playing the next time you're headed to the Home of Golf.
Located just a stone's throw from the Old Grey Toon, Crail dates back to 1786. Its seaside Balcomie Links course (an Old Tom Morris design) gets most of the attention here, but the club's Craighead Links by modern-day American architect Gil Hanse is a sterner (and equally scenic) test—and one that will give the best of players all they can handle, especially at the height of summer when the fescue rough grows knee-high. Along with a coterie of punishing bunkers and vexing greens, you'll play amongst old stone walls and will need to factor in elevation changes on several holes on this pure links standout.
Of the three courses at the luxe Gleneagles Hotel, the Queen's course is the shortest at just 5,965 yards. But it could well be the toughest par-68 course in the world. Like its neighbor, the King's course, the Queen's is a James Braid design featuring rolling fairways, small greens, and majestic views of the Grampian Mountains. But despite its short length, the course plays quite long. There's just one par five, and you'll be amazed at how often you'll need to pull a mid- or long-iron on approach shots. For sheer beauty, you'll be hard-pressed to top the back-to-back par threes that border a small loch on holes 13 and 14. Bottom line: Don't even think about leaving Gleneagles without playing the Queen's.
Gleneagles reinvents two par threes on the Queen's course

Read more: https://t.co/lp4IKLSpI1 pic.twitter.com/7piAZmuVTL

— Golf Course Architecture (@gcamagazine) September 10, 2019
You might think that visiting a 9-hole course isn't worth the bother. What you'll find at Carradale on the Mull of Kintyre will quickly change your mind. For starters, the views of Kilbrannan Sound toward the Cowal Peninsula and across to the Isle of Arran and Ailsa Craig are certain to take your breath away. But more importantly, so will the golf. Carradale's opening hole sets the tone for the day—it's an uphill (and blind!) par three. At the 2nd tee, you'll need to pause to take in the sweeping views before you play downhill, then uphill over a stone wall, to a marvelous green site just steps from the shore. From there, the course just keeps on tantalizing. There's another blind par three of 220 yards at the 3rd hole, a treacherous tabletop green at the par-four 5th, a punchbowl green at the shore-hugging 6th, and so much more. Yes, it's nine holes—but that just means you should play it twice. And you'll want to, I promise.
The No. 2 course at Gullane has some illustrious neighbors, including the club's No. 1 course, Muirfield, and the outstanding West Links at North Berwick, which lie just down the road. But the par 71, 6385-yard No. 2 course belongs in their company. Two-time Open Champ Willie Park Jr. designed this course, which climbs over Gullane Hill before cascading down to a nature reserve at the edge of Aberlady Bay. The 200-plus-yard par-three 11th hole is just one highlight; from the tee you'll enjoy jaw-dropping views of the East Lothian coastline as you look to carry three yawning bunkers en route to the green, where four more of their kind await. It's heady stuff, and lots of it.
If you follow the Aberlady Bay shoreline to the southwest from Gullane, you'll come to another Willie Park Jr. gem that, though short, is long on challenge and fun. Kilspindie dates back to 1899, and while it tips out at 5,494 yards, be glad you're not playing this par-69 tester with hickories. After a gentle opener, the drama ramps up fast at the 516-yard par-five 2nd, which plays right along the bay—and it doesn't let up. At the par-three 8th, you'll need to carry a corner of the beach to reach the putting surfaces. Expect small greens, ancient stone walls, and constant views of the sea, whence come breezes that can turn this short course into a daylong test.
If you're planning on doing battle with the Championship course at Carnoustie, I suggest you first follow in the footsteps of Ben Hogan and spend some time just down the coast at Panmure. Hogan spent two weeks there honing his game for the 1953 Open (which he won), but you don't have to be a major champion to appreciate the beauty and subtlety of this classic Scottish links, which is stout enough to host Open Qualifying competitions. Panmure is a course that calls for precision, especially on approach shots to its small greens, which are guarded by deep revetted bunkers and often feature steep runoffs. If this course were in America, it would be nigh-impossible to get a tee time. Don't miss the chance to play it.
Moray (commonly referred to as "Lossiemouth") is the northeast Scotland home to two excellent, natural links courses—the Old course by Old Tom Morris and the New course, a Henry Cotton design. Play them both if you can. Military jets from the neighboring RAF airfield will be your companions as you thread your way through tall fescue and gorse along the edge of the Moray Firth. The tumbling fairway of the short par-four 16th hole and finishing hole straight uphill to the clubhouse and nearly into the center of the village are just two of the delights that await you at Moray.
Prestwick Golf Club was the site of the first 12 Open Championships and 24 overall, but it's not the only strong course in the town. The Prestwick St. Nicholas club's course, situated along the Ayrshire coast just to the south, is noted to be the 26th oldest in the world. And they've perfected what they offer there over the course of time. With views of the Firth of Clyde and Ailsa Craig from most holes, and 18th century salt pans buildings adding archeological interest, there are lots of sights to see here. But the course is the star. The downhill-then-uphill, split-fairway 16th is the kind of hole you wish every course could have, while the uphill, 227-yard 18th, which finishes within steps of the clubhouse and car park, demands both length and precision. It should also be noted—you're likely to receive the warmest welcome of your life here. Enjoy every bit of it.
Up in the highlands, just across the Dornoch Firth from Royal Dornoch (a strong magnet itself for links golf aficionados), you'll find an additional course that's well worth a stop. Tain is another Old Tom Morris creation dating back to the 1890s. Few of today's holes are original to Morris's initial 12-hole design, but the course is an 18-hole thrill ride smartly situated between the sea and the neighboring highland hills. The unique routing, shaped like a saxophone, features rippling fairways routed between gorse, low dunes, and burns—with a limited number of bunkers that always seem to be placed right where you don't want them. Several holes here, including the fabulous, 380-yard par-four 11th with its blind second shot over the dunes to a green nestled at the edge of the sea, rank among my favorites in all of Scotland.
Everyone wants to play the Old Course—and everyone should. But right next door is a course that, while not as old, is every bit as challenging and special. Designed by Old Tom Morris and dating back to 1895, the New course doesn't have a Swilcan Bridge to snap selfies on, but many St. Andrews locals consider it a more difficult test, in part because it features just one double green and the other greens are small and well protected—making approach shots more demanding. It also features one of the toughest finishing stretches in Scottish golf. At 6,625 yards, the New course favors finesse over brute strength. And when the wind is whipping off the West Sands beach, its pot bunkers, gorse, and knee-high fescue will give the best of golfers all they can handle. It's strategic golf from start to finish. If you like the Old course, you'll love the New.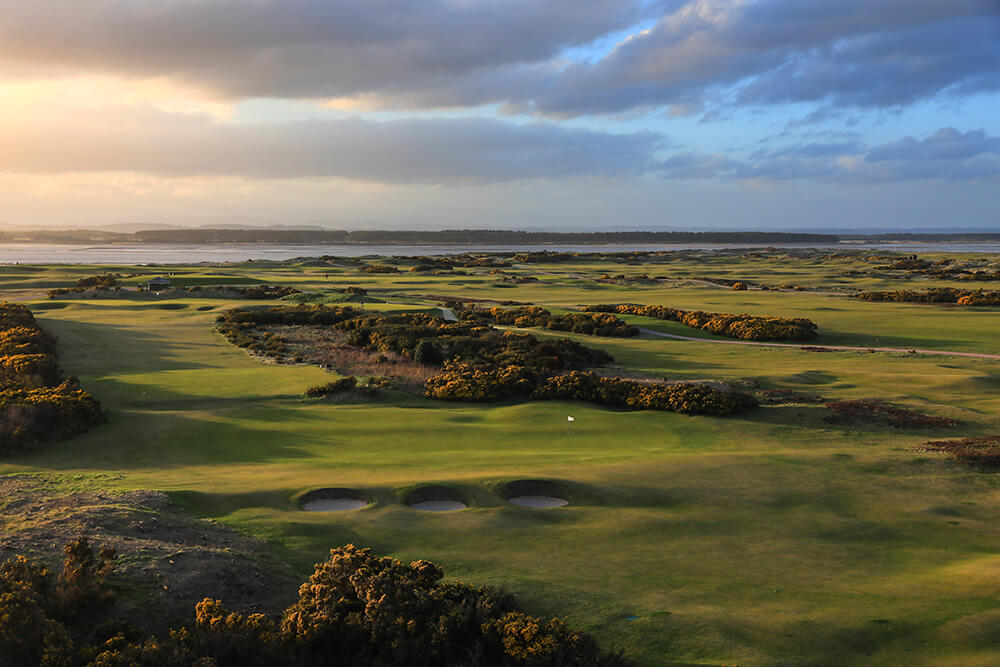 What other underappreciated golf courses in Scotland should be on this list? We'd love to hear your suggestions.