Dreaming of dogwoods and azaleas, but find that a tee time at Augusta National is out of reach? There's a fistful of courses in the U.S. that embody many, though certainly not all, of the virtues of Augusta National. Some layouts approach the ambience, others the conditioning and design, and still others the floral displays.
Here are the top 10 U.S. courses that best replicate or approximate the Augusta National experience.
The Alotian Club, Roland, Ark.
Arkansas's answer to Augusta National features a slew of similarities, among them a rolling, expansive wooded tract studded with azaleas in springtime, a Southern plantation-style clubhouse, and an ambience of relaxed exclusivity. It's no coincidence: Alotian founder Warren Stephens's father, Jackson, was the former Masters chairman. Tom Fazio, Augusta National's consulting architect, routed a course overlooking Lake Maumelle that embraces strategic bunkering, angled greens, and excellent direction changes. Together with flawless conditioning, risk/reward par fives, and forests flecked with dogwoods, it sure sounds like a certain Georgia layout. All that's missing are the green sandwich wrappers.
The beautiful Alotian Club in Roland Arkansas will host the inaugural @TheStephensCup next week October 17th-20th. The Stephen's Cup is a national collegiate tournament named in honor of the late Augusta National Chairman Jackson (Jack) Stephens #ncaagolf #golfcoursephotos pic.twitter.com/qyNdn3OYGq

— Evan Schiller (@Evan_Schiller) October 14, 2021
Club visionary Weldon Wyatt doesn't deny he lifted as many pages as possible from the Augusta National playbook. In 2001, Masters domo Jack Stephens was the one who recommended Tom Fazio to design Wyatt's dream course in South Carolina, 20 miles across the state line from Augusta. The tranquil setting, home to a national membership, features roomy fairways that ease past gorgeously sculpted bunkers and fast, undulating greens. Thousands of pines and azaleas were transported to complete the look. Sixteen cottages await members and their guests. Yes, it's exclusive, but it serves admirably as the annual host to the Sage Valley Junior Invitational, one of the most prestigious junior tournaments in the world. Scottie Scheffler won it in 2014; eight years later, he won that other tournament over in Augusta.
This is what our players will encounter on their incredible first tee shot. We're looking forward to a great week! pic.twitter.com/EMLcI5TmRR

— Junior Invitational (@JrInviteSage) March 16, 2023
Peachtree Golf Club, Atlanta, Ga.
In terms of prestige, ambience, history, setting, and design, the club most closely linked to Augusta National sits a little more than two hours to the west—Peachtree. Crafted from a former nursery by Bobby Jones in 1947, in collaboration with then Augusta National consulting architect Robert Trent Jones Sr., Peachtree embodies many of the virtues inherent in its elder Georgia sibling, and no wonder. As Bobby Jones stated at the outset, "We agreed we should try and build a course as near like Augusta National as possible, and better, if possible." Peachtree meanders up and down the valleys of a typically hilly Georgia plot, easing through dense forest before culminating in huge, often elevated, topsy-turvy greens. A paucity of bunkers, risk/reward par fives, flashed up sand, dogwoods, azaleas, magnolias, and a fistful of members who belong to both clubs further link Augusta National and Peachtree.
A set from Peachtree Golf Club, by request.

Certain golf courses stir certain feelings in golfers. Maybe it's the people they played the course with, the time of year they played it, or whatever else was going on in the world at the time.

I'll always associate Peachtree with… pic.twitter.com/efmjA75nh9

— LinksGems Golf Photos (@LinksGems) March 22, 2023
While it's true that Augusta National architects Alister MacKenzie and Bobby Jones admired the ground game options yielded by the Old Course at St. Andrews, they weren't averse to asking for the occasional all-carry shot, provided there was risk/reward value and an alternative for the weaker player. Jack Nicklaus, a serious fan of MacKenzie, Jones, and Augusta National, may have paid homage to Scotland's Muirfield in naming his Columbus-area course, yet his risk/reward par fives, immaculate conditioning, and especially his par-three 12th are pure Augusta.
Muirfield Village Golf Club in Dublin, Ohio. pic.twitter.com/UEc4NxEwUy

— J. Liebert Golf Pics (@jliebertgolf) February 25, 2022
Set into the hardwoods of rural central Mississippi, this aptly named course dishes out eye candy year-round, but it's most striking in early to mid-April, when a kaleidoscope of its namesake flowers bursts from the amphitheater hillsides that surround the par-four 6th and most memorably at the downhill par-three 13th. Tom Fazio and Jerry Pate—who finished T6, T5, and T3 in his final three Masters appearances—co-designed the layout in 1997.
There are some terrific replicas of Augusta National's 12th hole out there, but the best may be the 7th hole at Renditions, right down to the slender green and stone bridge. The hole is sandwiched between the other two holes that comprise Augusta's Amen Corner, admirably rendered as well. Particularly cool is the Masters-style scoreboard down the left side of the 6th, complete with messages, just as it's done at Augusta's 11th. For retro fans, the homage holes cling to the old Augusta National yardages, with the 11th (Renditions's par-four 6th) topping out at 455 yards and the 13th (Renditions's par-five 13th) stretching to merely 485 yards.
"Our design brief at the beginning of the project was to create an Augusta National of the North," says Bruce Charlton, President and Chief Design Officer for Robert Trent Jones II Golf Course Architects, the firm that designed SentryWorld in 1982. "It was meant to be a walk in the park—a park that happened to have really good golf holes in it." Competitors at the 2023 U.S. Senior Open in late June will undoubtedly note the Augusta resemblances, from the graceful shaping to the tranquil ponds to the decision-provoking par fives. What will resonate most, however, is the 182-yard 12th hole, which mimics the feel of Augusta's 12th and most notably the 202-yard par-three 16th, a.k.a. the "Flower Hole," that delights with 30,000 to 50,000 multi-colored blooms every year.
Props to this 1991 Arnold Palmer design at the Park Hyatt Aviara Resort north of San Diego, where thousands of wildflowers and flowering trees and shrubs are splashed throughout a layout that edges the wildlife friendly Batiquitos Lagoon ecological reserve. The soothing botanical garden effect will take your mind off the myriad three-putts you're likely racking up on the wildly contoured, Augusta-like putting surfaces. And Mr. Palmer knew a little something about playing—and conquering—Augusta-style greens, having won the Masters four times.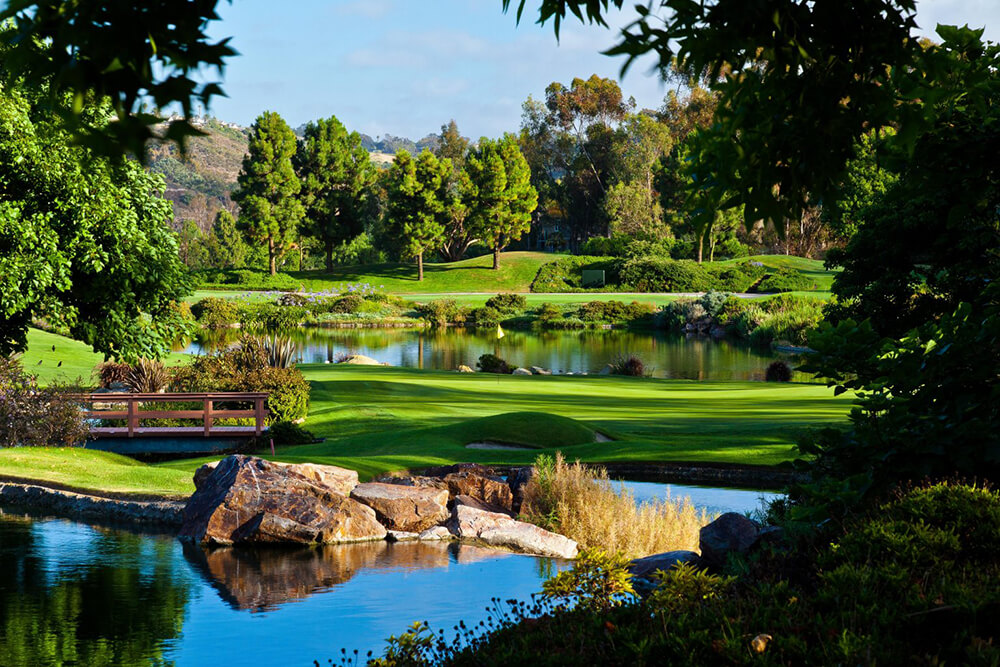 For folks in search of dazzling flower arrangements, Baywood Greens will satisfy in every way. With more than 300,000 wildflowers, plants, shrubs, and trees, the layout is a visual delight. Perennials in red, yellow, and fuchsia line eight timbered cart path bridges, frame tee boxes, and edge many greens, making Baywood a must-play for flora fans. Augusta National has nothing like the split fairway, par-four 14th, where one fairway is an island, but Baywood's 6,983 watery, well bunkered yards will impress nonetheless.
Whether you're a celebrity or not, you're certain to appreciate this city-owned, 16-year-old Clive Clark design that was built on the site of the resort's former West course. As with its predecessor, this compact, if handsome spread winds around hotels and offers color-drenched floral displays, rock-lined lakes, and majestic views of the surrounding mountains. Admittedly, there are no mountains at Augusta and the scale is vastly different here, but Indian Wells Golf Resort's emphasis on beauty aligns nicely. The British-born Clark has a nifty history with Augusta National, making the first televised ace at the Masters in 1968, when he holed his tee shot at the 16th in the first round.
What other golf courses resemble Augusta National? Let us know your thoughts in the comment section.