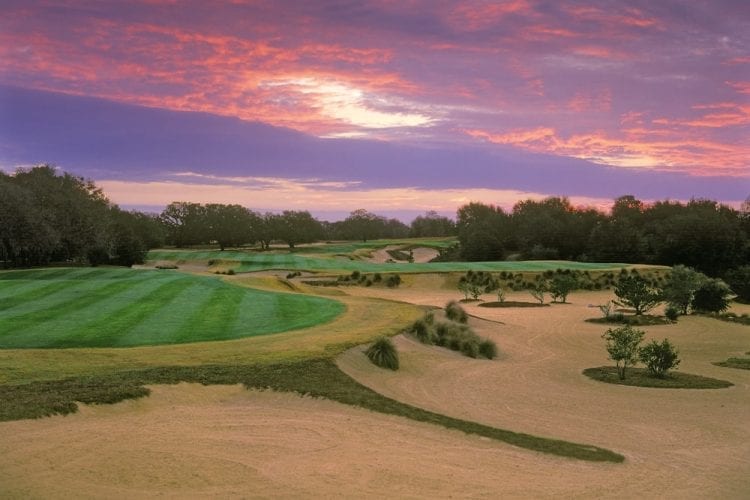 Less than 10 miles from the Gulf of Mexico, World Woods Golf Club is located in the heart of Florida's Nature Coast, a bountiful and unique region of Florida that was virtually undiscovered by resort developers and the growing snowbird population. It was a 90-minute drive from the Orlando and Tampa airports, and in the world of golf its only claim to fame was Black Diamond Ranch, known for its spectacular Tom Fazio design.
Geographically, it wasn't the ideal spot for 36 holes of the best daily-fee golf that Fazio has produced. Topographically, it couldn't have been much better. Roughly half of the 800 acres set aside for the golf complex was old farmland covered with pine forests, while the other half was blessed with bigger hills, mature hardwoods and native vegetation, including live oaks, magnolias, dogwoods and azaleas. These two distinct parcels of land enabled Fazio to create two outstanding golf courses with totally different design styles and environments.
Pine Barrens has the design style and look of a hybrid of Pine Valley and Donald Ross' Pinehurst No. 2. Rolling Oaks course is more traditional, with greater changes in elevation, expansive fairways and large rolling greens, set among pristine forests and enhanced by picturesque ponds and lush vegetation.
To complement the two courses, Fazio created one of the most extensive practice facility in the world. The first-time visitor is simply astonished to find a facility this good practically in the middle of nowhere. This teaching pro's dream includes a 72-acre circular practice range with every feature imaginable, simulating shots that are encountered on the two courses. Other facilities include a two-acre putting course, three warm-up holes, and a nine-hole short course.
Fazio's goal at Pine Barrens was to create a dramatic but playable course, framed by areas of native sand, tall pines and indigenous vegetation. Constant changes in elevation and Fazio's artistry provide the drama and generous fairways provide the playability—while a variety of exceptional approach shots provide the challenge and imaginative greens provide the thrills—and agonies.
As with all Fazio designs, Pine Barrens is a visual feast of convergent lines, contrast, color and textures. Bold ridges and swales interact with the light native sand, dark vegetation and verdant playing areas to bring the course to life and enhance the player's enjoyment of the game.
Pine Barrens' design style is primarily strategic, offering alternate routes of play according to a player's skill and penchant for risk, along with bailout areas that allow players to avoid severe hazards at the cost of an additional stroke. Several holes, however, offer the player an opportunity to save a stroke or two, by attempting a heroic shot over a hazard at risk of a penalty stroke.
The variety of the greensites and putting surfaces at Pine Barrens is one of its greatest design features. Many are wide and shallow, while others are narrow but deep. Several are angular and a few are simply round.
Put it all together, and Pine Barrens—and World Woods—is well worth the trek to this remote outpost.