The national spotlight doesn't fall on Wisconsin very often, and when it does the subject invariably seems limited to cheese, beer, or the Green Bay Packers. This week though, the Badger State is front and center—in golfers' households anyway, as the U.S. Open unfolds at Erin Hills, a dramatic 650-acre, glacier-formed course 35 miles northwest of Milwaukee.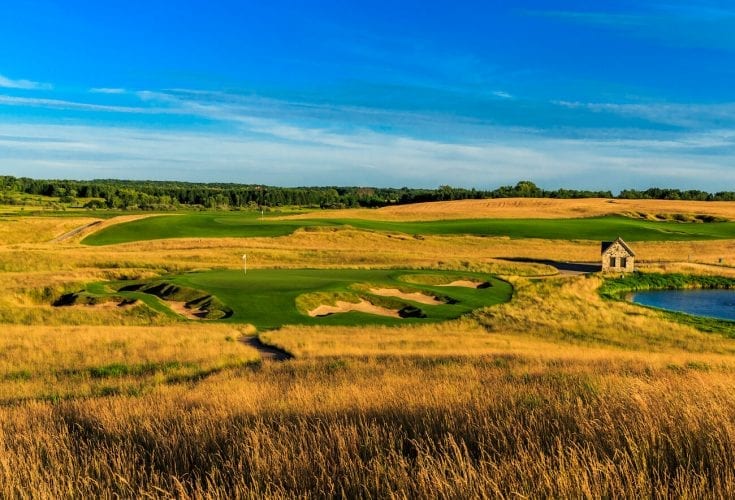 Wisconsin has a handful of private-member, Golden Age classics—Charles Alison's Milwaukee Country Club, Seth Raynor's Blue Mound in Wauwatosa, Donald Ross's Oconomowoc Country Club, and a trio of William Langford/Theodore Moreau designs at West Bend (front nine), Ozaukee, and the Links Course at Lawsonia (public), but the three courses most people associate with it are actually modern layouts that anyone can play.
The highest-ranked and best-known of them is Pete Dye's extravagant Straits Course at Whistling Straits, a three-time PGA Championship venue. It may long continue to be Wisconsin's most recognizable course, but Erin Hills will surely climb the rankings rapidly and become increasingly prominent in golfers' minds after this week, assuming the weather holds, the greens roll as well as they have done since the course opened in 2006, and we don't endure any more tiresome rules imbroglios.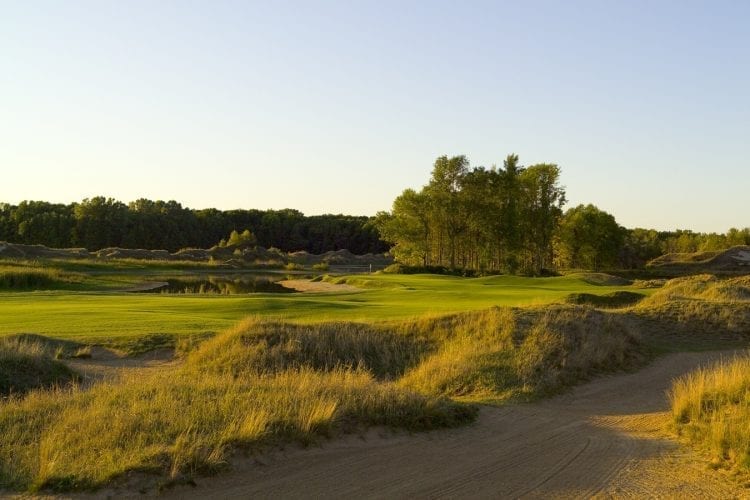 Unlike Dye who moved well in excess of a million cubic yards of dirt to create the Straits alongside Lake Michigan, Michael Hurdzan, Dana Fry, and Ron Whitten disturbed precious little ground when unearthing the holes at Erin Hills. The course's original owner Bob Lang did get a little over-eager in 2008/9 when he single-handedly added dozens of bunkers and made numerous other changes, but perhaps more than at any other championship course in America, it can be said the holes here were simply laid out over the existing landscape—a great example of genuine minimalism.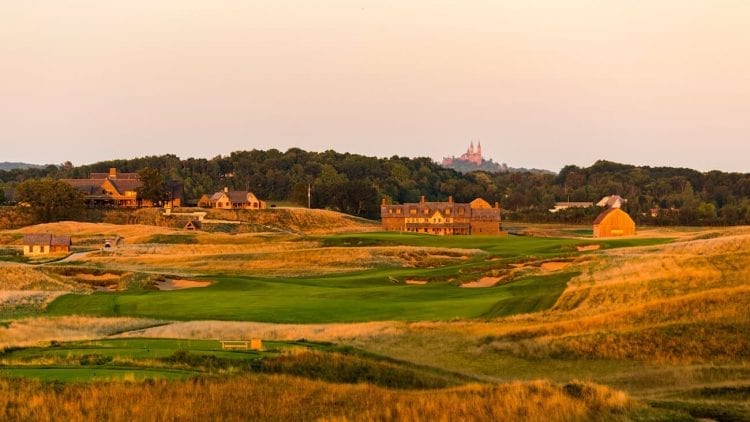 Even after the U.S. open, Wisconsin remains a topic of conversation around the country as more and more golfers experience the state's newest public-access masterpiece at the Sand Valley Golf Resort, 130 miles northwest of Erin Hills. The first course here was designed by Bill Coore and Ben Crenshaw and officially opened just a few weeks ago, while the second—crafted by David McLay Kidd and named Mammoth Dunes—is currently under construction, and will open sometime next year.
Owned by Bandon Dunes/Cabot Cliffs/Barnbougle Dunes developer Mike Keiser, Sand Valley is another "build it and they will come" destination and, together with Erin Hills and Whistling Straits, is making Wisconsin an ever more attractive trip for traveling golfers.
All three possess first-rate lodging. Erin Hills has the 10-room/suite Lodge and five beautifully appointed cottages; at Sand Valley you can choose between the 14-room/suite Clubhouse, 12-room Fairway Lodge, and four Lake Leopold Cottages which are perfectly set up for groups and buddy trips; and the Straits is part of Herb Kohler's American Club which offers a number of lodging options.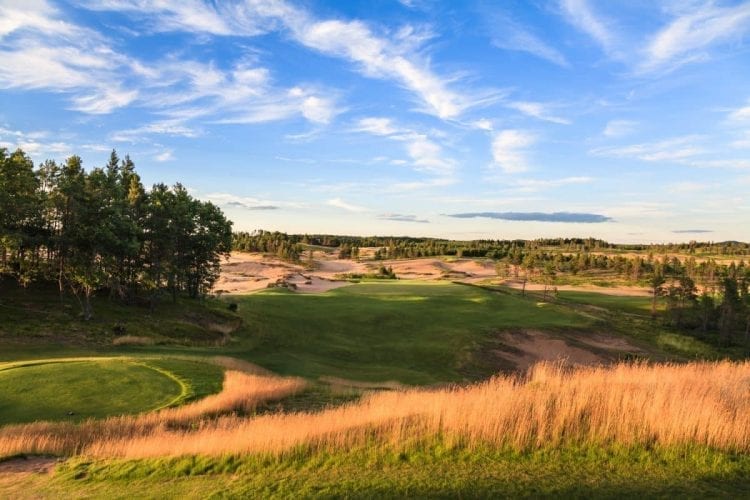 Josh Lesnik, President of KemperSports which operates Sand Valley, recently told The New York Times that Wisconsin already had great golf, but that it would soon be regarded much like Scotland or Western Ireland. "There, you can stay a week and drive a short distance every day to play somewhere special," he added.
Wisconsin will probably never rival California, Arizona, Florida, or even Alabama (the Robert Trent Jones Trail averages roughly half a million rounds a year) for visitor numbers, partly because the big-name courses mentioned above are somewhat remote, partly because of the weather—anywhere between 40 and 160 inches of snow per year—and truncated playing season, and partly because rates at the A-list courses make them one-and-done rounds for many (the green fee at the Straits starts at $410, at Erin Hills you'll pay $280, and it's $195 for 18 holes at Sand Valley).
But, as Lesnik points out, good golf besides that at Erin Hills, the American Club (the Straits and the Irish at Whistling Straits; River and Meadow Valleys at Blackwolf Run), and Sand Valley already exists here.
Virtually equidistant from Sand Valley and Erin Hills are the Golf Courses of Lawsonia—the excellent Rocky Roquemore-designed Woodlands Course, and the truly special Links Course which opened in 1930 on Victor Lawson's flat and virtually treeless farmland. Langford and Moreau, who created over 200 courses predominantly in the Midwest, moved plenty of dirt to create steep falloffs at the back and to the sides of the greens, and added to their interest with some fairly significant interior contours. Eighteen weekend holes costs less than $100, and you can play 36 (more if you can squeeze them in) for $155.
If you need another course, try Robert Trent Jones's excellent SentryWorld which opened in 1982 and was renovated in 2013. The summer green fee peaks at $130.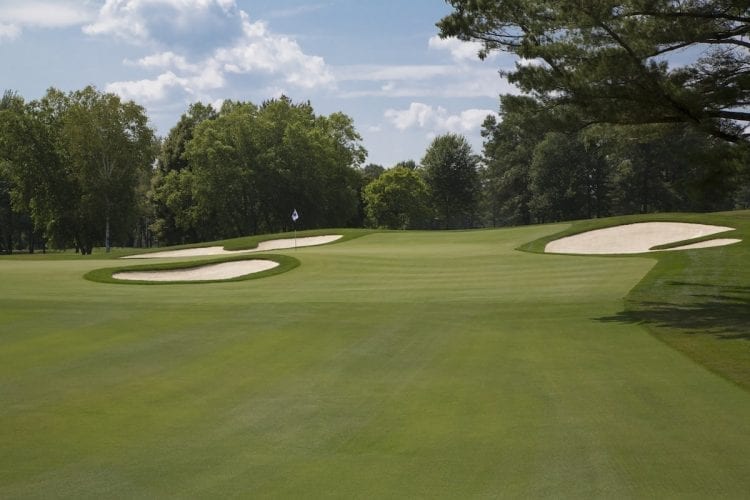 A few days/rounds at Erin Hills (reopens on July 1st), the American Club, or Sand Valley may be all you need…and all your wallet can handle. But 18 holes at each with additional rounds at SentryWorld and Lawsonia surely makes for one of the nation's great golf road trips.
______________
Is Wisconsin on your golf trip bucket list? Tell us why it is or isn't in the comments below!