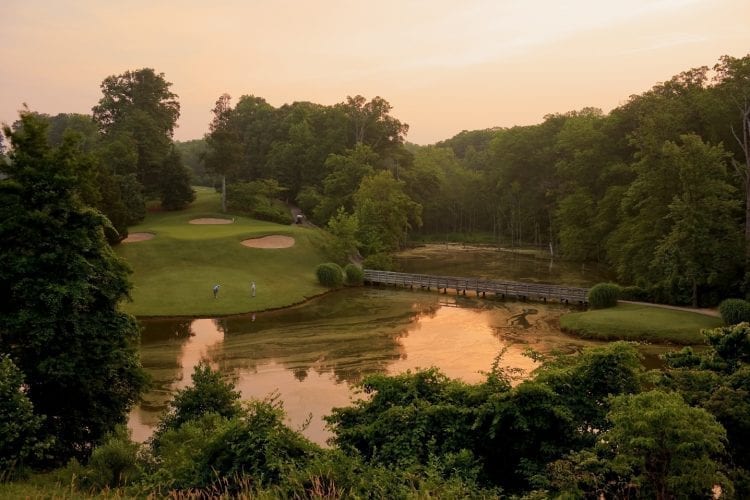 When the Brits arrived at Jamestown in 1607 to establish the first permanent English settlement in North America, they could not have had golf on their minds.
Four centuries later, golf still doesn't necessarily spring to mind at the mention of Williamsburg, Virginia, but it's at least gained a foothold in a region more renowned for its early American history, which includes not only the Jamestown settlement but also the Battle of Yorktown, where Lord Cornwallis surrendered to George Washington, effectively ending the Revolutionary War.
At Colonial Williamsburg's official Historic Area, more than 500 buildings represent a colonial village, circa 1775. Actors portraying the likes of Patrick Henry and Thomas Jefferson roam the streets, artisans produce and sell their wares, and militiamen march through town. The Historic Area is truly an interactive museum, right down to colonial-era taverns with food to satisfy modern appetites.
Like the rest of Colonial Williamsburg, the Gold course at Golden Horsehoe is a living part of American history—in this case the modern golf design era that Robert Trent Jones Sr. was pioneering when he laid it out in 1963. The Gold Course recently underwent a well-deserved renovation at the hands of Trent Jones' son Rees, also designer of the Green Course.
Carved from thick stands of trees, the Green has a more secluded feel. The signature touch is a series of pot bunkers situated on one edge of nearly every fairway, just inside the mounding, encouraging players to think strategically from the tee. The course finishes in dramatic fashion with a par 5 that plays uphill over a ravine to a green set in front of the clubhouse.
Golden Horseshoe sits just a few brisk steps from the Williamsburg Inn, the highlight of nearly a dozen lodging entities at the resort. Originally a pet project of Abby Rockefeller, the inn features her original furnishings and paint schemes.
You might also consider staying at nearby Kingsmill, a resort community with large, condo-style lodging that's perfect for families and holds the closest proximity to the well-known Busch Gardens amusement park. Kingsmill's flagship layout is the Pete Dye-designed River course, In typical Dye fashion, it's both beautiful and dangerous, with a full array of ominous bunkers, elevation changes and water hazards.
If there's a chink in Kingsmill's armor, it would be the Arnold Palmer/Ed Seay-designed Plantation course, which suffers from being situated on the least interesting terrain on the property, and is also cluttered by homes. Still, it offers plenty of fun for short hitters and other less-skilled players.
The Woods course, designed by Strange and Tom Clark, is considered by many local residents the best of the trio. It's a classic parkland routing through thick woods that offers up numerous doglegs begging to be cut. Where the more unforgiving River course demands precise execution, Woods offers multiple options and rewards the thinking golfer.
Regardless of where you stay, you'll want to visit the Mike Strantz-designed duo of Royal New Kent and Stonehouse. Located about 12 miles apart, this pair signaled the coming-out of the somewhat eccentric Ohio native.
Royal New Kent attempts to re-create a links course on inland hilly terrain, with blind shots, massive dunes, fescue grasses, enormous undulating greens and lots of sandy waste areas. It's plenty fun, but the more traditional Stonehouse is even better. Built on a much hillier site, it climbs and drops precipitously through its gorgeous parkland surroundings.
Considering such a strong collection of golf courses, it's clear that a second revolution has taken place around Williamsburg.