By Tony Dear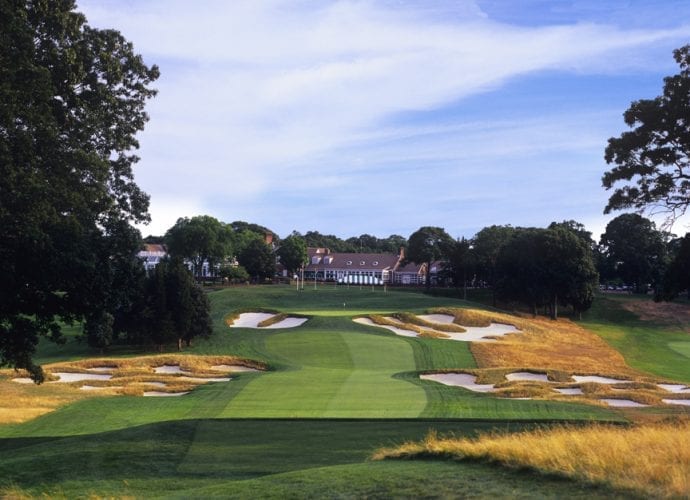 A while ago, we asked who deserved the credit for how a golf course turns out—designer, design associate, construction foreman, re-designer, restorer, renovator, shaper, superintendent, some of the above, or all of them. It's an especially pertinent subject at Bethpage Black as a question mark hangs over the identity of the man who created its grueling layout.
Huh? It was designed by A.W. Tillinghast, surely? Everyone knows it.
Indeed, ever since the course opened in the spring of 1936, Tillinghast has been the architect of record, and the world regarded his status as uncontestable. Much of it still does, but in 2009 Golf Digest's Ron Whitten wrote that it was actually Joe Burbeck that deserved the recognition. Joe Who?
A graduate of Massachusetts Agricultural College, Burbeck regarded himself as an agricultural engineer and built golf courses in the Midwest, probably for Donald Ross. In May 1929, he was hired by Robert Moses—an extremely powerful and influential urban developer in the New York Metropolitan Area who created (and was president of) the Long Island State Park Commission—to design and build a pitch-and-putt course at Jones Beach on Long Island's south shore, 45 miles east of Manhattan.
Following his presumably successful work there, Burbeck got a job managing Lenox Hills, a Deveraux Emmet-designed course on a 1,368-acre estate that once belonged to a Texas railroad magnate, but was purchased by Moses and renamed Bethpage Golf Club.
Burbeck moved his family into the clubhouse in time for Moses's next grand plan—development of a 72-hole public facility he would call "The people's country club." The courses were to be the Green, Blue, Red, and Black (the Alfred Tull-designed Yellow opened decades later in 1958).
Moses signed Tillinghast in December 1933, the contract specifying 15 days' work at $50 a day—a paltry sum compared to what the famous architect had earned on private projects prior to the economic crash of 1929.
"But the genius who created Winged Foot and Quaker Ridge in New York, Baltusrol and Ridgewood in New Jersey, and San Francisco Golf Club in California had fallen victim to bad investments and heavy drinking," Whitten wrote, implying he needed the money and would take anything he could get.
Interestingly, the contract also designated Tillinghast a "consultant," the interpretation of which has proven the major sticking point in deciding who really designed the Black.
Whitten says Tillinghast's role was limited and suggests Moses only hired him to give the project credibility and appease the press. Others, most notably Geoff Shackelford, writing on golfclubatlas.com, and Phillip Young, author of Golf for the People: Bethpage and the Black (2002), say there's plenty of evidence to suggest Tillinghast was designer. Young also asserts there was no way Burbeck could simultaneously design and build the Black as well as Bethpage's Red and Blue Courses, hire and monitor hundreds of laborers, operate the clubhouse, and hold down his position as park superintendent, responsible for roads, golf courses, personnel, machinery, etc. Most importantly, Young says, Burbeck never claimed to have designed the Black.
Further muddying the waters are two articles that appeared after the course opened. In the July 1937 edition of Golf Review Monthly, respected editor and golf writer Lester Rice referred to Burbeck as "the architect who had designed and constructed three of Bethpage's courses and renovated the fourth," but in August, Tillinghast wrote in PGA Magazine that he considered himself fortunate "to be selected as consultant course architect," adding "never have I received heartier support and cooperation than from Joe Burbeck, the state engineer who was in daily direction of the entire work from start to finish."
The debate over who designed Bethpage's notorious Black Course incites the wrath of Tillinghast apologists while mollifying those who believe Burbeck's contribution warrants greater scrutiny.
There's no doubt each man played an important role, however, and we can likewise be certain who worked on the course most recently. Prior to the 2002 US Open, Rees Jones undertook a major renovation, and he altered a dozen holes between '02 and the '09 US Open. He made minor modifications to nine holes in preparation for the 2019 PGA Championship, the work beginning in 2012.
Over the last 20 years, Jones's impact has certainly been substantial, but the course's challenge has never changed. The Black was originally modeled on Pine Valley and is still as formidable a test as Tillinghast, or was it Burbeck, created 83 years ago.