NATIONAL
By George Bahto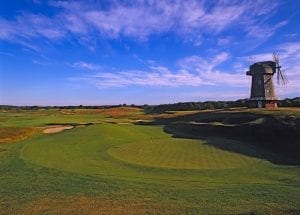 MacDonald's 'Ideal Golf Course' has endured for more than a century as a masterpiece of strategic design.

A stone's throw apart on the eastern end of New York's Long Island, the National Golf Links of America and Shinnecock Hills Golf Club are joined at the hip, two grande dames of American golf.
Architecturally, however, they are worlds apart.
While Shinnecock, originally constructed in 1892, has undergone numerous redesigns, renovations, lengthenings, and strengthenings over the last 120-plus years, National, which opened in 1911, has remained essentially unchanged, an enduring testament to the genius of its architect, C.B. Macdonald.
Charlie Macdonald's notion of an "Ideal Golf Course" introduced a completely new concept to golf—strategy. No longer would the game be played along a strictly defined line from tee to green. Macdonald proposed alternate routes fraught with problems and hazards to be confronted and conquered. His main tenet was that a golfer who successfully challenged those obstacles would be rewarded. For the player unwilling or unable to do battle, a slightly less daunting, albeit longer, way was always available.
Macdonald brought his vision to life at National with a succession of superb holes, many of them replicas of the classics he'd played as a young man in Scotland. He combined generous fairways with vexing green complexes to pose unrelenting questions that compelled golfers to use their minds. Shinnecock appears open but closer inspection reveals her fairways to be steadfastly guarded by multiple bunkers and cordons of fescue grass. There is but one route­—the defined line of play.
Bernard Darwin described National as having "the most divinely beautiful vistas imaginable." Bull's Head Bay sits to one side while the Great Peconic Bay borders the six finishing holes on the other. Shinnecock, although set on higher ground, offers no such views. Wind is another factor common to both courses, but the seaside wind at National is more severe, especially playing the back nine into the "seasonal" southwest breeze.
But perhaps the most vivid comparison is of the two Redan holes—the 4th at National and the 7th at Shinnecock. Although Shinnecock's version is an excellent hole, National's is often said to be better than the original Redan, No. 15 at North Berwick in Scotland. During the 1995 U. S. Open, although many players hit shots that rolled off the back of Shinnecock's 7th green, they were left with a relatively easy uphill chip. At National's 4th they would have faced much more trouble recovering from behind the green. It's a thrill to play both of these courses, but when I'm fortunate enough to find my way to the Hamptons, I'm afraid my car has a mind of its own, always taking me to the gates of National, once again to visit Macdonald's masterpiece.
The late George Bahto is the author of The Evangelist of Golf, a biography of C.B. Macdonald.
SHINNECOCK
By Raymond Floyd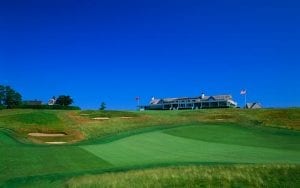 They are two magnificent places to play–and I love them both–but only one is a championship golf course.
Let me begin by saying that I love both of these courses. I'm also blessed to be a member of both clubs. For the last 16-plus years, my wife Maria and I have owned a home just a few minutes from Shinnecock and National, and during the summer I play them with equal frequency.
That said, one thing separates them: Shinnecock is a championship golf course. As George Bahto correctly notes, National is an absolutely enchanting course, a period piece of golf architecture that has not changed much since C.B. Macdonald designed it more than a century ago. From the very first hole, a drivable par four with a rollicking, one-of-a-kind green, you know you're playing something special. It's a course full of character and guile, a design that today's architects rightly come to study and learn from. It's also just plain fun to play. But there's no escaping the fact that from the back tees, National—with a par of 73—is only 6,779 yards.
By contrast, Shinnecock—with a par of 70—is more than 200 yards longer (6,996) and plays even longer than that, a complete examination of golf at the very highest level. The layout that has been in play for the last 80 years is the handiwork of Dick Wilson on a design by William Flynn, and it is nothing short of brilliant. Nearly every hole brings a change in direction. As such, every kind of wind must be battled, every sort of shot must be attempted.
Finding the fairways—and avoiding the more than 150 bunkers and thick fescue rough—is a must as Shinnecock's greens are small and fall off to all sides, although most of them may be reached with roll-on approaches. They're also faster and more daunting than those at National. George notes the difference between the two Redan holes, and while I take his point about the severity of the return chip from the back of the 4th at National, it's also true that Shinnecock's 7th has a fiercely sloped green that is more difficult both to hold and to putt.
Indeed, I think the four par threes at Shinnecock are particularly strong. In addition to No. 7, there's the ultra-long 2nd, the devilish 11th—its canted green perched 50 feet above the tee where wind plays havoc—and the 17th with its tightly bunkered target set nearly at a right angle to the line of play.
But there is a straightforward honesty to Shinnecock. When you stand on the 1st hole, its tee hard beside the Stanford White-designed clubhouse on the highest point of the property, you can see the entire assignment before you, and that sets the tone for the course. There are few forced carries, few blind shots. The same may not be said of National.
As I said, I love these courses equally. I simply have greater respect for Shinnecock as a venue for championship competition. Shinnecock was a full and fair test of golf for the U.S. Open in 1896, and I have no doubt it will offer that same challenge when the Open returns for a sixth time in 2026.
Raymond Floyd won the 1986 U.S. Open at Shinnecock Hills, one of his four major championships and 22 PGA Tour victories.