While designing Augusta National Golf Club, Alister MacKenzie used his beloved Old Course at St. Andrews as an inspiration, making full use of the Georgia hills to drape broad fairways that offer numerous options for approaching the large, undulating greens.
Given this link between the famous layouts, it's no surprise that both would make wonderful venues for match play, a format in which the interest, drama and quality of the competition are enhanced when players consistently have to mull risk-reward options and occasionally choose the aggressive route.
Although recent setup changes (rough, tree planting) at Augusta have taken away some options, there are still plenty of strategic propositions. What's more, match play could encourage riskier shots that create even more drama.
Consider a situation at the 155-yard 12th hole, with the first player close to the hole and his opponent needing to fire at the flag for a halve—in stroke play, he might not take that sort of risk. The seconds in which the shot is in the air no doubt are the longest of the player's life as he waits to see whether the ball clears Rae's Creek or splashes into it. That's the kind of suspense that makes match play so entertaining.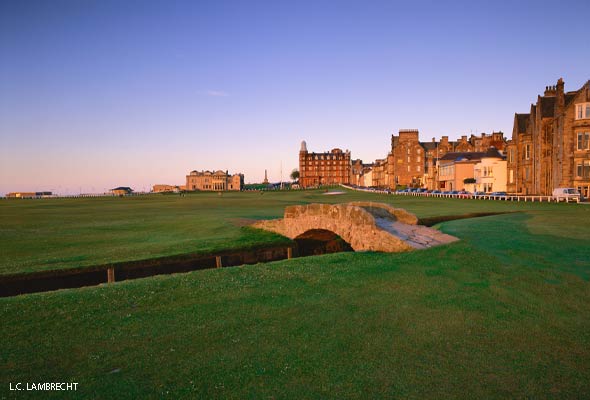 There are also plenty of options at St. Andrews. But while much of Augusta's suspense sprouts from strategically placed water and sand, the drama at the Old Course occurs along the ground. Instead of watching to see whether shots carry hazards, players at the Old Course anxiously follow the ball as it bounces, skips and rolls along the windswept humps and bumps of the fairways and greens, waiting for the shot to finish near the hole or in a bunker.
The mounds are natural, but their scale and placement are so ideal for golf that no designer could have placed them any more precisely. The fairways may be 80 yards wide, but being five yards to one side or the other means a difference between a straightforward path to the hole and being stymied by numerous bumps, any of which could knock the shot off-line.
The ground game brings more shots into play for golfers of all levels, most of whom don't have the skills to take advantage of the risk-reward options at Augusta, such as going for the 15th hole, whose green is fronted by a pond, in two. But anyone can try to run up an approach that skirts past the Road hole bunker guarding the 17th green at the Old Course.
Despite the Old Course's influence on worldwide design, it is a pity that few courses have been able to emulate the egalitarian qualities of firm, fast and rolling turf that makes golf's original layout so compelling for matches between players of all levels.