Cypress Point
by Frank D. "Sandy" Tatum
It was designed by a genius on terrain that is without equal–No wonder LINKS Magazine rates it #1 in the world
To engage in an argument pertaining to golf course superiority when your adversary is Scott McNealy who has Pebble Beach in his arsenal is daunting. Scott has had an extraordinary career and is a consummate golfer. My credentials include having an understanding of Pebble Beach, which is especially useful in this setting. I first played it more than 70 years ago and have played it since a wonderful lot of times including 20 years with Tom Watson in the Crosby and AT&T. Added to that is the experience of having been employed to renovate Pebble Beach in the 1960s in anticipation of the 1972 U.S. Open. I sought advice from Jack Neville who, with Douglas Grant, created the golf course and was living reclusively in Pacific Grove. The renovation was comprehensive.
My credentials for evaluating Cypress Point include having reverentially played it countless times over a period of 70-plus years. The Cypress Point golf experience has incomparable features. It was designed by a genius [Alister MacKenzie] on a prime piece of the planet with stunning features he so effectively used. He routed the course so as to give those features their ultimate impact.
It provides the player with holes in open space, holes in the forest, holes carved from a gigantic sand dune, eventually bringing the player to the brilliantly designed 15th hole alongside the ocean. It asks the player to execute a wonderful variety of golf shots in very stimulating environments.
All that is a suitable preface to the experience of playing the 16th hole, a 220-yard par three with 200 of those yards over the ocean. This is the crescendo point of a Cypress Point round. If a player is enjoying an especially good scoring day, as the round develops he becomes increasingly aware that if his round is to realize its potential he will have to deal with the 16th hole.
Each hole, however, has compellingly interesting shot values. MacKenzie's holes both in their settings and in their details have significant aesthetic features that add considerably to the very special experience of playing them. The course is a work of art such that I identify it as The Sistine Chapel of golf.
I do understand how spectacular are the features and setting of Pebble Beach and how stimulating, indeed inspiring, is the experience of playing it. Cypress Point, however, has virtually unique features which Pebble Beach does not. The subjective and objective conclusion, therefore, is that Cypress is the better course. That conclusion is reinforced by the LINKS 100 ranking, which has Cypress Point as the number one course in the world. – by Frank Tatum
Frank D. "Sandy" Tatum is a member of Cypress Point, a past president of the USGA, and a former NCAA golf champion.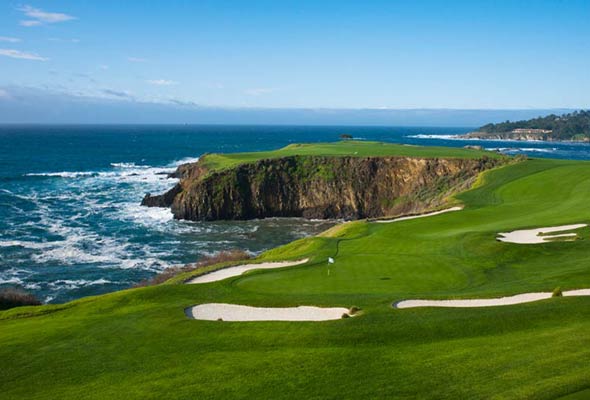 Pebble Beach
by Scott McNealy

Nine seaside holes vs Three; Five U.S. Opens vs None; Open to All vs Shut Tight–C'mon, There's no contest here
One round to play—Pebble or Cypress? The answer is obvious. Pebble Beach is the ultimate bucket list course.
Now, you will get a much more literate and ornate advocacy of Cypress Point from my good friend, lifelong golf partner, and mentor Sandy Tatum. I'm just a computer guy who captained Harvard's golf team (sort of like being captain of the Florida State ski team). But I will do my best to convey the truth. And I promise not to let envy, bitterness, or retribution color my message even though the CPC admissions process has denied me several times. Note to self: Why would I want to join a club that would have me anyway?
Pebble is a national treasure, designed by amateur golfers for amateur golfers while hosting the best players in the best events year after year—a Tour stop since 1947, site of five U.S. Opens, four U.S. Amateurs, two U.S. Women's Amateurs, and a PGA Championship. Cypress has hosted one Walker Cup and hasn't hosted a Tour event in 20 years. You want an experience that reeks of golf history, play Pebble. You want something that reeks of old golf shoes, check out the CPC locker room. (Really, I am not bitter.)
As far as beauty, grooming, and design, both courses are as good as it gets. Pebble, however, has nine waterfront holes—Cypress has only three. Cypress has always been a West Coast benchmark with respect to year-round conditioning. (I've never rolled into a divot in my 50 or so rounds there. Come to think of it, I've never even seen a divot or even another group on the course.) Quite different from Pebble, which gets more play than a David Feherty analogy. But the current ownership, led by Clint Eastwood, Dick Ferris, Peter Ueberroth, and Arnie, has done a spectacular job of keeping the course in AT&T-ready condition every day.
The designs are both well thought out and visually stunning. The biggest difference is that Cypress still rewards the long bombers who can carry the ball 235 yards off the tee while Pebble has been modernized against that assault. And I am not saying that size matters, but Pebble is several hundred yards longer. For the lower handicappers, shooting par at Pebble will evoke way more shock and awe with the gang at home. Most telling, though, is how they finish. Cypress's 17th and 18th pale in comparison to the finishing duo at Pebble—and who can forget a happy ending?
Important to me personally (did I mention I can't get into CPC), Pebble is the only top-10 golf course in America that is open to everyone and has been since it debuted in 1919. And finally, call me non-traditional but I like more than just the 18 golf holes. Give me a driving range that does not double as the right rough on the first hole (see Cypress). And after the round, you can put on a coat and tie and try to remember the other members' names in the CPC clubhouse or you can head to the Tap Room at the Lodge for maybe the best post-round burger and beer this side of the Atlantic. And meet your buddies and make new friends 'til 2 a.m.
So there you have it. Two great golf experiences, one clear answer.– by Scott McNealy
Scott McNealy is the co-founder of Sun Microsystems and current chairman of Wayin.com and has a home on Pebble Beach.