When you see pictures of the charming, pastel-hued island of Bermuda, it's easy to think of it as a Caribbean destination—a place to escape winter's blast for a few well-earned days of sun and fun. But Bermuda's actually located in the western North Atlantic, about 650 miles east of Cape Hatteras, N.C. So it's not a place that attracts many golfers during the winter months. Spring comes early to Bermuda, though—and it's glorious. Thanks to the warming effect of the Gulf Stream, April in Bermuda feels like June in New York, making it the perfect place to kick off your golf season.
The pace in Bermuda tilts to the leisurely side, as befitting a proper British Overseas Territory. (Think: Bermuda shorts with knee socks.) It's generally quieter than its Caribbean island counterparts, but there's no limit to the good times to be had—both on and off the golf course. Bermuda's definitely not a destination for bargain hunters or those looking for all-inclusive options. It's pricey—and there are no rental cars, so you'll be riding on mopeds or in taxis throughout your stay. But Bermudian hospitality is legendary, its capital city of Hamilton is lively, and you can get Dark 'n' Stormies everywhere.
Though it doesn't feel like it when you're there, the island is just 25 miles long and two miles wide, which is only slightly larger than Manhattan. So you're close to all of Bermuda's many attractions once you touch down at L.F. Wade International. Despite its small size, you'll have six golf courses to choose from—each offering very different (but complimentary) experiences. Here's a rundown of what makes each one special.
Mid Ocean Club (St. George's)
In the years since it debuted back in the Roaring '20s, the celebrated Charles Blair Macdonald design at Mid Ocean Club has welcomed presidents, prime ministers, tour pros, and even a few peons. All of them undoubtedly came away from the experience itching to take this brilliant course on again. As Macdonald himself noted: "There is nothing commonplace about it." Macdonald's routing through the site's coral hills and stands of fragrant bougainvillea makes beautiful use of the property's dramatic terrain overlooking the ocean. The course features several "template holes," none more famous (or more fun) than the par-four 5th, a dogleg-left Cape hole where you must decide how much of Mangrove Lake you dare to bite off with your steeply downhill tee shot. Though it's a private club, guests are usually welcome on weekdays. Be one—and enjoy the storied fairways of a course that's sure to join the ranks of your all-time favorites.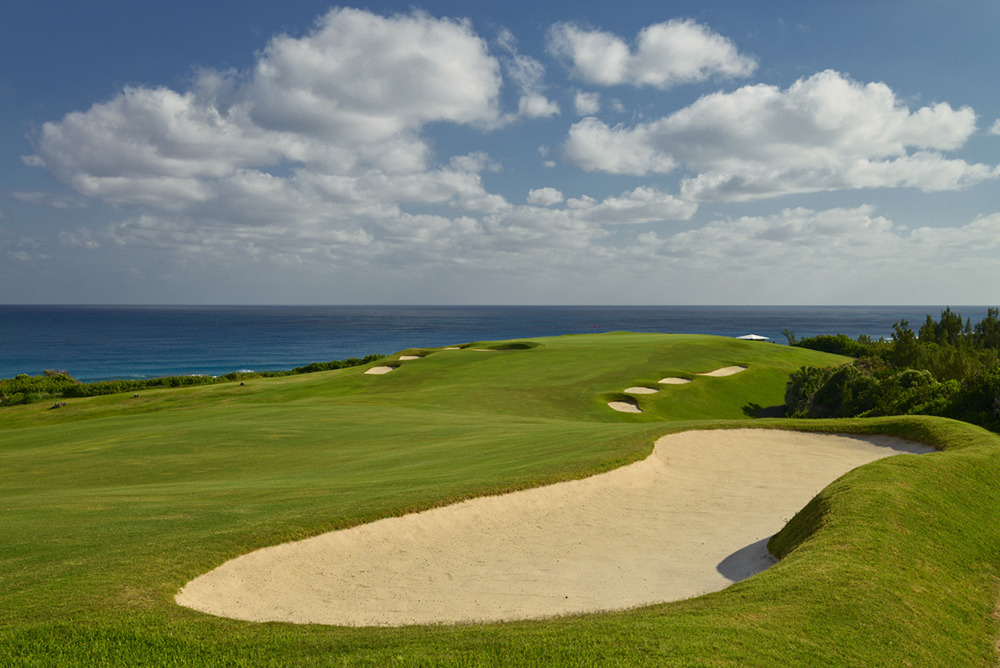 Port Royal Golf Course (Southampton)
The original design at this roller coaster of a public course came from Robert Trent Jones Sr., but Roger Rulewich gave it a multi-million-dollar facelift in 2009 for the Grand Slam of Golf events that would be held there from 2009–12. Many of Port Royal's holes offer dramatic views of the azure blue Bermudian waters, and one of them—the 235-yard par-three 16th, which plays to a peninsula green perched 90 feet above the beach—is a selfie moment waiting to happen. The greens at Port Royal are sprawling affairs, many with false fronts and almost all of them guarded by deep bunkers. Even the inland holes present fun tests here, and there's a lot of variety to them. Expect to deal with buffeting winds anytime you play at Port Royal.
Tucker's Point Golf Club (Hamilton)
The original 1930s-era course here, a well-liked Charles Banks layout, was known as Castle Harbour. Today's Tucker's Point is another Rulewich design, and in the process of accommodating the resort that was taking root around it, the course lost some acreage and a couple of nice holes. The track you'll play now is a well-maintained, 6,500-yard private club/resort course that's extremely hilly, features lots of doglegs, and includes more blind shots than you'll normally find on this side of the Atlantic. You'll enjoy nice views of the water from many of these holes, as you will from your room in the Rosewood Bermuda Resort, whose guests have playing privileges at the course.
Belmont Hills Golf Course (Warwick)
At just 6,100 yards, Belmont Hills doesn't require you to be a long hitter. In fact, some of its fairways are so tight that you'd do well to leave the driver in the bag for much of your round. Rather than demanding power, it calls for precision—and strong legs if you plan to walk its many hills. There are only a few peeks at the ocean from the course, but it's best to keep your focus on your game here anyway. There are a few water hazards, more than enough well-placed bunkers, and the greens are typically multi-tiered affairs on which three-putting is eminently possible if you're not on the right tier. After your round, a drink in the Divots Bar & Grill, or dinner in either of the Newstead Belmont Hills Resort's Blu or Aurora restaurants, is a must. The views of Hamilton Harbour and the Great Sound from each are as appetizing as the fresh seafood entrees.
Five Forts Golf Club (St. George's)
Formerly known as St. George's, the short (4,043 yards, par 62) Five Forts course is now affiliated with the luxe St. Regis Bermuda Resort. This is holiday golf, but a good option if you're just looking to chase a ball around for a while between visits to the beach or pool. Though it's named for Fort St. Catherine and the five other forts that flank it, the course presents little in the way of defenses against the skilled player. But its 10 par threes, which range in length from 110 to 207 yards, aren't pushovers. And there are some unforgettably beautiful vantage points on the course, like the oceanfront 18th green perched at the edge of the coral-lined sea.
Turtle Hill Golf Club (Southampton)
Looking for something even shorter? The par-3 course at Turtle Hill measures just 2,685 yards. But it's safe to say that it's one of the world's better (and more enjoyable) examples of its species. Though it's a 9-hole course, each hole features two tee boxes that are usually set in meaningfully different locations, so you definitely want to go around twice. As its name implies, Turtle Hill offers quite a bit of elevation change, starting at the very first hole, a downhill shortie where it can be surprisingly tough to pick the right club when the wind's blowing. Turtle Hill is one nice amenity of the Fairmont Southampton (the hotel's beach is another). It's a great place to work on your short game before tackling one of the island's longer and sterner tests.
Have you played golf in Bermuda? Tell us about your experience in the comment section.