When architects Bill Coore and Ben Crenshaw toured the vast Streamsong property years ago, before they built one of the resort's original two courses, they were drawn to a particular spot they felt had potential but wasn't expansive enough for a regulation golf course. It wasn't unlike their experience at Bandon Dunes, where a special, but unusually shaped site with tightly packed dunes overlooking the ocean was pushed to the side… at least until owner Mike Keiser decided he wanted to build a par-3 course. Coore knew exactly where the layout that would become Bandon Preserve should be.
Now, Coore is similarly excited about that particular piece of the 16,000-acre Streamsong property he'd visited multiple times. The unique, 100-acre parcel will become an 18-hole "short course" known as The Chain, a link to old mining equipment discovered on the site, and the destination property's fourth course overall.
Having recently toured the initial routing myself during a buddies' trip, it's hard not to get excited about the potential that exists. And Coore & Crenshaw saw that promise, incidentally, long before Streamsong's primary accommodations were developed. The Chain is being built across the street from the entrance road to the Lodge at Streamsong, which means almost half of the 228 rooms will have views of a layout that has loops of 6, 12, and 18 holes. Guests of the Lodge's Rooftop 360 bar and lounge will also be able to see the short course and it's expansive two-acre-plus putting course ("The Bucket") that's twice the size of the one at Streamsong's Black course.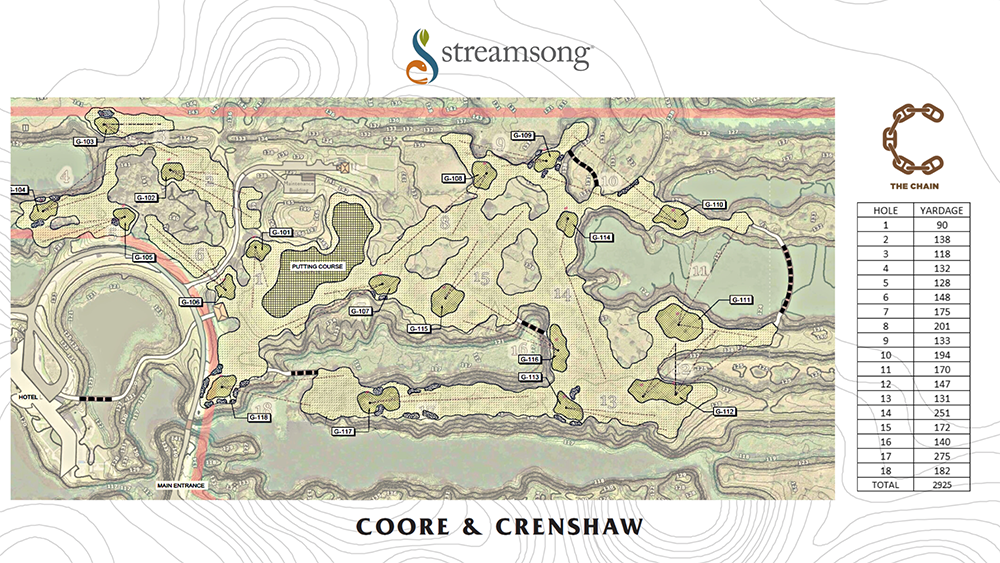 Yes, Streamsong boasts three of the highest-rated public courses in the country, but The Chain is exactly what it needs: a shorter option to complement the Red, Blue, and Black courses, plus one that guests can easily walk to from their rooms rather than take a resort shuttle or drive themselves.
The feel is different, too, as is the approach—with no designated tee markers or par listed on the scorecard. No holes will be longer than 300 yards and, when finished, likely in 2024, the course will play at a maximum length of about 3,000 yards.
While the other courses are marked by towering dunes and sandy expanses left from years of phosphate mining, one of the first things guests will notice at The Chain are mature oaks draped in Spanish moss. The stately trees flank the back of the first green, which is adjacent to the putting course, and three other greens on the 6-hole routing, which ranges from 90 to 148 yards. Those six holes will have more of a parkland feel, Coore says, and are intended to be more forgiving to accommodate a wider range of players, but still "are not simple by any means." Several tee shots will be played over dunes that hide the access road to the maintenance area, while greens not backed by trees are perched on the edge of ravines or an old mining cut.
Speaking of the mining cuts, these deep, water-filled gouges give a sense of how big the property's strip-mining operation used to be. They also add a strategic and visual element to the 12-hole loop, which Coore says will be more challenging and "out there" in terms of concepts and contours. He likens the approach to what the duo did at the 17-hole par-3 course at Sand Valley in Wisconsin, a well-received layout called The Sandbox.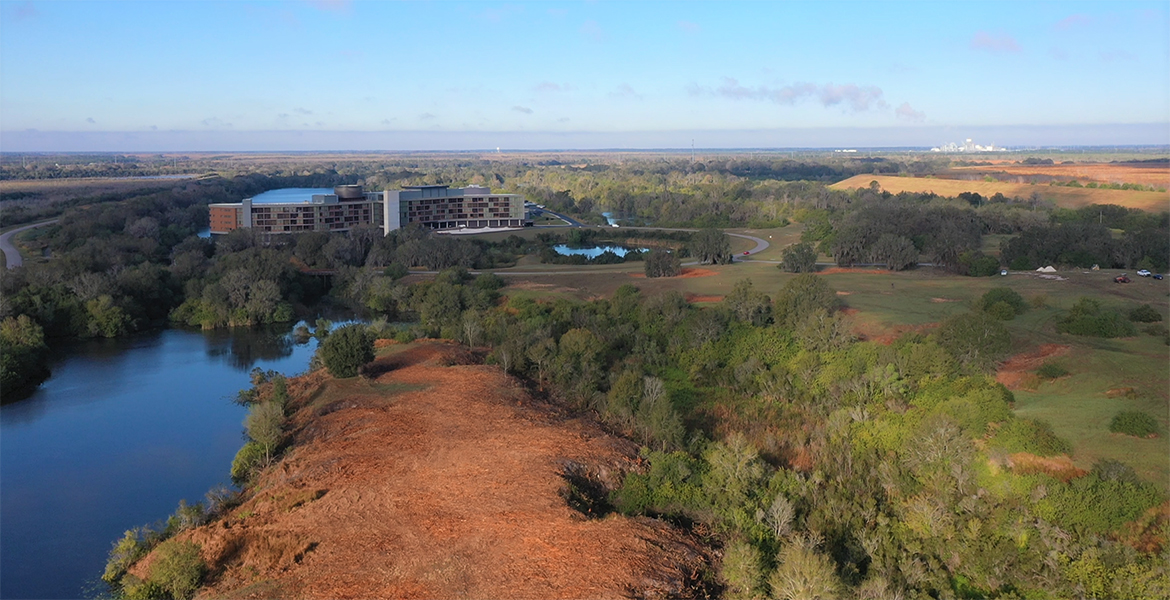 "There were things at the Sandbox we were able to do that you probably wouldn't do on a regulation course," Coore says. "They'd probably be considered a little extreme, and yet on a short course they're fun, they can be exciting, dramatic, quirky, and all those sorts of things. We're hopeful those descriptions will also fit The Chain."
The routing and sequence of the holes are set, but details haven't been fully established. What's been talked about, however, heightens expectations.
There's a swale cut into the green location of one hole that plays over a mining cut that could make for a lengthwise Biarritz, instead of the conventional crosswise. At another green site, situated on the far side of a lake so wide it will require a wooden footbridge, there's talk of a possible double punchbowl.
Perhaps most arresting, however, is the penultimate hole of the 12-hole loop. Situated on a peninsula with a mining cut on one side and the expansive Little Payne Creek on the other is a longer, risk-reward hole that gets narrower as players approach the hourglass-shaped green. (Little Payne Creek, by the way, is the body of water that gave rise to the "stream" in Streamsong.) The initial scorecard lists the hole at 275 yards; Coore suggests it can play as long as 290. Either way, convention tells us it's a short par four. But remember, there is no established par at The Chain. It's made for match play and for players who win previous holes to determine where they want to tee off. It's made for fun and decision-making, whether that's strategic or throwing caution to the wind.
And given that Streamsong's peak season is the winter months of December through February—when daylight hours are shorter—The Chain is made to give visiting golfers another strong golf option if they're not able to schedule a 36-hole day on the other regulation courses. Getting an initial walkthrough and talk-through of what's to come, The Chain is exactly what Streamsong needs, and guests won't be disappointed.
Do you plan to play The Chain when it opens at Streamsong?