By Tony Dear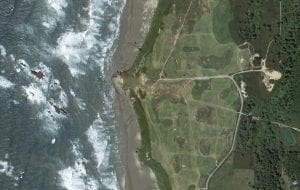 It has become decreasingly mysterious with every passing article—and there have been many—but the Sheep Ranch still possesses sufficient intrigue and anonymity to ensure the golfer recounting his experiences of the place speaks mostly to a hushed audience. Images and stories have been filtering through for nearly two decades, and its 200 or so rugged, clifftop acres are clearly visible on Google Earth. But he who is lucky enough to have walked his own undefined route across this stretch of linksland has a story few of his friends can ever match.
Bally Bandon Sheep Ranch appeared in 2001 about the time Tom Doak was putting the finishing touches to Pacific Dunes, the second course at Mike Keiser's implausible, yet hugely successful, Bandon Dunes Golf Resort on the Oregon coast.
Pacific's cliffside fairway at No. 4 was visible a few hundred yards to the south, and the resort moved closer still in 2010 with the opening of Old Macdonald, its fourth 18-hole layout. The Sheep Ranch is on an entirely separate property however, and is not a part of the resort. Not yet anyway.
The land on which it sits, site of a former wind farm, came up for sale shortly after the resort opened in 1999. Phil Friedmann, co-creator of the greetings card company that made him and Keiser wealthy, had decided against becoming a partner in Bandon Dunes thinking Keiser's plan unlikely to succeed, but did go in with him on this new parcel splitting the $4 million asking price down the middle.
The question though was what to do with it. If it wasn't going to be part of the Bandon Dunes Golf Resort could it be part of a new resort, or perhaps the centerpiece of an exclusive private club catering to golfers who, like Keiser, would happily travel a long way to play old-fashioned links holes without having to make tee-times or squeeze in between scores of fourballs?
The neighboring golf resort plan made no sense, and the private club idea would likely have been a problem for lawmakers seeking to make the coastline accessible to all. So Doak built an enchanting little public playground on which spellbound golfers sometimes spend a whole day hitting hither and thither while making up their own journey as they go. There are some formal tees, but pegging it on a flattish spot beside the green is usually the way to go.
To be one of the 50-100 golfers per month who take advantage of the opportunity to explore this Shangri-La, you need to speak with Greg Harless, the superintendent but most commonly referred to as the course's "caretaker." Harless cuts the greens fairly regularly and keeps the fairways in check (because there is only basic irrigation surrounding the greens, the course closes in summer when the fairways become excessively dry), but that's about as far as the maintenance operation goes. The pro shop staff at the resort will give you his cell number, and if you get a hold of him you can schedule a time to meet at the entrance gate where he will give you a scorecard with a map of the course showing the 12 lettered greens —A to K, and M (why no L? Don't worry about it, it's complicated). You then give Harless a check for $100.
You can play A to B to C to and so on, but the routing is merely a suggestion. Some like to string the F, J, E, C, B, and M greens together to create a stirring sequence of clifftop holes. The massive E green, covering 20,000 square feet of ground at the course's western-most point, is the most fortuitously-positioned, resembling the 13th green at Quivira, 16th at Cabot Cliffs, and 17th on the Castle Course in St. Andrews.
In October 2016, Keiser announced his intention to expand the resort by making the Sheep Ranch its fifth regulation-length course. Gil Hanse, whom Keiser had tabbed to design the Bandon Muny course 15 miles south of the resort—a project that sadly never made it beyond the drawing board as Keiser was unable to reach an agreement with Oregon's Bureau of Land Management and the Oregon State Park's Department— was the first designer linked to the new course, and he and associate Jim Wagner made multiple visits to the site. Keiser has now confirmed, however, that Bill Coore and Ben Crenshaw will design it – their third course at the resort after Bandon Trails and The Preserve.
Beyond that, very little, if anything, is certain as Keiser is keeping news of the project firmly under wraps. "I may announce something in November," he told us.
Seems fitting the Sheep Ranch should retain at least a little mystery.
______________
Have you played the Bally Bandon Sheep Ranch course? If so, tell us about it in the comments!