It can mean different things and it's hard to put a finger on its exact definition because so often it depends on our personal experience, its context, and the surroundings. But whatever words we use to describe "quirk," one thing is for sure—we know it when we see it.
The wonderful coastal courses in Cornwall, England, gave me my first taste of quirk as a teenager. Lelant (West Cornwall) had a few holes on the front nine that crisscrossed; Mullion on the south coast had a near vertical drop-shot par three and a couple of really provocative clifftop holes; and the James Braid-designed Church Course at St. Enodoc on the north coast had a par four with a gargantuan bunker dug into the front of a 140-foot-tall sand dune as well as numerous other idiosyncrasies.
Tom Doak—architect of Pacific Dunes, Streamsong Blue, Tara Iti, and a host of others—really only cares about how well a hole plays rather than if it passes the quirk test. Yet Doak is a huge fan of St. Enodoc and enjoys all its oddities, chief among them the drive at the brilliant 323-yard 4th. "You hit over the corner of a farmer's field, which is OB, to get the best angle into the green," he says. "It's much like the tee shot at the Road Hole at St. Andrews—another great quirky hole—only more visible."
Doak says that for him a quirky feature is one that's unexpected or unusual and which you don't normally see on a golf course. "That could include things like blind shots and severe contours in odd places like the middle of the fairway or right next to the green," he adds. "Or the stone wall in front of the 13th green at North Berwick (West), 'Pit'" For something to be genuinely quirky, though, Doak believes it has to be controversial. "Some people are going to love it," he says, "and some golfers are going to hate it at the moment it gets the better of them."
That raises the question of perspective on golf course quirk. When a player says a hole was a bit quirky, do they do so with a smile, wince, or scowl on their face? Did they welcome it and enjoy playing round/through/over/beneath it, or did they think it an ugly and totally unnecessary contrivance? Is "quirky" a dirty word in golf?
Mike Clayton seems a little undecided. "I think quirk is basically anything a professional golfer would describe as unfair," jokes (or does he?) the Australian architect who co-designed the wild, and devilishly quirky, 13th green at Barnbougle Dunes in Tasmania—an ode to Alister MacKenzie's lost 12th green at Sitwell Park in Yorkshire, England—alongside Doak and Brian Schneider. The infamous green at Sitwell was flattened shortly after the course opened as members and visiting pros argued that, far from being an interesting quirk, it was just plain bad.
Richard Mandell might have called it a gimmick. The Pinehurst N.C.-based architect, who authored a book called Principles of Golf Architecture, says that when quirk is done poorly—either a man-made feature or something natural incorporated into a hole—the feeling of pleasant surprise upon finding something strange and unconventional is replaced by disdain. The feature might have the same general effect as something quirky, but only for a moment, and soon becomes tedious "when the reality of an impossible shot stares the golfer down."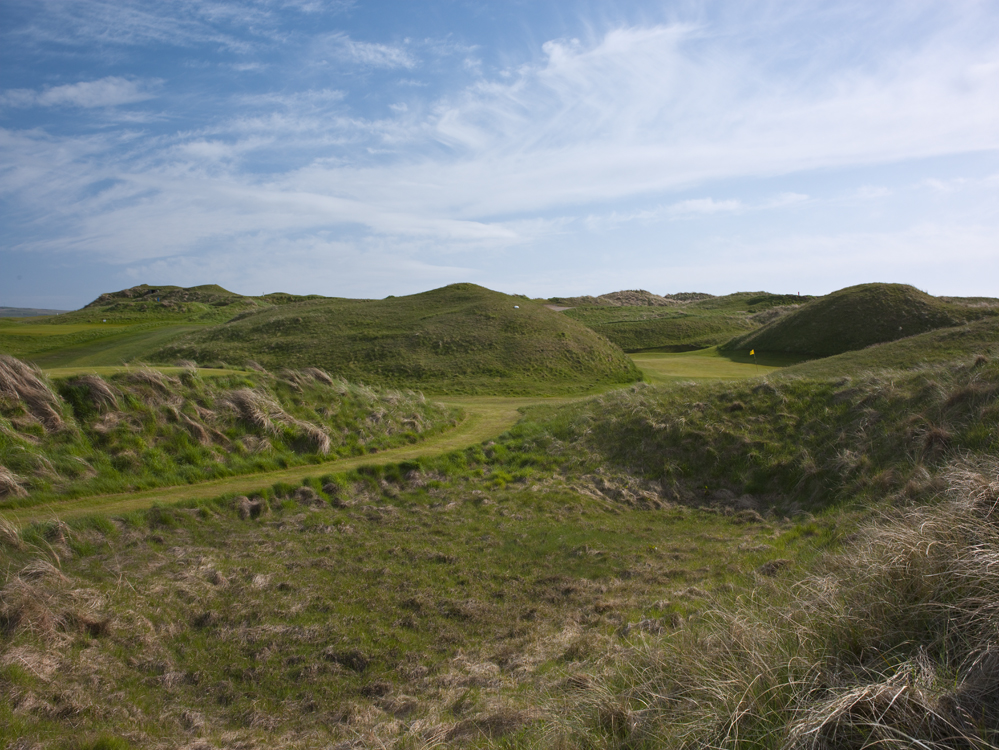 Mandell, who lists PGA Championship venues Keller and Tanglewood Park among his restorations/renovations, says authentic quirk happens as a result of an irresistible force (the golf hole) meeting an immovable object (a boundary fence or permanent fixture such as a boulder). "When a golf hole must be routed around a topographical feature because that feature can't be altered, the form the hole takes becomes quirky," he adds. "Quirky golf holes are simply anomalies of the landscape that can't be avoided."
That makes sense certainly, but readers may question some of the holes Mandell regards as quirky (the par-five 6th at Pebble Beach?) and one in particular he doesn't.
Besides the aforementioned 13th at North Berwick (West) perhaps, the short 5th hole at Lahinch in Ireland is about as quirky as it gets. The shallow green at the 154-yard "Dell" Hole is wedged between three sizeable sand hills (front, back, and right) and entirely blind from the tee, but Mandell insists the hole doesn't fit his "Principle of Quirk."
"Being an Irish links site few, if any, features there would be considered quirky because they are typical of the landscape in that corner of the world," he says. "On a links site, it is not a surprising or unexpected green location. It's the opposite—almost an expected location for a green within the realm of great links design on such a property."
He says much the same of the holes at Sand Hills in Nebraska—another debatable position, perhaps. "None of the holes qualify as quirky because few people would be shocked at their existence. Impressed? Absolutely. But extracting a surprising reaction out of the golfer probably wouldn't happen."
What do you think makes a golf hole quirky? Do you like it and, if so, what are some of your favorite examples?