Surely no golfer is going to play more holes in a day at Sweetens Cove than Matthew Adamski did last year, but that doesn't mean they can't try.
The popular Tennessee 9-hole course has embraced a unique operational approach as its avid following has grown: all-day play passes. The concept—not unlike a daily lift ticket at a ski resort—might be as rare as an albatross or double eagle in the public golf world, where set tee times are the modus operandi.
The Sweetens shift was a bit out of necessity. Several years back, management realized that passionate golfers making the pilgrimage to South Pittsburg looking to play as much golf as possible would get frustrated or upset when they weren't able to get out for a replay round because the course was packed.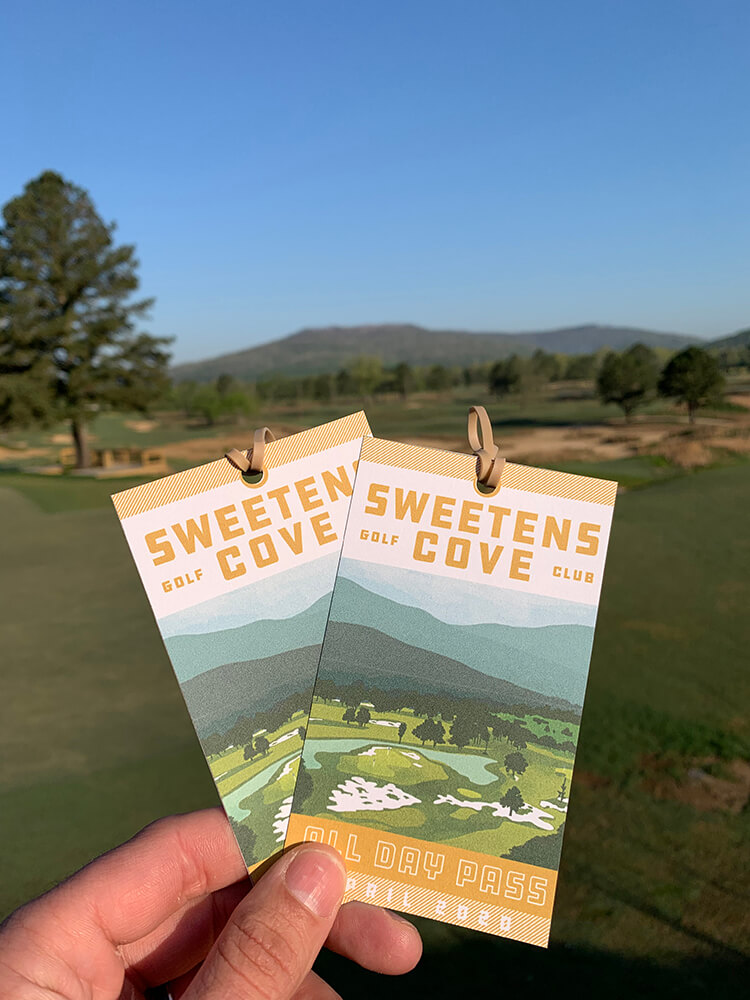 "We thought, 'Why don't we limit the amount of people we allow on property and offer all-day passes?'" says Adamski, who last year played 254 holes in a single day at Sweetens Cove as part of a charity fundraiser.
Today, the course offers day passes only from Thursday through Sunday while limiting the number of daily players to 45. The public facility, closed on Mondays, allows 60 people on property on Tuesdays and Wednesdays, with options to play (and pay) for nine holes, 18, or the all-day option. The vast majority opt for all-you-can-play, but typically top out at 27 to 36, taking an occasional break (for food, drink, or rest) or hopping around to different holes if a slower group is in front.
"When we started doing that, we were really trying to cut down on the traffic on the weekends because it would be so miserable. There would be about 30 people on the first tee," says Adamski. "But if you came on a Tuesday, there would be four people on the golf course. When we started doing these passes and limiting the amount of play, all of a sudden, our Tuesdays and Wednesdays were completely full and they were our largest gross revenue days of the week, over our weekends. It was crazy."
View this post on Instagram
Other 9-hole public courses have embraced all-day rates, from the George Thomas-designed Marion Golf Club in Massachusetts that's interspersed with old stone walls to St. John Golf Course in eastern Washington, a muni set among the rolling hills of the Palouse that features unlimited golf for just $18. (Just be aware that the local high school team takes over the course during spring afternoons for weekday practices.)
For the past two decades Mt. Lebanon, a 9-hole municipal in Pittsburgh, has had all-day play rates—currently $40 on weekdays and $45 on weekends. However, after switching to tee times seven days a week last year due to the coronavirus, the facility will eliminate its all-day rates in 2022.
"It's just hard to regulate all-day play any longer, unless they make multiple tee times," says Mt. Lebanon Golf Course Manager Dave Boal.
At another Pennsylvania course, Birdsfoot in Freeport, the weekday all-day play pass is $75, only $10 more than the 18-hole rate. Wood River Golf course in southern Rhode Island offers unlimited walking golf at its 18-hole course for just $35. In Montgomery, Ala., golfers can play unlimited golf at Lagoon Park, which has fairways lined with 100-year-old oaks and towering pines, for $65 on weekdays and $80 on weekends.
View this post on Instagram
In western Montana, the Jack Nicklaus-designed Old Works has a $125 in-season rate for out of towners to play all day. The same fee for county residents is $69.
Sweetens Cove's Adamski says he can see the golf day-pass concept working at bigger facilities that have issues with time blocks that don't fill up. For other courses, it might work on certain low-traffic days of the week.
Double Oaks in Commerce, Ga., has taken that approach—on Mondays, the course's 18-hole rate is $27 compared to an all-day play pass for just $31.
For courses with heavy play, regimented tee times and traditional operations, the all-day play idea surely won't be a fit. But for others, on the right day or in the right location, it might work. Sweetens Cove has provided at least one blueprint on how the golf day pass can be done.
Have you played a public golf course with all-day play rates? Please let us know about where it was, how many holes you played, and what the experience was like.