From miles away, Stewart Williams could tell the torrential afternoon thunderstorm would douse Akron, Ohio. Sure enough, it poured buckets on the field at July's Bridgestone Senior Players Championship for a short time, but long enough to wash out bunkers. Just when the maintenance staff had the course ready to resume play, another storm rolled in and spoiled best-laid plans.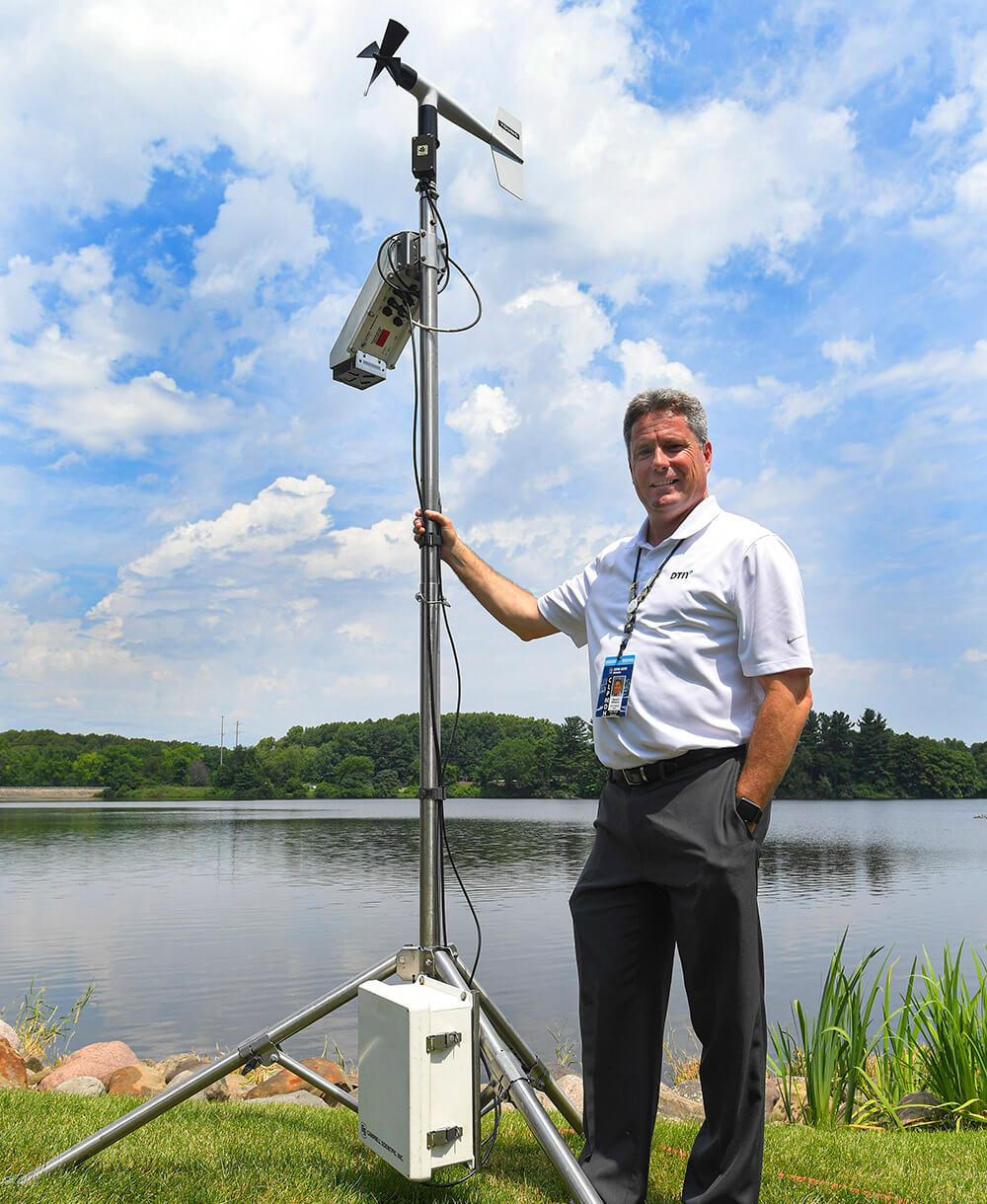 "Just another day in the life, right?" Williams says.
For more than two decades, Williams has been covering the PGA Tour—or rather keeping the Tour covered—from sun up to sundown as the Tour's weather forecaster. The longest-tenured on-site meteorologist on an eight-person crew, he helps make sure that hail  the size of golf balls (it happens!) doesn't interfere with the birdies and bogeys.
"I don't know what we did before we had those guys," says Mark Russell, PGA Tour vice president of rules, competitions, and administration.
Williams, 50, grew up in Winston-Salem, N.C., and distinctly remembers at age 10 watching the local weatherman forecast an overnight snowstorm. He went to bed that night full of anticipation only to wake up the next morning to discover not even a dusting. 
"I was ticked off," Williams recalls, "but it got me thinking, 'How come it didn't snow?' I wanted to know why it didn't happen. That kind of fueled my interest in becoming a meteorologist."
After high school, he went to UNC-Asheville to earn his meteorology degree, then interned for a local TV station in Winston-Salem, where weatherman Mike McClellan took him under his wing.
The Crosby National Celebrity Golf Tournament had moved to nearby Bermuda Run Country Club and called for help. But tournament organizers weren't looking for a live shot from the course; they wanted an on-site meteorologist to spot any severe weather, help with critical decisions, and maximize safety.
"The TV station had its own Doppler radar so we set up a tent at the tournament and piped in a feed of the radar screen. I put a black dot where the golf course was with a Sharpie pen," Williams says. 
McClellan saw a business opportunity, quit his job, and formed Mobile Weather Team, Inc., hiring Williams straight out of college in 1993 for the only job he's ever had. Business boomed, and by the end of 1995 they had more than 20 tournaments signed up as clients. In 2005, McClellan sold his North American operation to DTN, Williams's current employer, which now covers the entire PGA Tour operation.
Williams works roughly 26–28 events a year, including The Masters, logging long hours, with player and spectator safety a priority.
Over the years, he's seen it all: the threat of Hurricane Irene in New Jersey, snow in Tucson, hail at Pebble Beach, funnel clouds in Dallas, wind so strong it blew sand out of bunkers and stopped play at the RBC Heritage Classic in Hilton Head, and rain. Lots of the wet stuff.
"If a city is suffering a dry spell, just schedule a PGA Tour event," Russell says. "We can end a drought anywhere on the planet." 
Pop-up thunderstorms during the dog days of summer  keep Williams glued to his screens and monitoring the electrical charge in the atmosphere. But some days are better than others, Williams and Russell referring to those stretches of glorious sunshine as "walk-around days." 
"That's what the Tour staff likes, to see me out stretching my legs," Williams says, "because that means we've got it made in the shade."