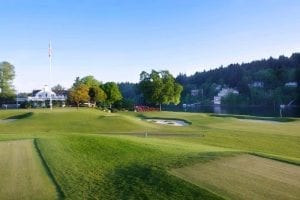 Eight Years After losing the gold-medal golf match in the 1904 Olympics, Chandler Egan—an intercollegiate and amateur champion and newly minted golf course architect—began designing Waverley Country Club, in Portland, Oregon. He would continue working on it for 24 years. A century later, just before designing the course for the 2016 Olympics in Rio de Janeiro, architect Gil Hanse renovated Waverley to restore much of Egan's subtle design work, which had disappeared over the decades.
Among the greats to compete at Waverley over the years were Harry Vardon, Byron Nelson, and Bobby Jones. In fact, some believe Jones borrowed the idea of rewarding the winner of a certain annual tournament with a green jacket after first seeing this at Waverley a decade earlier. Six USGA Championships have been staged on the links-style layout that rolls across 138 acres beside the Willamette River. In 1970, when the U.S. Amateur was contested at stroke play, Lanny Wadkins beat Tom Kite by one with a birdie at the 72nd hole. Juli Inkster was victorious in the 1981 Women's Am. And in 1993, Tiger Woods won the Junior Am by going birdie-birdie on the last two holes to force a playoff, which he won with a par. He wept on the final green after securing his victory.
In renovating Waverley, Hanse maintained its characteristic blind shots and various forms of classic bunkering. He reinstated 35 bunkers and recrafted the rest, renewing the original premium on placement with fore bunkers, center-line bunkers, and greenside and fairway bunkers set in lines, clusters, and sometimes by themselves. Sensitive to today's faster green speeds, he also modernized and enlarged putting surfaces that originally featured slopes, bends, dips, and ridges that didn't work with modern speeds and, in many cases, had become even more troublesome after years of being splashed with sand. To restore the river views he thinned out trees that didn't exist in Egan's design.
"Egan was a big fan of Charles Blair Macdonald," says Hanse, "focusing on the Scottish model of grass-face bunkering, depth, scale, and character. Also noticeable in Egan's style was short grass. The merging of fairways with adjacent areas with greens and tees gave his courses that classic and distinct feel which makes shot making more fun and interesting. Yet, one can still pull the putter out and try to run it up there. This is the spirit Egan worked to create." And, a century later, Hanse worked to recreate.
As the round progresses, players get closer and closer to the Willamette, having it beside them on the final three holes. At 16, Hanse eliminated a green-fronting hump that obscured the view of the putting surface and the river beyond. Waverley always finished with back-to-back par fives, but rather than change this quirky feature, Hanse made the two holes different. At 17, the tee shot is the key to unlocking the hole. Eighteen requires a long drive, but with no bunkers in play off the tee it's the crucial second shot that sets up the approach: Three bunkers aligned at the top of a ridge are a nod to Egan's styling. The expanded green, mammoth greenside bunkers (one restored with original islands of turf), and proximity to the river make for a dramatic finish.
The new Waverley is 6,748 yards with a par of 71, a rating of 72.8, a slope of 135, and—after a careful restoration—100 years of history palpable in the clean Pacific Northwest air.
Oregon native Jeff Wallach has written for more than 50 publications and is a founder and managing partner of Golf Media Network LLC.