By Drew Binsky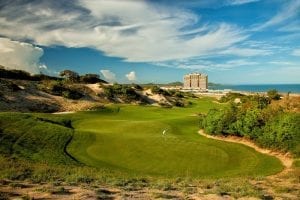 Japan, China, Korea, even Thailand. When it comes to golf in Asia, those are the countries that typically come to mind.
But Vietnam is trying to change that. Over the last decade, numerous courses designed by some of the biggest names in world golf have opened here. And by 2020, there could be as many as 100 layouts in this nation of almost 93 million people.
That's according to Golfasian, one of Asia's leading golf tour operators. And that seems realistic, especially when contracts like the one Jack Nicklaus's design firm recently signed with top Vietnamese golf developer BRG Group—a whopping 10-course deal—are considered.
That said, golf represents only a small fraction of exciting things to do in Vietnam. I lived in Hanoi for six months in 2016 and have made half-a-dozen return trips since. From top to bottom, Vietnam is spectacular. And the cost of visiting can be easy on your wallet.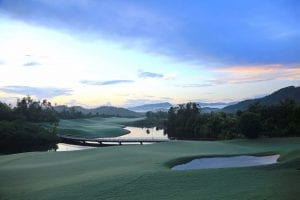 Of course, Vietnam also has a history that may make it a difficult—if not impossible—destination to visit. Many Americans still can't separate the country from the long and gruesome war we fought there. But as I was born 16 years after the war ended, I traveled all over the country without any preconceived notions of the culture or lifestyle.
There are numerous reminders of the war years—including some of the most prominent and affecting tourist sites. But it's immediately obvious that the majority of the population has moved on, and life today flourishes with positive energy and overall happiness, which is evident in its respect and appreciation for visitors.
Golf has the capacity to help heal some of the wounds. The French built the first course in Vietnam in the 1920s, during the colonization period. But it wasn't until the mid-1990s that the government saw golf as a way to attract international commerce.
The game has since grown rapidly, especially since 2009, when the first course along the dunesy central coast—a naturally perfect template for golf course development—debuted. Although the numbers are still small, more Vietnamese (about 10,000) than visitors (7,000) are playing the country's courses now, according to the Financial Times.
Playing in Vietnam is quite different from playing in the U.S., and in many ways more like the UK. Having a caddie is mandatory at most courses, which helps tremendously—especially in reading the often offbeat, sloping greens. Caddying is seen as a well-paid job among youngsters, who typically live in nearby towns. You'll find the caddies, predominantly women, to be dedicated and hard working.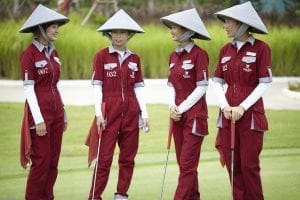 Pace of play is generally very fast. Since the game is still relatively new and played almost exclusively by the wealthy, most courses are pretty empty. It's not unusual to go around without seeing a group within three holes of you.    
Golf here is very seasonal, too. Try to avoid the rainy season (June–September), because when it rains, it pours. The best time to play is from October–April. And don't worry if it starts getting dark, because most courses have bright lights over the fairways and greens. You can comfortably play until midnight or later, and some courses are open 24 hours a day, seven days a week.   
I've played a lot of the courses in Vietnam, and I've spoken to a number of people who know its golf scene extremely well. With that knowledge, I've come up with this alphabetical list of the country's top 10 golf experiences. But hurry up, because it's going to change as so many new courses—including a much-anticipated Greg Norman design in Cam Ranh (KN Golf Links)—open in the next few years.
Ba Na Hills Golf Club (Danang)
The world's first—and still only—course designed by former top-ranked player Luke Donald is less than two years old but already widely considered one of the country's best. It sits at the foot of a mountain range and weaves around lakes, along hillsides, and through a lush landscape that is illuminated at night by a high-powered lighting system.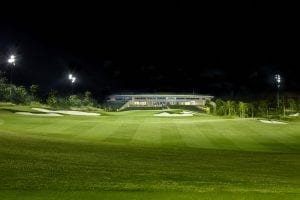 The Bluffs Ho Tram Strip (Ho Tram)
Since opening in 2014, this Greg Norman creation about two hours from Ho Chi Minh City has pulled down its share of international awards. And for good reason: The linksy design features huge sand dunes, rippling, Scottish-style fairways, and some of the most breathtaking ocean views you'll find anywhere in the world.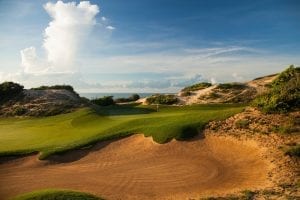 BRG Da Nang Golf Resort (Danang/Hoi An) 
Home of Norman's first design in Vietnam (opened in 2010) and maybe, just maybe, his purest. Indeed, this course—The Dunes—is like most acclaimed links: logically routed and easy to walk. What's more, it's where you'll find one of the coolest holes in all of Asia—the par-three 16th, which is backdropped by the ocean and flanked by a weathered, war-era pillbox.
BRG Kings Island (Hanoi)
If you like your golf adventurous, play one of the Jack Nicklaus (re)designs at this 54-hole facility, which is accessible by boat only. Most holes skirt the Dong Mo Reservoir, and those that don't possess hazards of their own. In other words: Bring your A game and a sense of fearlessness.
Dalat Palace Golf Club (Dalat) 
The oldest course in Vietnam, built by the French in the 1920s, retains its colonial touch and charm. You'll find tall pine trees, beautiful flowers, and fast, bentgrass greens, along with long par fives and some elevation change. The entire area is rich with history and worth seeing.

Laguna Lang Co (Lang Co)
The only Nick Faldo design in Vietnam is about halfway between Danang and the former Vietnamese capital of Hue—and is a considerable distance off that beaten path. But it's worth the effort to get there. Its scrubby, Old World look is matched only by the sense of seclusion provided by thick vegetation and an impressive supply of whispy, casuarina pine trees.
Montgomerie Links (Danang/Hoi An)
With extra-tight fairways and water guarding many of the greens, Colin Montgomerie's parkland-style course will challenge all players. But its conditioning is superb and there's a good variety of holes. An exquisite collection of modern, three-bedroom pool villas line the 9th and 10th holes, making it a great place to stay as well.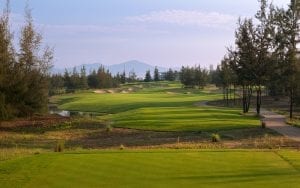 Sky Lake Resort & Golf Club (Hanoi) 
Part of a fledgling resort set within stunning limestone countryside, Sky Lake will have you reaching for your camera on almost every hole. There are 36 of them in all, and because it's one of Vietnam's pricier golf venues, it's almost never crowded.
Vietnam Golf & Country Club (Ho Chi Minh City)
Less than half an hour from downtown HCM City, VGCC is the busiest golf facility in Vietnam. Of its 36 tree-lined holes, the East Course's 18 are the best, with smart bunkering and beautifully contoured greens. If it's hot and the pace of play is slow, don't fret; there's a snack shack every three to four holes. Grab a cold towel and refreshing coconut water and I can assure you, you'll feel like a new person.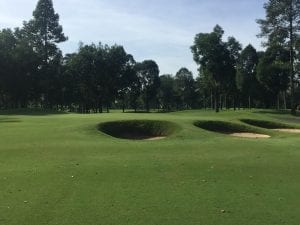 Vinpearl Golf Phu Quoc (Phu Quoc)
A short flight from Ho Chi Minh City, on the island of Phu Quoc, this 27-hole venue will probably feel familiar to anyone who is from or has played in the Deep South. The course is situated within an old-growth forest with some of the most enormous trees this side of the Redwoods. If you have time, play all three nines. They're fantastic.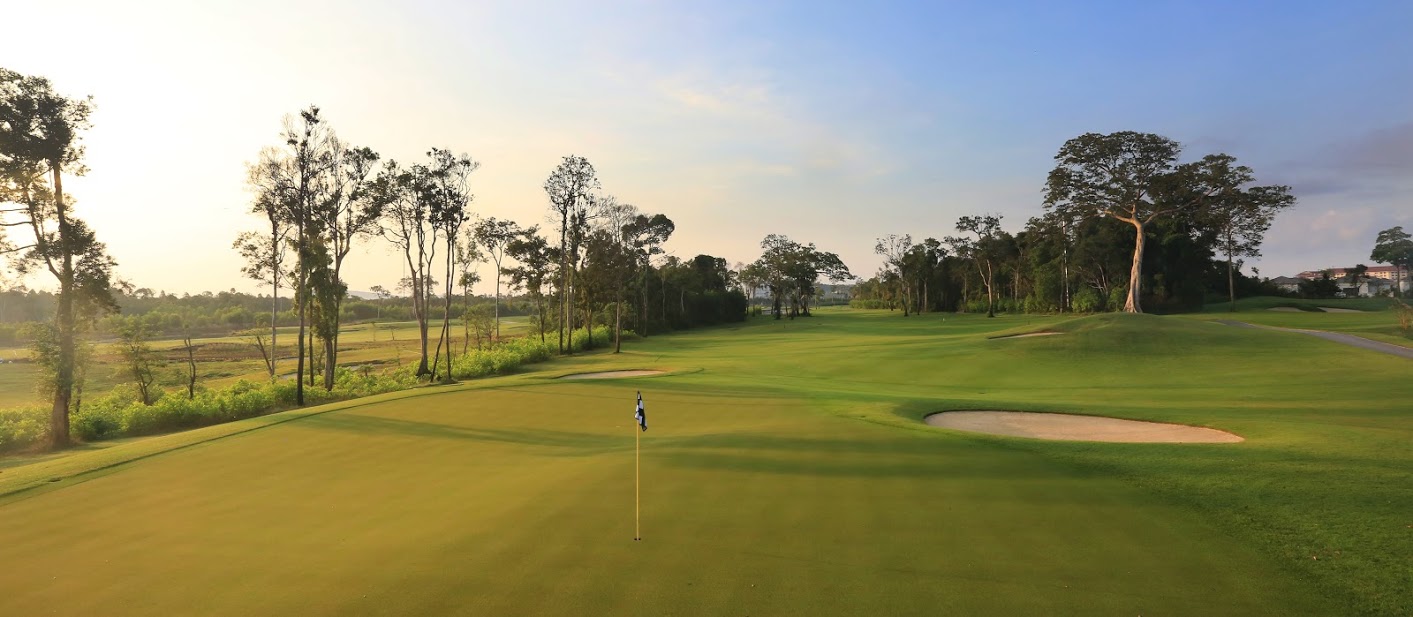 VIETNAM TRAVEL TIPS
Don't worry about safety. Vietnam is recognized every year
as one of the safest countries in Asia, if not the world.
Hanoi vs. Ho Chi Minh City
Hanoi and Ho Chi Minh City are to Vietnam what Los Angeles and San Francisco are to California—the two biggest cities, and your most likely points of entry and exit. Chances are you will be spending at least a few days in either city (or both), and they are definitely worth a visit.
Hanoi, in the cooler north, is the capital of Vietnam with some 10 million people. Its attractions are mostly within the Old Quarter, a district of ancient churches, markets, street food vendors, hotels, cafes, restaurants, and bars.
Down south, Ho Chi Minh City (or Saigon), the largest city in Vietnam, is the commercial and financial center. Here you'll find skyscrapers, luxury hotels, urban life, and busy streets. The motorbike traffic is notorious, so be sure to look both ways before crossing. The climate is always hot and humid, with significantly more rainfall than Hanoi, so keep that in mind as you plan your trip.
Other Attractions
Halong Bay 
About a four-hour drive from Hanoi, Halong Bay is the Grand Canyon or Niagara Falls of Vietnam. The country's most popular natural tourist attraction consists of small mountains popping out of the sea for miles and miles, along with never-ending beaches, hidden caves, and amazing tropical sunsets.
Sapa 
In the northwestern part of the country (not far from the Chinese border), Sapa is famous for its lush countryside and terraced rice paddies. It's a little far to make a day trip from Hanoi (seven hours each way on a sleeper bus), so you'll likely want to spend the night. Most tourists go here for trekking, during which time you'll pass through quaint villages and witness first-hand how people live happily without materialistic goods.
Ninh Binh 
Made famous as the backdrop of the movie Kong: Skull Island, Ninh Binh is a small town about 50 miles south of Hanoi that is surrounded by a landscape similar to Halong Bay. The best way to capture its beauty is by taking a boat ride along the river.
Cu Chi Tunnels 
About an hour's drive from Ho Chi Minh City, the Cu Chi Tunnels are a massive network of underground tunnels that served as a base of operations for the Viet Cong during the Vietnam War. Visitors may walk the claustrophobic passages, 50 meters below the ground, and try shooting an AK-47 or an M44 at a nearby rifle range.
Vietnamese Cuisine 
It's healthy and diverse. Be sure to try pho bo (an iconic beef noodle soup), goi cuon (fresh spring rolls), egg coffee, and the French-influenced sandwich banh mi. You can eat very well (and pay a lot to do so), but the dishes above shouldn't cost more than a few bucks whether in a restaurant or from one of the ubiquitous street vendors.