From the beginning, Valhalla was only ever going to be about one thing: golf. Great golf. Championship golf, in fact. And to this day, more than 25 years after opening, the club holds to its vision. There's no tennis, no pools, and no homes. Not even dinner.
Golf. That's it.
Twenty minutes and 20 miles east of downtown Louisville, the club's 500 acres used to supply two of Kentucky's three most famous products: tobacco and horses. (The third, of course, is bourbon.) At some point, the land was acquired by Dwight Gahm (pronounced "game"), who did well building kitchen cabinets, became an avid golfer, and brought his three sons to the game.
In the early 1980s, Dwight asked oldest son Walt what he thought they should do with the rolling and wooded property. Walt suggested a golf club, a notion supported by sons Gordy and Phil. But nothing else, just golf.
The Gahms traveled the country checking out other clubs for ideas. When it came time to choose an architect, they agreed there was only one man they wanted: Jack Nicklaus. But how to reach him? You don't just call Jack and say you've got some land, do you?
Walt's roommate at Purdue University was Bob Griese, who went on to quarterback the Miami Dolphins. Griese knew Nicklaus. Walt called Bob, and a few days later, Jack called the Gahms. When Nicklaus came to see the property, he assumed the family wanted a course surrounded by houses: That's what people were doing in the golf-mad, make-a-buck '80s. No, he was told. No real estate. You find the best 18 holes you can; the rest stays as it is.
In 1986, Valhalla opened to critical acclaim and immediate acceptance by the sports-mad Louisville community. The course was big and bold, its front nine primarily flat, open terrain that resembled linksland—rumpled fairways, long wispy grasses, treated to steady winds—and a back nine that rose and fell over forested hills. Fairways were narrow, greens undulating and tiered, bunkers big and deep. Members loved it, no matter their handicaps, because it was great golf and only golf. Anyway, most belonged to another local club if they wanted to swim or order a steak.
In 1989, someone suggested hosting a tournament. So with the same directness they'd exhibited hiring an architect, club management wrote The PGA of America saying they'd like to hold the PGA Championship. They sent a Louisville Slugger baseball bat, engraved with PGA Officers' names, with a note that said, "If you come to Valhalla, you'll hit a home run." A basket of local food products was sent with a note that read, "Once you have a taste of Kentucky, you'll come back for more." They entertained PGA big shots at the Kentucky Derby, proving not only that the community was supportive, but knew how to throw a party.
In 1993, the Gahms and The PGA formed a partnership; by 2000, The PGA had bought Valhalla with the intent of making it a regular venue for its tournaments.
In 1996, Texan Mark Brooks defeated Kentucky's favorite son, Kenny Perry, in a one-hole playoff for the PGA Championship. In 2000, Tiger Woods needed three extra holes to defeat Bob May and capture the Wanamaker Trophy. There also have been two Senior PGA Championships, and in 2008, America recaptured the Ryder Cup here.
The owners may have changed, but the mantra remains the same: Just golf.
Being owned by The PGA of America has other benefits. Members don't pay assessments and there's no food minimum. The club is financially secure. An exhibit of some of golf's most prominent trophies adorns the main lobby. And the PGA Championship is returning in 2014.
In preparation for that tournament—and while thinking about the members—Nicklaus came back last year for the first significant modernization in a quarter-century. Out of sight, new irrigation and drainage systems were installed. Above ground, Jack redid every green, softening slopes to accommodate faster speeds and create new hole positions. Greenside bunkers were removed or reduced in size, replaced by bail-out and chipping areas. On a few holes, fairway bunkers were eliminated, on others they were added or moved. While receiving an updating and polishing, the "new" course lost none of its bite. And members still love it.
They appreciate that Nicklaus kept it long—five sets of tees range from 5,200 to 7,500 yards—and tight, but added numerous safe havens, particularly near the greens. As PGA head professional Keith Reese puts it, "Jack gives you places to miss. You just have to know where they are."
On number 2, for instance, a sweeping right-to-left par five with Floyd's Fork, a fast-flowing stream, down the left side, Nicklaus shifted the right greenside bunker from center right to back right, slid the green slighty left toward the water, and flattened the mounding around the putting surface. Amateurs have more room short and safe, while the pros won't be affected.
The same is true of the par-three 3rd, where the big bunker short and left has been radically reduced and replaced with a chipping area. The third green also feels the wind that blows across the low-lying landscape.
Where the terrain flattens out, Nicklaus uses Floyd's Fork to great advantage. On 6, the stream cuts across an undulating fairway that runs uphill to a deep green. On 7, the water cleaves the middle of the hole, creating fairways left and right, and giving players options—safer down the right or shorter to the left but with a second shot entirely over water that continues along the left side and fronting the slightly elevated green.
Hole 9 begins the ascent out of the valley, and here Nicklaus moved fairway bunkers to give amateurs more room left while pinching the landing zone further up the fairway to make life a little tougher for the pros.
Once on higher ground and in the trees, number 10 is a long par five with only two bunkers: One on the right side of the fairway to keep slicers honest, the other a deep greenside bunker that protects the middle and left portions of the putting surface. While it's not difficult to have a short iron into this wide but shallow green, pulling the trigger while staring over the sand can be terrifying. The tendency is to go long, but as Reese points out, at Valhalla long is almost always wrong.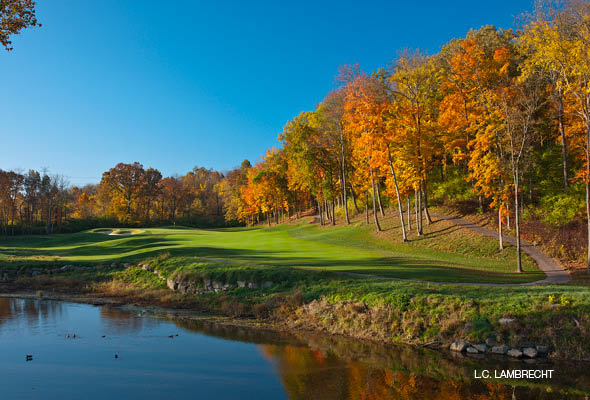 Probably the most memorable hole to the members is 13, a short, severely downhill par four with an elevated island green built on rocks and surrounded by water. Once again, executing a simple wedge shot becomes perilous. Nicklaus eased a bit of the sting by removing a big bunker right of the fairway, but he left the minefield of pot bunkers on the left.
Another stream, called Brush Run, brushes against some back-nine holes. A number of greens are set angled to the fairways and cut cleverly into hillsides, while many of the newly available hole positions manage to bring yet more trouble into play.
"The enhancements and upgrades The PGA of America has made to Valhalla Golf Club are significant and substantial, and we are delighted that the reviews have been so positive," said PGA President Ted Bishop. "The PGA worked hand-in-hand with Jack Nicklaus and his team to map out a strategy to elevate the stature of what was already an award-winning and highly acclaimed golf course. We believe that our collaborative efforts have delivered on this vision."
There's a plaque by the 18th tee commemorating the second round of the 2000 PGA Championship. It was Nicklaus' last appearance in that tournament, and, surprisingly, the only time he and Woods played together in a major. Valhalla obviously is a place of great memories for Jack Nicklaus: He's continuing to create them for the rest of us there, too.